Chicago Website Ranking Company – Schaumbrug IL
High Search Engine Ranking: A Case Study
Company profile
Our client is a national association of the finest custom home theater retailers and installers in America. Its members are among the most progressive and highly regarded home theater experts in the U.S. Their retailers combine the knowledge of a local specialist with national buying power to give customers the expertise and selection they deserve.
Business situation
Proceed Interactive's goal was clear: increase high search engine rankings – especially in Google, MSN and Yahoo. The challenge in making this happen was in developing a crawlable, optimized website that Google would index and rank for 100's of state and non-state based keywords. By following Proceed Interactive recommendations the company now enjoys an increase of 1,043% in their Google referrers.
They needed to appear for searches conducted by home theater retailers and their customers across the 50 states. The website was developed from scratch (never indexed by the search engines) following the recommendations of Proceed Interactive.
Situation
The online space in the home theater retailers is very competitive. A search in Google for home theater retailers brings up 1,230,000 web pages. We needed to achieve high search engine ranking for our client's website, knowing that only 10 web pages were listed on page one of Google's search results.
Solution
Proceed Interactive consulted with the client to thoroughly understand their online marketing goals, analyze the website's design and help define successful metrics. Proceed Interactive optimized the site to attain high search engine ranking in the natural search results in the leading search engines. This included keyword research, content development, navigation improvements and code validation.
Proceed Interactive has made several significant changes to the client's SEO program over the past 12 months. Here are some of the changes made on the website:
Development of indexable URL strings.
Development of text oriented linking throughout website.
Development of search engine friendly content for every page on website.
Development of proper meta tags and coding fixes.
Development of IBL's (In-Bound Links) with proper anchor text for website.
Results
Our client ranks number one in Google for home theater retailers. This coveted spot has resulted in substantial growth in online leads, specifically to home theater retailers listed on their website from the all three major search engines.
Search Engine Traffic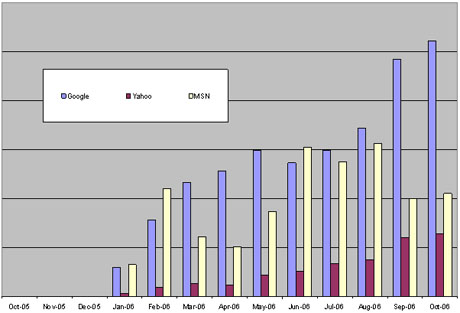 Numbers above have been removed for confidentiality purposes.
Targeted keyword based search engine referrers did not exist when campaign started.
Visitors from Google increased by more than 1043%.
Visitors from the Yahoo increased by more than 255%.
Visitors from the MSN increased by more than 421%.
Conclusion
There are many advantages that come with high search engine rankings. In the case of this website, the increase in rankings and website visibility led to search engine traffic which more than quadrupled. In turn, this increase in targeted traffic resulted in more leads to the home entertainment retailers listed on the website.
Contact Us
---
No soliciting please