Everyone's been hearing a lot about Google's Mobile First Indexing and how it has impacted the search results – all in order to provide better experiences for mobile users. It was also done as a result of consumer behavior trends as they continue to flock to mobile devices to learn about or buy just about anything.
As for business owners, there has been lots of confusion and even frustration as to what this means. In sum, if a website is not mobile-friendly, its rankings will suffer the most. But this does not mean that mobile-friendly websites' rankings will improve. So what needs to be done? Or if the site is already mobile-friendly, what else needs to be done?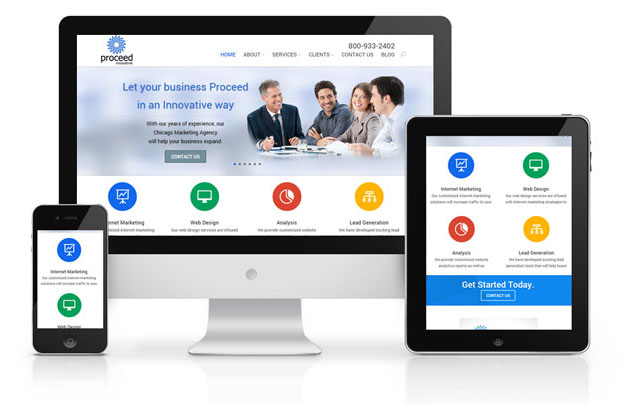 This blog will cover the basics of Google's Mobile First Index and how it impacts SEO. It will also provide the answers to common questions regarding the new index and what can be done to improve or maintain your rankings on Google.
---
Find below the answers to all of the following questions about Google's mobile-first index.
---
What is mobile-first indexing?
What needs to be done about mobile-first indexing?
Is mobile-first indexing adding mobile pages to another mobile index?
Is the mobile-first indexing happening everywhere?
Will Google only use my mobile site to determine rankings?
When will Google use the desktop site to determine rankings rather than the mobile site?
What if I don't have a mobile version of my site?
What will happen if I have a large desktop site and a large mobile site? Will that content still be indexed and appear on mobile searches?
How does this affect my ranking factors and SEO strategy?
Is there a difference between how responsive sites and separate mobile sites will be affected?
Will this change how I should create content on my mobile site?
Does this change how I use canonical tags?
---
1. What is mobile-first indexing?
Mobile-first indexing is when the mobile version of your website is indexed before the desktop version and is most heavily weighted when determining ranks. If you look on your Google Search Console account, you may see an increase in traffic from the Googlebot on the mobile version; the cached versions will also probably contain the mobile versions of the site.
While it is "mobile-first," this doesn't necessarily mean that Google won't rank your site if you don't have a mobile version. But you probably won't be seeing your site rank on the first page of Google, even if you have an optimized desktop version. A mobile-friendly site on the other hand, would have a higher chance of ranking well, even for users on the desktop version.
Mobile-First Should be Considered Primary Version
While web developers are used to using the desktop version to edit the site, the mobile version should be considered as the primary version. This means that the site must have a responsive design and the content must be optimized for mobile. You will also want to consider that the mobile version should be easy to navigate and scroll through.
2. What should I do about mobile-first indexing?
Despite the hype of Google's new index, there's no immediate need to make major changes or redesign your website. This new change is only in its beginning stages and only impacting sites that Google considers to be ready. This includes sites that already have mobile version or responsive design and content that is mobile friendly. So if your website has these qualities, you shouldn't worry.
---
From Google Webmaster Central Blog:
"We've started migrating sites that follow the best practices for mobile-first indexing. To recap, our crawling, indexing, and ranking systems have typically used the desktop version of a page's content, which may cause issues for mobile searchers when that version is vastly different from the mobile version. Mobile-first indexing means that we'll use the mobile version of the page for indexing and ranking, to better help our – primarily mobile – users find what they're looking for.
We continue to have one single index that we use for serving search results. We do not have a "mobile-first index" that's separate from our main index. Historically, the desktop version was indexed, but increasingly, we will be using the mobile versions of content.
We are notifying sites that are migrating to mobile-first indexing via Search Console. Site owners will see significantly increased crawl rate from the Smartphone Googlebot."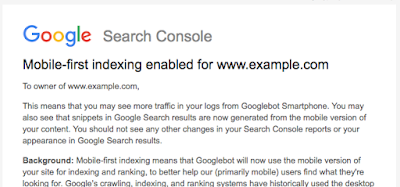 ---
One thing you will want to make sure of is that mobile page speed and load time are prioritized and that images and other dynamic elements are optimized to speed up the site. Mobile-first indexing will also not treat hidden or collapsed content any differently than visible content due to the space limitations because this type of screen space management is a good strategy to use for mobile.
You will want to make sure that all of the following are optimized on both the desktop and mobile versions of your website:
Content
Structured data
Meta data
Hreflang
Social metadata
XML and media sitemaps
Search Console verification
App indexation
Server capacity
Switchboard tags
3. Is mobile-first indexing adding mobile pages to a separate mobile index?
No. there is only one index. It covers both mobile and desktop, but obviously the mobile first. It just changes how content is added to the existing index.
4. Is the mobile-first index live and affecting my site now?
Google has been testing the mobile-first index on various small sites after being selected based on their mobile-friendliness. It will continue to affect more sites as time goes on, eventually reaching all sites with the new index.
---
Below is a snippet from Google Webmaster Blog:
"We will be evaluating sites independently on their readiness for mobile-first indexing based on the above criteria and transitioning them when ready. This process has already started for a handful of sites and is closely being monitored by the search team.
We continue to be cautious with rolling out mobile-first indexing. We believe taking this slowly will help webmasters get their sites ready for mobile users, and because of that, we currently don't have a timeline for when it's going to be completed."
---
5. Will Google only use my mobile site to determine my rankings?
If you only have a desktop version of your site or your mobile site is small, Google will take your desktop site into consideration. But the mobile site will be considered the primary version when determining rankings.
So you will see varying results between the mobile and desktop versions, both of which you will want to track.
6. When might Google use the desktop site to determine rankings vs. the mobile site?
The only case in which Google will use the desktop site to determine rankings is when there is no mobile site; however, it most likely will not be ranked on the first page of search results.
One official tip made from Google is that it is better to not have a mobile site than to have an incomplete, or broken one. So if this is the case for you, it is best to have it completed before taking it live.
7. What do I do if I don't have a mobile version of my site?
If you don't have a mobile site and the desktop version is not mobile-friendly, your content will still be indexed, but it won't rank nearly as well as sites that do have an optimized, mobile version.
This new index can even negatively impact your rankings on both versions because Google looks at the site as giving a bad user experience.
8. What will happen to websites with a large desktop site and a small mobile site? Will the content on the desktop site still appear for desktop searches?
The ultimate goal is to have a mobile version of your site that is optimized and provides users with a great experience because the index will be based on crawling mobile content.
If the desktop version is the one that is most heavily indexed, Google won't clean out the desktop content from the index and start over with your small mobile site; but if you want to maintain rankings on page one, make sure that your mobile site contains relevant and valuable content.
9. How does this change ranking factors and SEO strategy going forward?
It has been said that mobile-first indexing could be an indication that Google will start to weigh traditional links and HTML URLs less and shift towards API type approach based on "entities" rather than URL style links. Although there has been debate about these new trends, nothing has been confirmed.
10. Is there a difference how responsive sites will be treated?
This will primarily depend on how much work needs to be done to prepare for the change.
If your website is completely responsive, the mobile version will have everything that the desktop version has as well. Your goal then would be to make sure that users continue to have a good experience on the mobile version as they do on the desktop. This includes having good page speed, load time, navigation, etc.
11. Will this change how I should display content on my mobile site?
Only if there is any content or ads that are causing a poor user experience will you need to change your content. If you choose to hide some content of the mobile site in tabs or accordions – as long as it is able to be indexed – the content will still be treated as if it were fully visible to the user.
12. Will this change how I use canonical/switchboard tags?
No. Google has stated that you should leave these as they are.
Additional Help with Mobile-First Indexing
While there are a lot of resources that can be used to help prepare for the mobile-first index, optimizing the mobile version of a website, especially a large one, can be complicated and time-consuming. If not done property, the consequences can also be severe, resulting in missing website elements, poor user experience, and lost rankings.
If you fear this may happen to you, or just don't have time to do this yourself, feel free to reach out to Proceed Innovative, a Chicago-based internet marketing agency. Our digital marketing experts have optimized many websites to continue providing users with a great experience while maintaining the website's rankings. Depending on the size of your website, we can have it optimized in a timely manner, allowing your customers to continue finding you.
For more information on the mobile-first index or a free estimate to optimize your website, call Proceed Innovative at (800) 933-2402. We look forward to serving you soon!