What are your business goals for the new year? Increase sales? Then you might want to check out these digital marketing tips to improve your online presence and be prepared for success in the long run.

According to an article written by DMR, Google recorded an average of 2.3 million searches each second and 2 trillion searches each year in the past years. As online customers continue to flock to Google for answers and products, the competition becomes increasingly more intense.
But don't let this discourage you. Here are the latest SEO tips to help you stand out from your competitors while gaining a higher rank on Google in 2017. Finally, a few frequent updates to your website can make a substantial difference for your sales this year!
1. Know Your Audience
It is no longer recommended to focus on being popular with building links to your website. Instead, you want to engage your audience in your content. In the long run, they will build your links for you through social media, blogs, and even their websites.
But in order to better engage your audience, you will have to identify your target market. You will want to know factors including: age, gender, location, interests, mobile or desktop, personality types, and what kind of browser they are using. All of these are critical in order to maximize your click-through-rate (CTR).
To identify these factors, Proceed Innovative recommends using Google Analytics. The Audience reports show the metrics of your visitors. From there, you can identify your target market.
You will also want to see what is trending. Use market research tools such as Google Trends, MarketResearch.com, and TrendHunter to find out what is most popular according to your target market. What does your audience like? What are they talking about? How can your brand join the conversation?
2. Provide Value to Your Readers
Even if your goal is to increase buyer conversions through your website, you definitely want to provide more than just your product descriptions.
As mentioned previously, you have to do some research on your customers. Follow these steps:
– Find out what they are talking about and then join the conversation!
– Figure out their needs from their conversations
– Add value to your website through providing quality information. Describe the need and how it will be satisfied with your product/service.
OR if your goal is to gain brand awareness and increase the amount of time spent on your website, make sure to do additional research. Figure out your niche; determine what you can offer that your competition does not. Then publish useful ideas and/or findings about a particular topic, ultimately providing value for your website.
3. Engage Readers in Your Content
Engaging your readers through your content is one of the most critical ways to increase your CTR. After all, a higher CTR contributes to higher sales. Recent studies have also shown that Google is focusing more attention on visitor engagement rather than optimization.
There are many ways to engage your customers: videos, pictures, titles, submission forms, and links to other pages on your website. But this may not be as simple as you think. You want to be creative with these mediums; therefore, you want to post what nobody else has seen before. Think about how visitors can benefit from what you publish.
In addition, Proceed Innovative recommends short paragraphs with copy that is easy to read (3rd grade reading level). This in turn makes it easy for your customers to quickly find what they want.
Here is an example from RestorationMaster: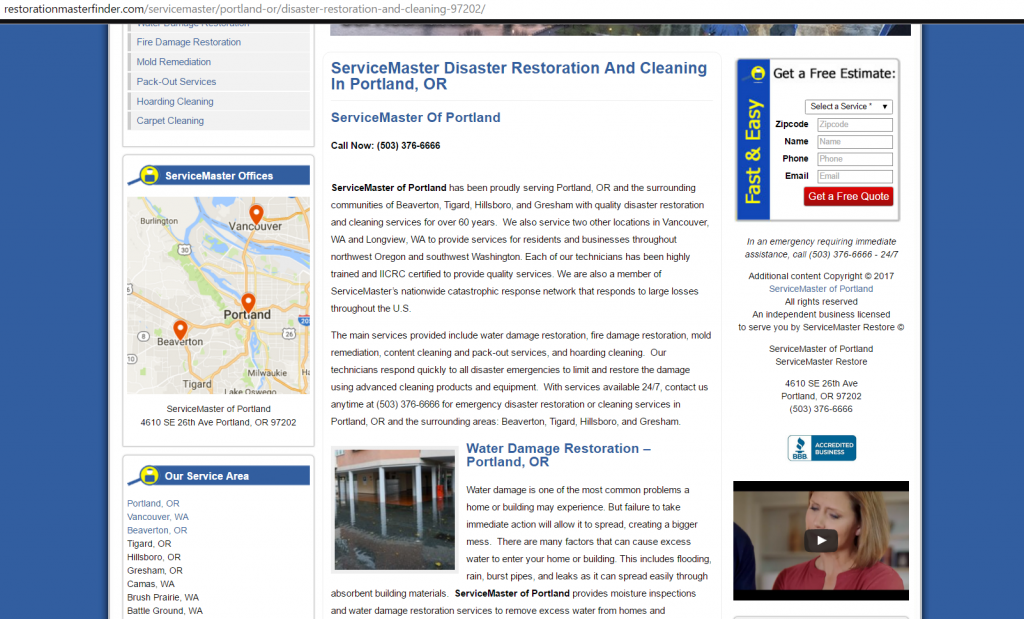 In this page, the visitor is actively engaged in having the option to: fill out a submission form, navigate to find the type of service they need, find the services available in their location, and directly locate the service provider by clicking on the map.
Remember, the ultimate goal is to get your customers to remember you.
4. Update Your Website Frequently
Always remember to keep up to date with the latest trends among your customers. That is important not only for them but also for Google and other search engines.
Common updates to your website can include: blogs, PR's, videos, social media posts, new services, promotions, events, and campaigns or sweepstakes.
We suggest creating a 2017 spreadsheet monthly editorial calendar and report to monitor your online presence while making sure your information is updated frequently.
Search engines are constantly looking for new information to show to users; therefore, Google will always reward sites that are constantly updated. Remember to frequently publish online news about your brand and you will see better rankings in Google.
5. Aligning Content with Search Results
Many people often make the mistake of positioning themselves with the wrong keywords. Make sure your targeted keywords do not place your website in the search results matched with the wrong audience.
For example, a hoarding cleaning company may choose "hoarding help" as their targeted keyword because it is a popular search term. However, the search term is generic and can trigger results that include psychological help to treat the disorder, not clean up the mess.
In order to align your company with the search results, test your desired keywords in Google Search. Are the other listings consistent with yours? If not, you will want to think of other popular search terms that align your brand with similar listings.
6. Make Sure Your Site is Mobile-Friendly
Mobile devices definitely aren't going away any time soon. In fact, according to Statista, the number of smartphone users is expected to rise 110% in 2017. If you haven't updated your website to be mobile-friendly, the time to do so is yesterday.
After optimizing your site for mobile users, the page should be able to load quicker as the average user waits about 3 seconds before deciding to leave the site. In addition, Google will also give your website a higher ranking if it is already mobile-friendly (thanks to their Mobilegeddon algorithm).
We recommend to work with your website developer and avoid large images and unnecessary scripts.
7. Go Local
Although Google released its "Pigeon" update in 2014, many businesses have still not realized its importance. Through creating/claiming a local listing, you can get ahead of your competitors on Google and other local search engines.
According to Searchengineland.com, local searches lead 50% of mobile visitors to physical stores within a day. The local listing does not only allow visitors to see where your business is located and arrive in person, it boosts your rank on search engines.
When creating your local listing on Google, you will want to use specific words that define your business. In addition, be sure to list your website, hours of operation, and your services to provide as much information as possible to Google and your customers.
Need Extra Help?
Keeping your website up to date with the latest SEO trends is crucial to maintaining a high rank on Google and be successful in 2017. Knowing your audience and providing them with valuable, engaging content is currently the most important step to take in achieving better online results this year. However, this may not be as easy as it sounds.
Proceed Innovative has been providing SEO services to local and nationwide businesses for over 20 years. We can also help you manage your business online reputation as part of our local SEO and mobile SEO services.  These services include management of Google local profiles and other outlets where customers can leave reviews and respond with feedback.
Call us at (800) 933-2402 to learn more about how our SEO experts can help you manage your online reputation and be successful in 2017.