Proceed Innovative provides website design and development in addition to our internet marketing and SEO services and we recently designed and built a new custom website for Furniture Medic by MasterCare Experts in Carol Stream, IL. Furniture Medic by MasterCare Experts provides furniture restoration and repair services for all types of furniture including antiques in residential and commercial settings and their new website contains useful information about each of their specific services. The user friendly navigation makes it easy for customers to find the specific service pages they need and the website also features a Before and After gallery so customers can view pictures of their previous work. This new website is an extension of their internet marketing plan with Proceed Innovative to help reach more potential customers in the Carol Stream area.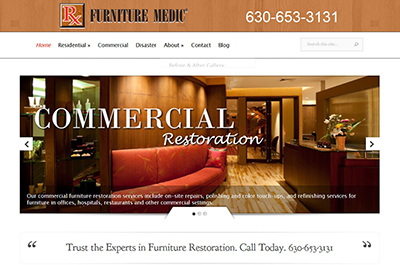 New Responsive Web Design
The most important feature of Furniture Medic's new website is its responsive design which allows it to display neatly across all portable devices such as tablets and smartphones. The percentage of internet users that are browsing and doing local searches on tablets and smartphones is growing which makes it important to have a website that can display properly on each device with easy, seamless navigation. Furniture Medic's new website features responsive navigation that allows mobile users to easily access their services pages as well as the blog and gallery directly from their tablet or smartphone. With this responsive design, the website will appeal to a wider range of users on mobile devices which will ultimately help increase their business volume.
If you are considering a new website or a website redesign for your business, it is important to implement a responsive design so that your website can display properly across all devices to reach the maximum amount of users. Contact Proceed Innovative or call us at 800-933-2402 to learn more about our website design services and visit http://www.furnituremedic-mastercare.com/ to view the latest example of our work.
Previous topic: Proceed Innovative's New Mobile App for ServiceMaster Companies
Sign up for our monthly newsletter to get new online marketing tips.