Grow Your Lead Base with Local SEO
Make your local online business presence a success with our trusted local SEO services – call now!
Proceed Innovative is a local SEO company with offices in Chicago and Schaumburg that has been serving clients nationwide since 2003.
Did you know that over 46% of all searches on Google are local? By using a goal-focused SEO strategy, Proceed Innovative can help your business rank in the search results to improve your local online presence and grow your business. Using both on-page and off-page techniques, we can boost your website and local listing to help your customers find your business.
By leveraging a perfected process and competitor and keyword analysis, we will optimize and maintain your website, Google My Business listing and other local listings for your services and location. Our experts apply their strategies from ongoing training, experience and using Google's best practices to help you maximize conversions and help grow your local business both on and offline.
If you would like to appear in Google's local search results and generate leads for your business, contact our Chicago SEO company for professional local SEO services. We are located in Schaumburg, IL and successfully serving clients nationwide. Give us a call at (800) 933-2402 for a free proposal.
What is Local SEO?
Local SEO, or local search engine optimization, is the organic process of improving your website's ranking in localized search engine results pages (SERPs). Based on a variety of algorithms and signals, search engines like Google curate their own directories to rank websites to serve customers with fresh, relevant and optimized content.
When working with Proceed Innovative, we ensure your brand's online presence communicates appropriate and accurate information to each search engine, maximizing visibility amongst your target market. We also dive deep into your website's data, improving and strengthening your local search presence to attract more local leads.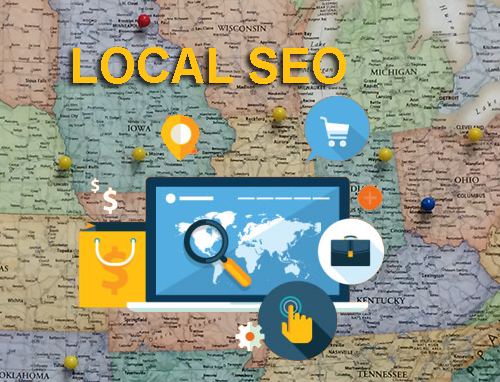 Why Do I Need Local SEO Services?
From research to ongoing refinement, Proceed Innovative is constantly making improvements to your local SEO campaign. We use proven successful marketing strategies and have helped many business owners grow their local business. Our local SEO services cover the below listed strategies and more.
Google My Business Optimization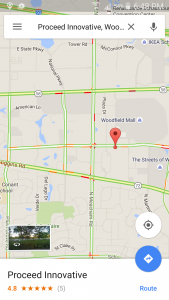 To allow businesses and organizations to manage their information across Google Search and Maps, the search engine giant has created a platform known as the Google My Business listing. Businesses can create, verify and optimize their own listings to rank in local search results. But one of the biggest challenges faced nowadays is increasing competition; businesses with great services can become buried online by their competitors.
But when working with our professionals, we can create, verify and optimize your Google My Business (GMB) listing for you. Our local SEO experts will not only improve the visibility of your listing, but help generate phone calls, traffic and other conversions.
Each of the following are just some of the updates we can handle for your GMB listing:
Creating / verifying your listing
Choosing appropriate business categories and industries
Adding photos
Creating Google My Business posts
Updating assets and services as they become available
Link building to your listing
Ongoing monitoring of your GMB performance
Local Directory Submissions
In addition to your Google My Business listing, we will submit your information to other local directories, such as Bing Places, Apple Maps, Facebook, Waze and more. This will include your business name, hours of operation, phone number, address, website link and photos of your business to improve your online visibility.
This increased online presence will also boost your website authority and improve your rankings in the local search results.
Local SEO Competitor Analysis
While building your local online presence, our digital marketing experts will also conduct a complete analysis of your competitors to identify new opportunities, overtake your competition and grow your local SEO campaign.
Each of the following is included within our local SEO competitor analysis:
Identification of local competitors
Research and compile their local SEO keywords and rankings
Analyze their websites and top-performing landing pages
Identify which of their properties are most valuable
Inspect their online listings
Identify their backlinks
After compiling this information, we will use our proven local SEO strategy to rank on these platforms and add content to outrank your competitors.
Local SEO Reporting
In addition to ongoing maintenance of your online listings, we will track relevant keywords with high monthly searches to ensure your website and listings are generating qualified leads. We will also identify any keywords with low rankings as opportunities to improve, adding more content to strengthen your online presence, brand awareness, engagement, relevance and authority.
Contact Us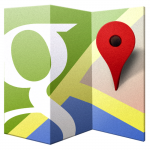 At Proceed Innovative, we create business listings that matter, increasing the likelihood that interested customers will find and engage with your brand.
For more information or to request a free estimate regarding our local SEO services, contact Proceed Innovative at (800) 933-2402.
More About Local SEO From Our Blog
Knowing what to do when it comes to local SEO is important.  It's equally important to know what not to do and avoid making mistakes that could hurt your rankings and lower the traffic to your website.  In this guide, we cover the main mistakes your business must avoid to be successful with your local SEO efforts.
There are 5.6 billion searches on Google per day, and 46% are looking for local information. So, traffic from Google search is enormous. SEO can help small businesses capture those visits and convert them into customers.