What is SEO
Search Engine Optimization, also called Natural or Organic Optimization or simply SEO, involves making your website as visible and accessible as possible for search engine spiders and for your visitors. The goal of an SEO program is to position your website in the top ten (to thirty) results on Google SERP (Search Engine Results Page) when a client enters a specific keyword phrase.
For example: If you enter "Top honeymoon destinations" in Google you will get many similar results. The right column with white background represents organic listings.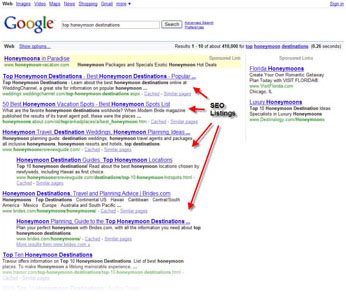 SEO Process
SEO is one of the most effective online marketing strategies you can employ. You pay nothing to Google when someone clicks on your link, unlike other forms of advertising such as pay-per-click. However, it takes time, skills, and expertise to position your website so it is visible. SEO is important if you want to give it the prominence it deserves. Even seasoned marketers need to chose the right team in order to insure a successful SEO project.
Google uses a special algorithm to evaluate each website. Although the exact search engine algorithm is confidential, there are well-known elements that will contribute to the rankings. There are three categories:
Website level elements include: architecture of the site, menu(s), the technology your website uses, domain names, internal links, etc.
Web page level elements include page title, page description, copy, file name, meta data, etc.
External links.
SEO is a process or a sequence of steps that, in most cases, include:
Evaluating the current visibility of your website and current organic traffic, running competitive reports and evaluating your competitors.
Compiling a competitive list of keywords. Good keywords have high traffic and a low number of competitors.
Implementing search engine optimization elements on a website level, then working on a page level to updat title, internal links, and meta data for each page you are optimizing. Focus on one or two primary keywords per page and add others when possible.
Adding external links to your site. Submit the site with major search engine directories such as Yahoo directory and Dmoz. Consider industry, local or vertical to your market directories.
SEO is a process not an event. On a regular basis (no less than a month) check your rankings and evaluate your traffic. Re-optimize and add additional links to keep your favorable position.
Benefits of SEO
More and more consumers use search engine or online sources to buy a product or initiate a relationship with a vendor. Your website can become one of your most effective marketing tools.
Visitors trust organic results more than pay-per-click (75% vs. 25%).
SEO results last longer and bring more qualified traffic to your site.
There are two ways of optimizing your website so that they appear higher in the search engine natural listings – the ethical way (also known as "white hat") and the unethical way (known as "black hat"). Using "white hat" search engine optimization is the only sustainable, long-term optimization technique.
Key Takeaway: Visitors are searching for products and services one way or another. If your site is invisible your competitors are stealing your clients and you are leaving good money on the table.
If your have a specific question or would like to discuss another search marketing topic, please post it on our blog or call us at 800-933-2402.
Next month's topic: PPC – Pay Per Click Advertising (Google AdWords, Yahoo Search Marketing, MSN AdCenter).
Sign up for our monthly newsletter to get new online marketing tips.