Google is always trying to improve the search experience for users by adding new search features and refining the search results to better answer user queries. Featured snippets was one of the features launched in 2018.
Ever since Google's rollout of featured snippets, SEO agencies have been competing to get as many as possible and companies are left wondering why. Why focus on being the first to answer a user's question?
The purpose of this article is to explain just that: what is a featured snippet and why your brand should focus on earning a featured snippet.
What is a Featured Snippet?
From Google:
"When a user asks a question in Google Search, we might show a search result in a special featured snippet block at the top of the search results page. This featured snippet block includes a summary of the answer, extracted from a webpage, plus a link to the page, the page title and URL."
A snippet of the article is extracted from the article and bolded, along with the article's title and URL.  See an example of a featured snippet from a Chicago moving company website answering the query "disadvantages of living in a big city":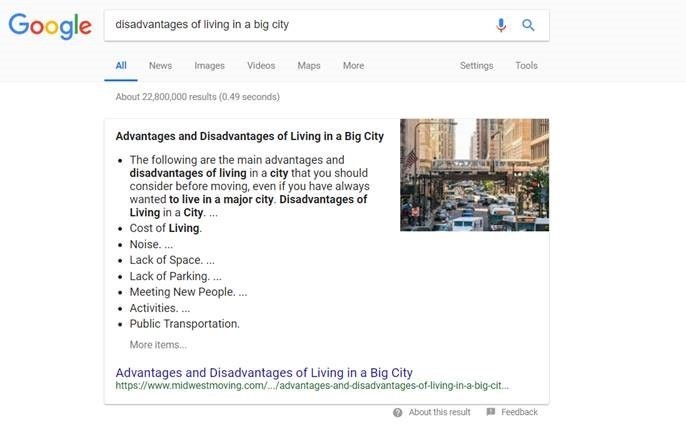 There are different types of featured snippets:
Depending on the user's query, any type of featured snippet can be shown; however, paragraph snippets are the most common, appearing 82% of the time, according to Search Engine Watch.
What Are the Benefits of a Featured Snippet
So you are familiar with Google's featured snippets, but why do bloggers and publishers work so hard to get them? Here is why:
1. Increase in Website Traffic
Probably the most obvious benefit of getting a featured snippet is more traffic to the website. Agencies and companies will often notice a spike in visits to their site when realizing they got a featured snippet. By checking which page received significantly higher visits as well as the queries users used to find the page, you can quickly pinpoint which page got the snippet and the query that triggers it.
2. Increase in Conversions
The most fruitful benefit of getting a featured snippet is the increase in organic conversions, or customers that took action after finding the website through a search engine. If a company can attract potential customers to their website by simply answering a question, the chances of increasing online conversions is significantly heightened.
For example, if a local business can answer questions regarding their services in a particular area, such as a Chicago law firm explaining the laws regarding divorce in Illinois, they are more likely to reach out to the firm for additional questions.
3. Increase in Brand Awareness
There are many benefits of appearing in the organic search results. But if Google chooses to feature your website in their spotlight, via a featured snippet, companies can expect not only a hefty increase in traffic but also in overall brand awareness.
Another tip to keep in mind is that users are more skeptical than ever before when doing their research; they will inspect the source, or the website, when determining its credibility. As long as the website is filled with qualified, well-written content, you can also expect an increase in your click-through-rate (CTR) as users learn more about the company and brand.
4. Increases Website Authority
One of Google's primary ranking factors includes the website's authority, or how much Google trusts the site. Link building, average time spent on the website, and the total number of visits, among many others, are factors considered when Google determines the website's authority.
So by attracting more users, increasing the average time spent on the website, and link building via the featured snippet, the overall authority of the website is improved.
5. Increase in Keyword Rankings
Featured snippets can also have a domino effect, whereas the improvement in one area is tied to another. So while not directly related, the increase in website authority from the featured snippet can trigger an improvement in keyword rankings and online visibility of the business.
It's common for agencies and companies to notice a significant improvement on keyword rankings reports after getting a featured snippet. As a result, customers are easily able to find the business online – provided that the site is well optimized – find what they need, and convert.
Get a Featured Snippet for Your Website
While featured snippets are indeed rewarding, it's not always easy to get one. Depending on the query and articles competing for the snippet, some may be harder to get than others. Even after getting one, the ranking must be maintained as new articles will be submitted with which the current one will also need to compete.
When targeting a featured snippet, consider working with a content marketing professional as they will be knowledgeable of what exactly is required to get one. Their experience in optimizing content, formatting articles, and researching competing websites will help to get the featured snippet you're targeting.
Work with Proceed Innovative
If you're looking for a professional service to improve your online visibility and increase web traffic and conversions, contact the professionals at Proceed Innovative. In addition to SEO experience, we are a certified Google Partner, meaning that we follow and implement all of Google's best practices.
We also have experience in a number of other areas, including pay-per-click (PPC) and web design, giving you the convenience of working with one provider for all of your website needs.
Contact Us
For more information on featured snippets and how we can help you get one for your site, give Proceed Innovative a call at (800) 933-2402. We can also provide a free estimate on any of our web services, including SEO, PPC, web design, and more! We look forward to hearing from you!