At Proceed Innovative, we have always been passionate about helping our clients reach new heights by bringing them new business opportunities through effective digital marketing.  Keeping our commitments to our clients also helps us grow as a company which creates a win-win scenario.  Our company-wide commitment to the growth of our clients and our business starts at the top with our dedicated leadership.
Proceed Innovative is a proud member of the Schaumburg Business Association (SBA) which serves as an advocate for their members and businesses in the Schaumburg, IL area.  The SBA recognizes the achievements of their members and present awards to their most deserving members at the annual Toast of Schaumburg event.  This year, Patrick Panayotov, Managing Partner of Proceed Innovative, won the SBA Leader of the Year Award.  Patrick has poured his heart and soul into capitalizing on opportunities to help our clients and our business grow and we are proud that he is the recipient of this award.
Schaumburg Business Association Member
The Schaumburg Business Association is an advocate for local businesses that represents more than 700 businesses and 4,000 active SBA members.  This organization is dedicated to the growth and prosperity of their members and improving the life and economic vitality of the Schaumburg, IL area.
Proceed Innovative has been a member of the SBA since 2007 and an active participant in their activities and events.  We have also become the preferred SEO partner of the SBA, making us the top choice for SBA businesses that need the services of a digital marketing agency.  Patrick has been especially active in the SBA and the professional connections he as formed have benefited his personal growth as a business leader and our growth as a company.
Toast of Schaumburg
Throughout the year, the SBA holds a number of events that are sponsored by local businesses to raise money for charities, scholarships, and social programs.  The Toast of Schaumburg is an annual event held near the end of each year to celebrate and recognize the achievements of their members.  Several awards are given at this event, including the Brian H Burke Business of the Year, Laura Stone Woman of the Year, and Leader of the Year Awards.
Proceed Innovative was one of the five nominees for Business of the Year 2022. Patrick is the recipient of the 2022 SBA Leader of the Year Award which recognizes a "community leader and business champion who exemplifies qualities of visionary leadership and effective communication skills which foster strong business relationships, community involvement, and achievements within the business community."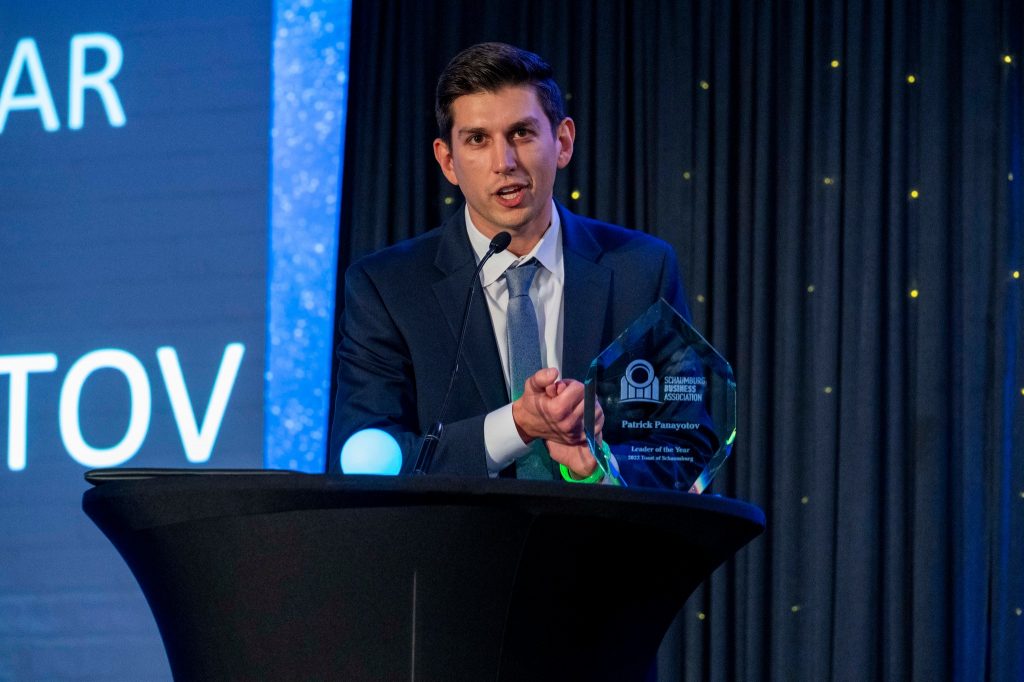 Getting to Know Patrick Panayotov
Patrick first started working with Proceed Innovative in our early days as a Data Analyst creating reports from the data he studied that helped support the business.  He rejoined Proceed Innovative as a Client Service Manager tasked with supporting current clients and helping to expand our business by acquiring new clients.  Patrick gained a new perspective on Proceed Innovative and started to focus on creating and expanding relationships with other businesses, organizations, and the local community.
Patrick is currently a Managing Partner of Proceed Innovative with the responsibilities of supporting current clients and acquiring new clients as well as identifying opportunities for growth.  He continues to make a positive impact on our team and foster the growth of our business which is why we are proud that Patrick earned the well-deserved SBA Leader of the Year Award for 2022.
Digital Marketing Services from Proceed Innovative
Proceed Innovative is a full-service digital marketing agency that brings new business opportunities to our clients with effective search engine marketing.  We provide a range of digital marketing services including web design, search engine optimization (SEO), PPC management, and lead generation to help improve the online presence of our clients so they can grow their business.
To learn more about how our digital marketing services can help your business, call us at (800) 933-2402 or submit an online contact form.