Chicago Digital Marketing Agency
Based in Schaumburg IL and serving clients nationwide since 2003
The marketing professionals of Proceed Innovative, LLC are dedicated to helping you create an internet marketing plan that suits your business and goals.
The traditional avenues for marketing have shifted as the internet has now become the most important medium for marketing, especially if you are a small business.  A solid internet marketing plan consists of many facets to help boost search engine rankings, traffic, and conversions to your website and there is no universal digital marketing plan that will provide the right solution for every business.  Each business is unique and should have an internet marketing plan that best suits its interests and target audience.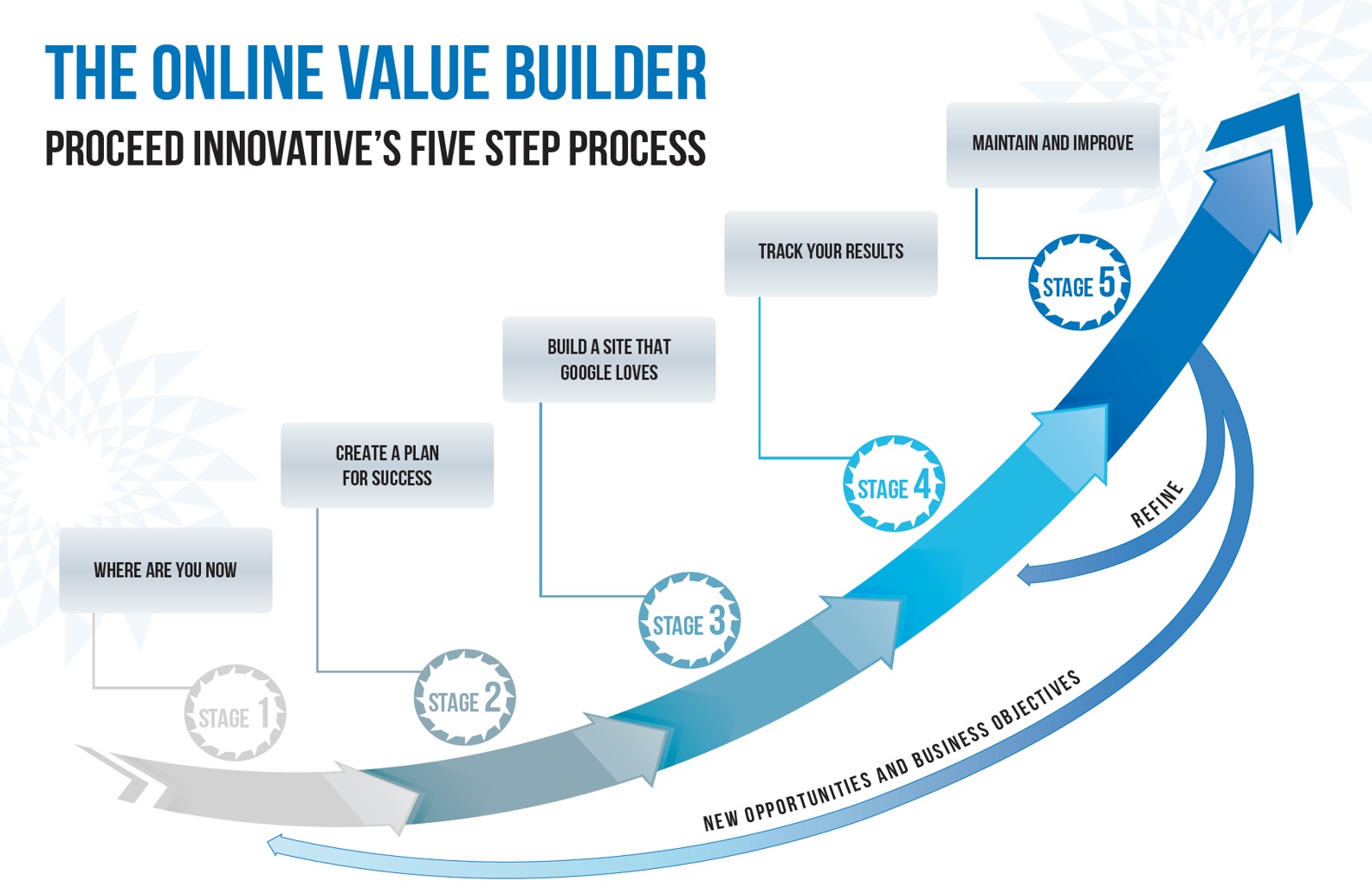 Digital marketing strategies generally include multiple web promotion tactics as well as web design and development to create a more user friendly and visually appealing website.  The top three web promotion tactics used for internet marketing campaigns include Search Engine Optimization (SEO) to boost organic searches, Pay Per Click Management (PPC), and Web Analytics Consulting to measure the success of your campaign.  Our SEO experts at Proceed Innovative will analyze your current competitive set and help you create an internet marketing campaign with the right mix of search engine marketing tactics to benefit your business.
The search engine marketing tactics available from Proceed Innovative include the following:
SEO – Search Engine Optimization (Organic Search)
Search engine optimization (SEO) is one of the top internet marketing strategies and the goal of SEO is to improve the rankings of your website within the organic search results of major search engines.  Our professionals understand the constantly evolving and complex ranking criteria by search engines such as Google and we can optimize the content, navigation and code of your website to better meet the criteria.  Our specific SEO services include competitive analysis, keyword research, meta-tag development, directory submissions, and content optimization.
PPC – Pay Per Click Management
Pay per click (PPC) campaigns combine SEO strategies with paid advertising to increase traffic to your website and these campaigns are specifically targeted with keywords relevant to your business.  PPC strategies are similar to auctions in that you bid for the top listing for specific keywords and your PPC advertisement will appear when users search for your targeted keywords.  When a visitor clicks on the link to your website in your PPC ad, your account will be charged for that click based on your bid.  The SEO experts of Proceed Innovative have been managing PPC campaigns since PPC was a new medium and we can deliver high conversion rates for your campaign.
Creative Web Design and Development
Your website is your company's representative to your customer base which makes its design and usability extremely important.  If a user who reaches your website is put off by the design or cannot navigate your website easily, they will immediately leave your site, costing you a potential lead or sale.  The web design and development team of Proceed Innovative can create a fresh, new design for your website to boost your web presence with an emphasis on user experience.  We can also implement a web design that is responsive on mobile devices such as tablets and smartphones so that mobile users will be able to easily navigate your website from their devices.  The complete web design services we offer include design and development, logo design and brand development, and banner advertising design.
Web Analytics Consulting
Because internet marketing campaigns are multi-faceted with several strategies going at once, measuring the success of the campaign can be quite complex.  Traditionally, clicks, page views, and search engine rankings were sufficient to measure the success of an internet marketing campaign but the expansion of internet marketing strategies along with the ever evolving nature of the internet requires more in-depth analytics to measure the success.  Our experts at Proceed Innovative use a variety of third party reporting and analytics tools to measure the performance of each tactic used in your campaign.  We offer a consultative approach in which we help you analyze the statistics and make adjustments to your campaign to help better meet your marketing goals.
The internet marketing team at Proceed Innovative has been helping businesses create and implement cost effective internet marketing campaigns for over a decade.  We will take the time to understand your business as well as your marketing goals and create a customized solution with measurable results to help you achieve your objectives.  Our SEO experts work with existing programs from Google, Yahoo, and MSN and we have helped many of our clients improve their search rankings, traffic, and conversions with our internet marketing services.
For more information regarding our internet marketing services, contact us directly or call us at 800-933-2402.
Contact Us
---
No soliciting please