Proceed Innovative has been serving clients nationwide since 2008 with digital marketing services that include search engine optimization (SEO), web design, pay per click (PPC) management, and lead generation.  We have always strived to create the most effective digital marketing strategies for our clients to help them grow their businesses online and get the best return on investment (ROI) for their website.  Recently, CIOReview, a magazine that discusses business growth and development including marketing solutions, named the 20 most promising Google Solution providers and we are proud to announce that Proceed Innovative was named among these providers for 2018.
CIOReview 20 Most Promising Google Solution Providers 2018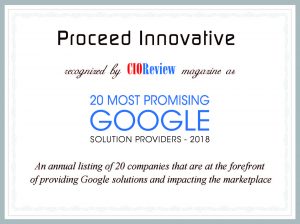 There is no question that Google is the biggest and most used search engine in the world.  Consumers use Google almost exclusively to look for everything from restaurants and hotels to specific products and services.  It is more important than ever for businesses, especially small businesses, to have a solid presence on Google so that they can be found when users search for their products or services.
Establishing a strong presence on Google starts with effective internet marketing and digital marketing agencies like Proceed Innovative have a thorough understanding of the Google infrastructures to create effective, multi-faceted marketing strategies. CIOReview highlights the 20 most promising internet marketing firms that have proven their ability to improve the rankings, traffic, leads, and conversions for their clients.  Being named one of the 20 most promising Google solution providers means that Proceed Innovative has shown their ability to consistently take their clients' online marketing to the next level.
Google Solutions from Proceed Innovative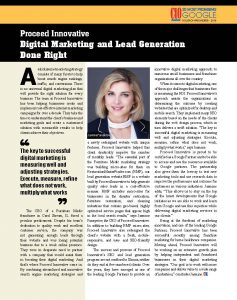 In addition to naming Proceed Innovative as one of the 20 most promising Google solution providers of 2018, CIOReview featured an article about Proceed Innovative and how we help our clients achieve success through online marketing.  In the article, Jasmine Panayotov, CEO of Proceed Innovative, discusses some of our main strategies that have been proven to help increase traffic and sales leads for our clients.  We always take the time to understand the marketing goals of our clients and then create a customized, cost-effective marketing strategy to achieve these goals with measurable results.
Jasmine explains in the article that we take a multi-faceted approach that may include building a new SEO friendly website and building micro-sites on our lead generation website RestorationMasterFinder.com (RMF).  She highlights one example in which a client came to us with a weak online presence and very few leads.  We started by building micro-sites for this client on RMF and we also redesigned their website with unique features that improved the user friendliness of the website as well as its appearance, functionality, and rankings.  The new web design also has SEO friendly features and it is mobile responsive to display properly on any mobile device.
This strategy helped boost the traffic and number of leads for this client.  Jasmine credits the new micro-sites on RMF as a major contributor to the success of their campaign, explaining that RMF micro-sites "contain geo-based, highly optimized service pages that appear high in the local search results." 
Measuring the ROI
One of the most difficult aspects of digital marketing for businesses is measuring the success of the campaign.  When implementing internet marketing campaigns that consist of multiple strategies, it is very important to be able to measure the success of each strategy so you can adjust the campaign for better results. Proceed Innovative is able to provide such effective internet marketing services because we are results driven.  Our SEO experts track the results of our marketing campaigns and capitalize on the strategies that get the desired results so we can achieve our clients' marketing goals.  We will also adjust or remove strategies that are not showing results.
Jasmine nicely sums up our results driven approach for CIOReview by stating, "The key to successful digital marketing is measuring well and adjusting strategies.  Execute, measure, refine what does not work, multiply what works."
Proceed Innovative: Certified Google Partner

Proceed Innovative is more than just a digital marketing agency, we are a certified Google Partner.  Digital marketing agencies earn Google Partner status from Google by passing product certification exams for Google Ads and demonstrating their knowledge on the latest products from Google.  Agencies with Google Partner status may specialize in search advertising, mobile advertising, video advertising, display advertising, and shopping advertising.
We take pride in our status as a Google Partner because this not only shows that we have an understating of Google's latest marketing tools, but also allows us to better help our clients with access to more resources from Google.  As Jasmine explains to CIOReview, our partner status "allows us to stay on the top of the latest developments that Google initiates as we are able to work and learn from Google and use this expertise while delivering digital marketing services to our clients."
Digital Marketing Services from Proceed Innovative
Our success at Proceed Innovative has put us at the forefront of digital marketing and we hope to grow and expand to provide digital marketing services to a wider and more diverse array of clients.  The CIOReview article closes with Jasmine's statement for the future of Proceed Innovative, "Our goal is to work with more companies and deliver value to a wide range of industries."
If you believe that your company is losing valuable business because you do not have a strong enough presence online, contact Proceed Innovative to get help from a certified Google Partner.  Our experts provide effective SEO services, web design, pay per click (PPC) management, lead generation, and local SEO to help improve search traffic, leads, and conversions.  Contact Proceed Innovative by calling (800) 933-2402 to learn more about how our digital marketing strategies can help you grow your business online.