Savvy business owners know that in order to grow their business, they must have a strong online presence.  However, many businesses do not have the resources, or the expertise, to do effective SEO marketing in house.  Digital marketing must be done with a specific purpose and implemented with a multi-faceted plan to improve a company's online presence and increase traffic to their website.  For companies that need help with their online marketing, they can work with professional digital marketing agencies like Proceed Innovative to improve the performance of their website and generate more quality leads.

At Proceed Innovative, we are a certified Google Partner that helps businesses increase their online presence and traffic by improving their rankings in the search engine results pages (SERPs) through cost-effective digital marketing services.  We were recently named one of the 10 Most Promising Google Marketing Consulting/ Service Companies of 2019 by CIO Review magazine.  This list was put together by CEOs, CIOs, analysts, and the CIO Review editorial board to help businesses who are looking for a digital marketing agency identify a professional who can provide innovative marketing strategies that deliver results.  Companies on this list were chosen for their expertise with Google technology, competence, and ability to create comprehensive and innovative digital marketing strategies.  Proceed Innovative is proud to once again be named to this prestigious list.
How Proceed Innovative Helps with SEO Marketing
Our goal at Proceed Innovative is to understand the marketing needs of a business and create an effective digital marketing plan that benefits all involved.  "To have a win-win situation, we have to work with clients to impact their bottom line," says Jasmine Panayotov, Managing Partner of Proceed Innovative.  "We design and develop marketing programs that we can measure really well to help boost online visibility, and profit, for all our clients."
In order to increase the rankings of your website and create a solid presence in the Google search results, it helps to have an understanding of Google algorithms and best practices.  Our SEO experts stay up to date on the latest Google algorithm updates and digital marketing trends so we can create and implement an effective marketing program that improves rankings and traffic for increased online engagement and leads that result in a higher ROI.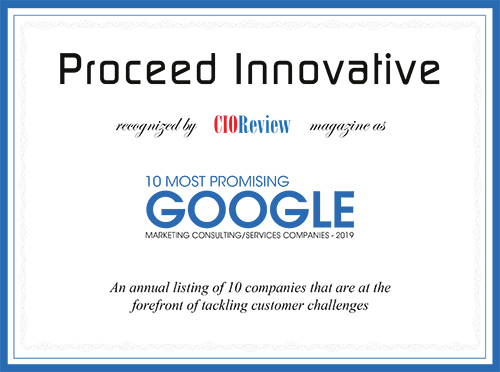 CIO Review featured a profile of Proceed Innovative in their issue naming the 10 Most Promising Google Marketing Consulting/ Service Companies of 2019 that highlights how we help businesses achieve success through digital marketing on the local and national level.  We work directly with our clients to understand their marketing goals and then research opportunities to help them improve their brand awareness to increase traffic and generate quality sales leads.  Our digital marketing programs are tailored to each client and consist of proven SEO strategies that work together to improve search engine rankings.
Measuring the ROI
An important part of our digital marketing strategy at Proceed Innovative is tracking the results so we can adjust the marketing campaign and maximize the ROI for our clients.  We take a results driven approach and measure the success of our marketing campaigns by tracking phone calls, web analytics, and form submissions.  This helps us determine which facets of a digital marketing campaign are working well and which strategies are not achieving the desired results so we can adjust these strategies or discontinue them.
The CIO Review article mentions one of our success stories that shows just how much of an impact our cost-efficient SEO marketing strategy can have for our clients.  A home care provider came to Proceed Innovative because they were receiving zero online leads from their website.  After adopting our digital marketing program, this company started to receive online leads which now account for 46 percent of their total lead generation.
Proceed Innovative: Certified Google Partner
Proceed Innovative is a leader in providing digital marketing services and we are also a certified Google Partner.  We earned this status from Google by demonstrating our expertise with Google products and best practices and passing certification exams for Google Ads.  Digital marketing agencies who have Google Partner status know how to effectively use Google's latest marketing tools and have access to resources from Google that they can use to benefit their clients.  We are proud to be a certified Google Partner and use our expertise to help our clients achieve success through effective SEO marketing.
Digital Marketing Services from Proceed Innovative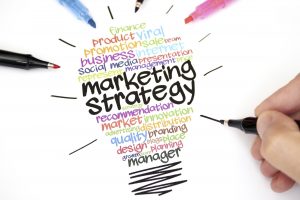 In 2018, our digital marketing program generated thousands of phone calls and sales leads for our clients and we hope that this number doubles in 2019.  However, it takes more than effective online marketing strategies for Proceed Innovative to be successful.  The passion and dedication of our SEO experts is also a major reason for our success.
"I try to provide a perfect life balance between professional and personal life while I count on my team 100 percent to do the job right and on time, to exceed customer expectations by providing the best products and services, and to produce a customer experience that never disappoints," says Jasmine.
If your company is struggling to generate quality online leads because your website does not rank high enough in the SERPs, contact our SEO experts at Proceed Innovative.  We will work with you to understand your marketing goals and implement a digital marketing program that can include SEO-friendly web design, lead generation, SEO marketing, and pay-per-click (PPC) management to increase leads and improve the ROI of your website.  Give us a call at (800) 933-2402 for more information about how we can improve your online presence with cost effective SEO services.