Getting customers to convert on your website can be difficult, even if it does have a great design, fast page load times, and quality content. But with mounds of information and content readily available within seconds, customers are easily distracted and will bounce to other websites to compare products and services.

Especially with Christmas shoppers, this is the most profitable season for online businesses. Make each visit count as they will be ready to spend – even on the first visit. But if you can get them back to your site again for deals on other products and services, it will be easier to convert because they are already familiar with your brand.
So what can you do to bring them back? The answer is with remarketing lists for search ads, or RLSA. It's Google's scientific term for remarketing to prospect customers in a Search campaign. Don't forget to use it with your Christmas shoppers!
What are Remarketing Lists for Search Ads (RLSAs)?
The term may sound complicated, however, the concept is rather simple. Remarketing lists for search ads (RLSA) is a feature on the Search campaign that helps you reconnect with potential customers that have been on your site before.
The feature allows you to create ads, set bids, and choose keywords, but keep in mind to use phrases for those who have been on your site before.
Not to be Confused with Display Network Retargeting
As a customer, you have probably seen ads for a site you have previously visited while scrolling through a different site. That is not RLSA, but remarketing on the Display network.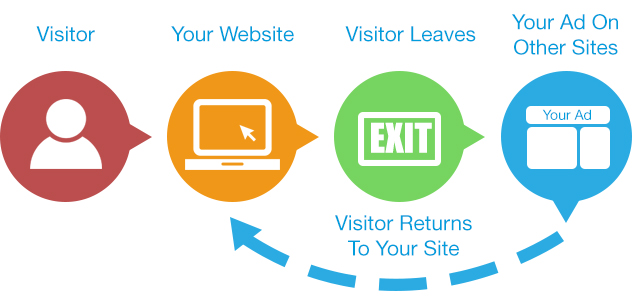 The retargeting lists for search ads (RLSA) include the text ads when searching on Google. The reason why many businesses are not familiar with them is because the ads are not as easy to find.
How RLSA Increases ROI
While RLSA is similar to the remarketing ads we see all the time on the Display network, they show up on the Search network when a customer is doing a search on Google.
The reason these ads are so effective is that they give your business a second chance to convert customers. It's not that they didn't have a great user experience the first time, but they might have become distracted, interrupted, or just couldn't make up their mind. Don't take it personally – it happens all the time. But that's why RLSA is designed to bring prospect customers back to make a decision the second, third, and even fourth time after visiting the site.
Now to bring these prospect customers back to your site will require some creativity. First, you can bid a little higher to increase your paid ranking. Then create ads that are more attractive since those customers weren't sold on the first offer. Finally, add keywords that are relevant to your campaign and ad groups, so the compelling ads will appear when customers search for those keywords.
RLSA Targeting and Bidding Options
Before unleashing your remarketing campaign with the RLSA feature, it's essential to know the two different types of bidding and targeting options available. This will make a big difference on the campaign performance.
Bid Only
Bid and Targeting
Bid Only
If you're just getting started, the bid only option is the best because there is no risk involved. You will only be adding the remarketing list(s) to your existing Search campaign while adjusting (or not) the bids for each list.
Each list can be differentiated by the visitors who have visited different pages of your website. For example, one can include the users who have made it to the checkout page, but didn't complete the purchase. You may want to consider increasing these bids since these are the easiest conversions.
Another option is to simply use the same bid in the remarketing lists as the one you use in your normal Search campaigns. Just monitor the performance to see if this strategy works for you, then adjust the bids as needed if you aren't seeing conversions.
Bid and Targeting
Before diving into this option, make sure to create a new Search campaign before using the Bid and Targeting option on your retargeting lists for search ads.
If you add RLSA with Bid and Targeting to an existing campaign, the new data will only include prospects on your list who have visited your site before. Then the metrics will be inconsistent and it will be hard to compare them to previous periods in which different rules apply – in this case, larger audiences.
So it is best to create a new campaign to only measure the performance of these lists. This way also allows you to bid higher and create more compelling ads while retargeting just these prospects. You may also find that certain keywords may be more profitable in the RLSA than when targeting everyone.
Need Help?

If the information above sounds complicated to you, that's OK. There are Adwords professionals, such as Proceed Innovative, who can help. Our digital marketing experts can create, monitor, and adjust these Search campaigns with RLSA for you.
After years of training and managing AdWords campaigns in various industries, our experts know how to develop AdWords campaigns using compelling ad copy and keywords that are popular among customers but still fit within your budget.
Please don't hesitate to give us a call at (800)933-2402 or fill out the contact form to receive a customized quote.