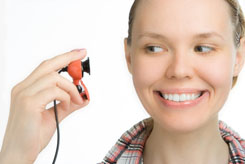 With the boom in Internet technologies and social media websites, video marketing is becoming more and more popular. Video can be used to introduce a new product or service; to attract more visitors to your website; to provide a product demonstration or tutorial; to deliver a message to your clients; or for online advertising, or incorporating into a Multimedia News Release.
However, simply shooting a video and posting it online will not guarantee results. The key to a successful video campaign is compelling content and optimization.
The first and most important step is to produce a high quality original. Then the goal is to load the video as quickly as possible, grab the viewers' attention, and leave them wanting more. Publish the video content on your website and on popular video sharing websites.
The next very important step is the VIDEO SEM (Search Engine Marketing)!
Here are our 8 Web Video Marketing Tips:
Keywords: Create relevant and keyword rich text surrounding the video content.
Title and Meta Tags: Keep the meta data keyword rich, unique and descriptive for each Video page.
File Name: Name your video file in a keyword descriptive manner.
Page URL: Avoid dynamic parameters, include keywords, and reflect the folder structure.
Header Tags: Utilize the H tags ('Music Videos' as H1 and the name of the video as H2, for example).
Sitemaps: Video sitemaps use the standard sitemap protocol but contain video specific tags.
Links: Allow visitors to embed your videos into their websites (inbound links); Publish video play lists on your website with spiderable and keyword rich links to your videos; related text links and breadcrumbs help visitors and search engines to find your video content (internal links).
Social Media: Allow visitors to share, bookmark, rate and comment on your videos (popularity).
There are many online marketing programs to promote your product or service and it can be difficult to determine which one to start with. Contact Proceed Innovative – your Search Engine Optimization Firm – for more information or for a free market opportunity analysis.
Our Video Partner: Motionpost – Chicago Video Production Company
Next month's topic: Success is in Your SEO Keywords
Sign up for our monthly newsletter to get new online marketing tips.