With over 1.8 billion websites online today, it is easy to get lost in the crowd. Businesses are focusing on different marketing strategies to stand out, and many of them turn to digital marketing and SEO and PPC in particular. Choosing from the wide range of digital marketing strategies available is not an easy task, and there is no single right answer for every business. Even so, by focusing efforts on the point of highest visibility, one can improve their chances of success. With just about 90% of the global search engine market share, Google is THE place to drive online visibility for your business. Because of Google's never-ending quest for SERP perfection, developing digital marketing campaigns that combine SEO with PPC is not only necessary for achieving prime listing positions, it's now the only way to maximize traffic and conversion opportunities.
Let's first review what SEO and PPC are, and how they factor into online visibility.
What is SEO?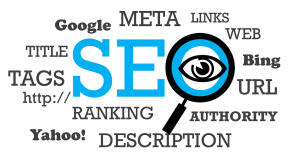 SEO, short for Search Engine Optimization, is the practice of increasing the quantity and quality of traffic to your website through organic (non-paid) search engine results. With SEO, a website is ranked organically as a result of many factors, including:
Keywords
Link-building
Content quality
Website & mobile optimization
Social media
HTML formatting
What is PPC?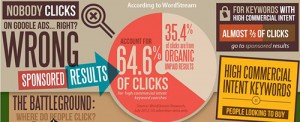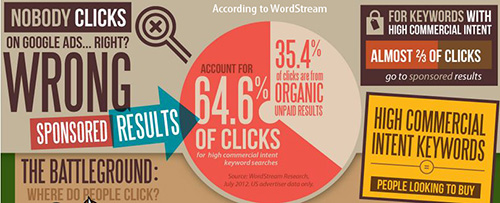 PPC (pay-per-click) advertising enables you to purchase ads directly that are placed at the top of a search engine result page (SERP). PPC ads are always listed above the organic search results and marked in a way that users know they are paid. Basically, you pay for every click on your ad. The larger your budget, the more visibility you can get.
So what approach is better? That depends on your needs and budget. If you can afford to use both, it might be the best investment you ever made. The combination of SEO and PPC form a whole that is greater than the sum of its parts. Here are some of the main reasons why SEO and PPC are such effective tools for online marketing, especially when used simultaneously and managed by one team.
SEO + PPC = Perfect Match
1. Greater Visibility and ROI
SEO is often used for building a consistent web presence over a long period of time while PPC helps generate leads for short-term marketing campaigns. Team them up, and you get double the exposure.
Running paid ad campaigns that 1) offer precise messages and 2) are located next to your organic listings on Google can increase overall CTR and lead to a higher return on your investment.
2. Shared Keyword Data
Keywords are the nuts and bolts of successful SEO and PPC campaigns. Since consumers are using long-tail keywords and complete sentences in their search process more than ever, keyword data needs to be shared by both programs. The more insight you gather through these combined efforts, the better your chances are of increasing brand awareness and driving more conversions.
3. PPC Gives SEO a Boost
Since you get more immediate results with PPC ads, you can determine which ones provide the most conversions. Once you figure out what works and what doesn't, you can focus on the best performing keywords and better optimize the pages that rank organically.
4. Share Goals and Combine Metrics for Better Insights
Teams that combine PPC data with organic user engagement metrics (average session duration, bounce rate, pages per session, etc.) are able to gain unique insight around how consumers are interacting with the website, and how they convert.
The metrics SEO and PPC teams review in order to establish key performance indicators (KPIs) should be almost identical. Improving those KPIs also helps apply this information to other marketing channels like PR, social media or email marketing.
5. More Social Media Exposure
Social Media marketing is a great way to reach out to targeted audiences and generate responses. Sites that are part of the Google, Facebook, LinkedIn and YouTube networks now have the ability to show ads targeting your brand, special product or service. The data you gather from these campaigns can help you dig up specific details about your target audience, so you can fine-tune your overall SEO strategy.
6. PPC Ads Help Refine Organic Keyword Strategy
While your long-term organic keyword strategy is evolving, you can test the conversion rate of words with PPC ads. Once you get results on the effectiveness of the organic keywords, you can adjust your strategy.
The PROs of Working with a Google Partner

If you want to meet your marketing objectives and ROI goals more quickly and effectively, it's better to work with a firm that not only offers SEO and PPC, but is also a certified Google Partner. When you see the badge on a firm's website, it speaks volumes about their business. That's because the Google Partner status has to be earned. Employees of marketing agencies that are Google Partners must take special courses and pass tests to gain individual qualification. The marketing agencies themselves must also meet strict requirements to become a partner. As a result, Google Partners receive access to exclusive information and marketing tools available only to partners.
In order to achieve prime listing positions in today's crazy competitive digital market, it's necessary to develop campaigns that use SEO and PPC collaboratively. Since these efforts are often complicated and time-consuming, consider working with a Google Partner like Proceed Innovative, an internet marketing agency that specializes in SEO, PPC and Web Design.
Our experienced digital marketing experts can help you set up and update SEO strategies and PPC campaigns after analyzing real-time data to maximize efficiency and conversions. We also attend frequent training sessions to stay on top of the latest trends and product releases from Google.
For more information on our SEO, PPC and Web Design services, call us at (800) 933-2402 or fill out a contact form. We look forward to hearing from you soon.