The internet has provided a more level playing field for small and mid-sized businesses to compete for visitors and leads with larger companies.  Building a solid website for your business is a good start, but a website alone is not enough to get attention and generate leads.  Even the best designed websites are largely ineffective if they are not supported with an effective digital marketing strategy.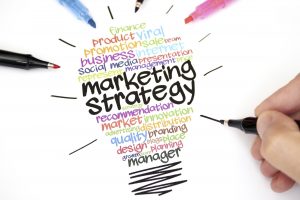 When designing and building a new website, it is important to create your digital marketing plan first for two reasons.  The first reason is that having a clear marketing strategy will help you make better design and content decisions when building the website, and the second reason is to consistently generate traffic and leads after the website is launched.  View your website as an integral part of your digital marketing strategy and ensure that it is designed to help meet your marketing goals.
In this guide, we will discuss what should go into your digital marketing strategy to help you before and after your website is launched.  If your business is ready to launch a new website, you should also turn to professionals to help.  Proceed Innovative is a digital marketing agency that provides SEO web design and ongoing digital marketing services.  We can help you devise an online marketing strategy based on your specific goals and design and build your website with SEO principles in mind.
Digital Marketing Strategy: Before the Web Design
Before you begin building a website, it is important for your business to create a digital marketing strategy.  The strategy should be based on your main marketing goals, whether that involves driving more search traffic or converting more leads, and your website design should be incorporated neatly into this plan.  A digital marketing professional can help you create a focused, cohesive digital marketing strategy.
The first steps to creating a digital marketing plan are to clearly define your goals and your target audience.  With your goals and audience in mind, you can proceed with the design of your website to best reflect your marketing strategy.
Your digital marketing plan should include the following: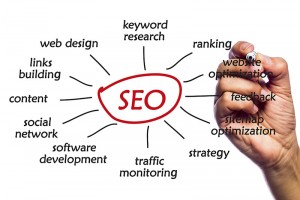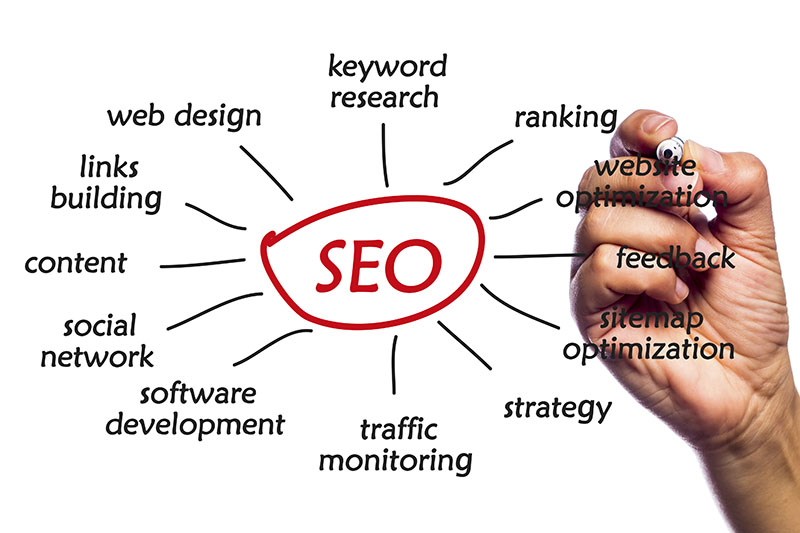 Keyword research: The first thing to do is identify your main keywords and phrases. These are phrases that directly relate to your products or services.  Start with the more specific keywords and phrases and branch out to less specific keyword phrases that are still relevant.  You can use tools such as the Google Keyword Planner to find keyword phrases that get a lot of searches.  The targeted keyword phrases can be used to determine and write the pages and content of your website.
Identify target audience: This is an important step as you should know and understand your target audience. The target audience is who you believe your products and services most appeal to.  Consider age, sex, socioeconomic status, and interests of your target audience.  The description of your target audience may be broad if you provide general products or services and if your business caters to a specific niche, you can narrow the description of your target audience.
Content strategy: While web design is important, your website is really only as good as the content on the pages. Before the design of your website begins, plan out a content strategy that includes the main pages, subpages, blogs, and other content you want to include.  Your keyword research from the previous step will help you form the structure and content of your website.  You should also keep your target audience in mind as the content you are writing should ultimately appeal to them.
PPC: With pay-per-click (PPC) campaigns, you can create paid ads that target specific keywords and phrases. Each PPC ad you create will include a link back to your website to what is referred to as a landing page.  If you plan on using PPC campaigns after your website is built, decide which keywords you will pay to target and create pages on your website to be used as landing pages for specific PPC ads.
Social media strategy: Social media has become an increasingly important aspect of digital marketing. Your business can share updates, information, and special offers on different social media platforms and connect directly with your audience.  You can also help drive traffic to your new website by sharing links on your social media accounts.  Consider your target audience when forming your social media strategy and discover which platforms they are most likely to use.  Begin creating a presence on social media before your website is launched.
Define conversions: This is a very important step to measure the performance of your website, generate leads and grow your business. It is possible for businesses to identify several different types of conversions, for example signing up for a newsletter, making a purchase, or calling your business for services.  Defining what a conversion is to your company will help you design your website to generate the type of leads you are looking for and determine which metrics to track after the website is launched.
Target mobile users: More people are searching for products and services on their phones than any other devices, making it important to consider mobile users when forming your online marketing strategy. Mobile users are most likely to utilize voice search, so research long-tail keyword phrases that a user is likely to speak into their phone.  This also means that your website should be mobile friendly with a responsive design that displays and functions properly on mobile devices.
SEO Web Design
Unless your business already employs a web design expert, you should be looking for a professional to help design and build your website for success.  There are many professionals who are strictly website builders as well as digital marketing agencies that offer web design as one of their services.
When you work with a professional who only provides web design, you will usually pay a one-time fee for the design, build, and launch of your website.  The expertise of these professionals is typically limited to web design and while you can work with them to incorporate elements of your digital marketing plan into the design, this may not be as effective as it would be if you worked with a full-service agency specializing in both – web design and digital marketing.

If you work with a digital marketing agency, they can help you plan your marketing strategy and incorporate important SEO elements into your website design.  The following are some important SEO web design elements that may be overlooked by a professional that only specializes in website design:
SEO optimized coding
Mobile friendliness
Readability
Loading speed
Smooth navigation
Sitemaps
URL structure
Image optimization
Digital Marketing Strategy: After the Website Launch
Your website has been built, the content is uploaded, and it is now live.  So, what do you do now?
If your company created a well thought out digital marketing strategy before your website design and launch, you will not be faced with this question.  Instead, you can immediately begin monitoring the performance of the different aspects of your digital marketing plan and make adjustments to maximize your ROI. SEO is an ongoing process of tracking results and making adjustments to reflect market and search engine changes.
Let's revisit some of the main points of creating a digital marketing strategy we discussed in the first section and how these different facets of your marketing plan can help you promote your website after its launch.
Keyword research: This is not a one-time task that you do initially, keyword research is an ongoing task. A specific keyword phrase that drove the most traffic last year may not be the highest traffic getter this year.  By continuing to monitor the performance of your main keyword phrases, you can continue to edit and optimize your website to ensure you are using the highest performing relevant keywords and phrases.  This will also help you discover new keyword phrases being searched by your target audience.  You can incorporate this research into your website by adding the keywords to your existing pages or creating new pages centered around a popular keyword phrase.
Target audience: You should always keep tabs on your target audience and the analytics data of your website after its launch can help. Data from Google Analytics will not only show demographic information of your visitors, but also their behavior on your website.  You can tell on which pages your visitors entered your website and where they went after, giving you an idea of the buyer journey.  This can help you better optimize the most visited pages of your website to convert leads into sales.
PPC: If you are running PPC campaigns, you can monitor the traffic to your PPC landing pages and observe the behavior of your visitors after landing on these pages. You can also use the data from your PPC ads to decide which keyword phrases are more cost effective to target.
Content strategy: Content creation for your website is also not a one and done task. Websites that are consistently updated with fresh content generally rank higher in the search engine results pages (SERPs) because they provide more value to their users.  Remember, your existing content is not set in stone, you can update, optimize, and edit your pages to improve their performance.  You can also upload fresh content to your website with weekly or monthly blog posts about topics pertaining to the interests of your target audience.  Consistent quality blog posts will help boost your rankings, intrigue your audience, and help your business establish itself as an authority in your field.
Social media marketing: After the launch of your website, you can promote your website by sharing links on your social media channels. Social media is a great place to share new products or services, special offers, new blogs, and more to keep your audience engaged with your brand.
Convert leads: If you have defined what counts as a lead and conversion before your website was launched, you can now start to track your leads and conversion rates. If you are happy with the amount of leads your website is generating but want more conversions, you need to evaluate and adjust your strategy for converting leads.  If you want to get more leads, you may need to make adjustments to your website to attract more traffic and guide visitors through the buyer's journey.
SEO and Web Design Services from Proceed Innovative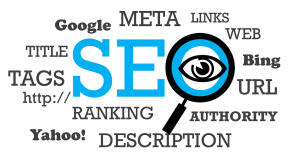 The design and launch of your website should not be the starting point of your digital marketing efforts.  It should be part of a pre-existing, cohesive digital marketing plan in which your website is designed specifically to help achieve your already determined marketing goals.
Above we discussed two options when it comes to working with a professional to build and launch your website.  Working with a professional that only specializes in web design will usually cost less with their one-time fee, but your website will likely not be built with SEO principles in mind.  You will also be on your own after the launch to promote and maintain your website.  When you work with an SEO professional that provides web design and SEO marketing services, you will get a website built within the context of your ongoing digital marketing strategy.  These professionals can also provide digital marketing services after the launch that include promoting and maintaining your website.
At Proceed Innovative, we are a full-service digital marketing agency that provides SEO web design as well as ongoing SEO marketing services to help promote your website and boost your online presence.  We will first help you form an SEO marketing plan based on your specific goals and design and build your website within the context of your digital marketing plan.
You can call Proceed Innovative at (800) 933-2402 or contact us online to get started.