If your business goals are:
getting instant local and targeted traffic;
increasing sales or leads;
promoting seasonal products;
branding;
high ROI
then Pay Per Click Advertising is right for you!
After organic search engine optimization, pay-per-click or PPC is the most popular Internet marketing program. Each of the major search engines offers a PPC program.
Google's PPC program is called AdWords, Yahoo's is called Yahoo! Marketing Solutions, and MSN has Microsoft AdCenter.
There are also some secondary search engines offering PPC programs. Examples are Business.com and TripAdvisor.com.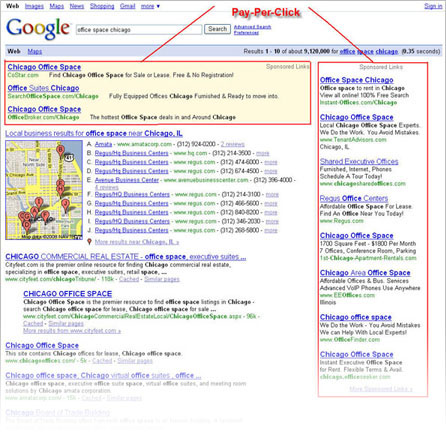 PPC is a program where ads or links to the advertiser's website are displayed in the SERPs when visitors enter specific keywords. The advertiser pays only when a visitor clicks on the link.
The cost per click (CPC) is set up by the advertiser via an interface the search engine provides. Typically monthly and daily budgets are used to help businesses control their costs. The actual CPC varies but has a minimum for each search engine.
An example of how to calculate the ROI of a PPC campaign:
Your budget per month is $5,000 with a $2 maximum CPC. Because you only pay for ad clicks and you set the maximum CPC, the website will receive at least 2,500 clicks. Your website may receive substantially more clicks at a lower CPC.
If your website conversion rate is 10%, your business will make 250 sales as a result of the clicks. If the average sale amount is one hundred dollars, your business will have returned $25,000 in sales.
Four steps to a successful PPC campaign:
Identify your advertising goals, and then create relevant keywords and ads for each of these goals.
Run 'pilot' campaigns to test the ads and keywords.
Set up the AdWords conversion tracking tool and reporting tools to analyze the performance of your ads.
Modify and refine your campaign until you reach a desired ROI. Retain only the most successful ads.
For more information, please contact Proceed Innovative today regarding a targeted Pay Per Click Campaign with training, for your business.
The Pros of PPC: It is one of the best programs when you offer seasonal and promotional items.
The Cons: It can get really expensive per click and the benefits stop immediately after the campaign is turned off.
Key takeaway: For many businesses, the Internet is a place to communicate with customers, to sell products and services or generate sales leads. Among the many online marketing strategies available, pay-per-click is a fairly quick and easy way to set up and get started.
Next month's topic: Social Media Marketing.
Sign up for our monthly newsletter to get new online marketing tips.