We have definitely entered the mobile age as more people are using their portable devices such as phones and tablets to access the internet. This surge in the use of mobile devices has caused a shift in the world of internet marketing as many companies are now building more responsive websites to display properly across all kinds of devices. While it is definitely an advantage to have a website with a responsive design, you can take your digital marketing a step further with mobile applications. Proceed Innovative has designed a mobile application for ServiceMaster franchises that allows users to access information and call for emergency services directly from the app.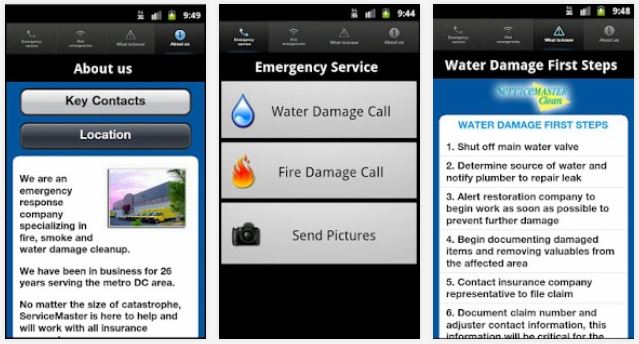 The Importance Of Mobile Responsive Website Designs
With over a quarter of the world's internet searches being conducted on mobile devices, it is crucial for your business's website to be responsive across all mobile platforms. A website that has a responsive design displays properly on all devices for easy usability and navigation with minimal resizing, panning, or scrolling. This will help ensure that your website reaches more users who are browsing the internet on their mobile devices and lower the bounce rate as mobile users are more likely to stay on responsive websites and respond to your Call to Action. While creating a responsive website is an important step towards expanding your digital marketing, utilizing a mobile application can help put it over the top.
The Benefits Of Mobile Applications
More businesses are making use of mobile applications as the number of smartphone users around the world continues to rise. Over half of all local internet searches are done on smartphones and mobile users are much more likely to respond to a Call to Action than those using desktop computers which makes them a very important market to reach. Mobile applications provide a level of convenience that even the best designed websites cannot match as they can be designed to offer convenient information and encourage customer engagement with an easy to find Call to Action. The following are some specific advantages to using mobile applications for your business:
Maximize Business Opportunities: There was a time when business opportunities only arose when potential customers would meet face to face or call your business directly. Mobile applications have made it possible for there to always be business opportunities as people with smartphones may start browsing the internet at any free moment throughout their day. A mobile application will encourage people to engage with your brand in their free time and creating a seamless experience on the app will make them much more likely to convert on the fly.
Create Relationships with Customers: Direct engagement with your customers is important for expanding your brand and mobile applications provide the perfect medium for direct customer engagement. Your customers are much more likely to contact you or respond to your desired Calls to Action within an easy to use mobile app that has built in features for direct communication.
Increase Your Availability: Another major advantage of having a mobile application for your business is that it makes you always available for your customers. Mobile apps can be used without an internet connection, unlike websites, and they are saved in users' phones so that they can always return to them. Having a mobile app can also help more people find your business as millions of users search Apple and Google app stores each day.
Improve Customer Experience: The main goal of your entire online marketing campaign is to improve the experience of your customers and mobile applications allow you to offer an easy to use interface designed specifically for mobile devices. Your customers are much more likely to use your application and remain loyal to your brand if it improves their experience with your company.
About The Servicemaster Mobile Application
Proceed Innovative has designed a mobile application specifically for ServiceMaster franchises that allows customers to access important information regarding their services and make direct emergency calls. The home screen of the mobile app features two emergency call buttons for fire and water damage as well as a Send Pictures option to directly send pictures of the damage. There is also a non-emergency service form that customers can fill out and send along with pictures. This mobile app is beneficial for your customers because it provides them with a convenient interface to quickly access information and call directly for emergency services, and it is beneficial for your company because the app appeals to the still growing market of mobile users.
For more information about our ServiceMaster Mobile App, contact:
Luke Moreno: Account Executive – (847)756-0835 – Email
Jasmine Panayotov: Managing Partner – (847)778-5556 – Email
Next topic: Furniture Medic by MasterCare Experts Launched New Contemporary Website
Previous topic: ServiceMaster SouthWest of Stafford, TX Joined RestorationMasterFinder.com
Sign up for our monthly newsletter to get new online marketing tips.