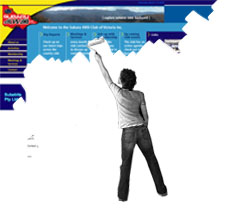 Many marketing teams invest time and money into designing a new website. Then the new site goes live and very little happens. What are the missing pieces?
Website redesign can be a difficult, long, and expensive process. This is a list of five web design tips to guide and help you through the process of launching a new and successful web site.
Step 1. Determine what performs well on your current website. How many potential customers are finding you online? Why or why not are visitors contacting you? What do your visitors like about your web design and what is turning them off?
Step 2. Redesign your web site in a better way – research the keywords your potential clients are searching for. Design the site to provide information your customers are looking for quickly. Do not waste their time with long flash elements or a loud music. Make these elements optional.
Step 3. Research your online competitors. What possibly you could learn from their websites? What elements of their site are stealing away your customers?
Contact Proceed Innovative – your Search Engine Optimization Firm – for a free competitor and market opportunity analysis.
Step 4. Work with your web developers to determine how to make the new web design as search friendly as possible.
Step 5. Develop and implement a marketing plan that will help you reach your online marketing goals.
There are many online marketing programs to promote your new web site and it can be difficult to determine which one to start with. Three of the most popular are Local Search, Organic Search Engine Optimization (SEO) and Pay-Per-Click (PPC). Implementing Web Analytics is essential to monitoring and adjusting the existing online marketing programs as well as improving the usability and increasing site conversions.
Next month's topic: Search Engine Marketing (SEM). How does each online marketing program work? Which one do I start with? How do I combine them successfully?
Sign up for our monthly newsletter to get new online marketing tips.