When it comes to advertising spending in the United States, TV advertising is and has been the largest medium but many experts are predicting that by 2018, digital ad spending will exceed the spending on TV advertising.  According to estimates from eMarketer, digital ad spending will increase from about $50 billion to over $80 billion by 2018 and mobile ad spending is expected to triple and reach over $58 billion in expenditures by 2018.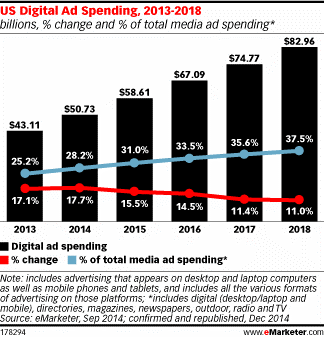 This information is important for marketers and advertisers to take into account because the ad spending trends reflect larger trends of the consumer market.  About two-thirds of the U.S. population will be using smartphones and other mobile devices by 2018 and many advertisers are already allocating more funds away from desktop formats to mobile advertising.  It is this shift to mobile use by the consumer market that is largely fueling the shift to digital and mobile ad spending.  The following are general statistics compiled by eMarketer regarding media ad spending.
Spending on advertising in 2014 increased by just over 5% from 2013. Similar growth is expected for 2015.
eMarketer expects TV ad spending to increase by only about 3% in 2014 and 2015.
Ad spending for digital online and mobile formats increased by over 17% in 2014 and a 15% increase is expected for 2015.
By 2018, spending on digital ad mediums will surpass TV ads and continue to gain more of the market share.
Mobile is expected to fuel the growth of digital ad spending with annual growth in the double digits through 2018.
These statistics for eMarketer's ad spending forecast through 2018 indicate increasing trends in mobile and digital ad spending to the point that they will overtake TV ad spending by the end of the forecast period.  Google, which includes YouTube, is still expected to own the largest share of the digital ad spending market but will lose some of that share to Facebook, Amazon, and Twitter which are each expected to increase their ad revenues.
Mobile Advertising Increase
The largest growing digital market is mobile with spending on mobile advertising already overtaking ad spending on newspapers, magazines, and radio at $19 billion.  Mobile based ads include several formats such as classifieds, display, search, email, and messaging-based ads which experienced an increase in spending of over 70% in 2014 and are expected to increase by about 50% in 2015.  According to eMarketer's forecast, the mobile advertising market will triple in size by 2018.  Google, Facebook, Twitter, Yahoo, Pandora, Yelp, and Amazon are each expected to increase their mobile advertising revenues over the forecast period with mobile ads also taking up a larger percentage of each company's total ad revenue.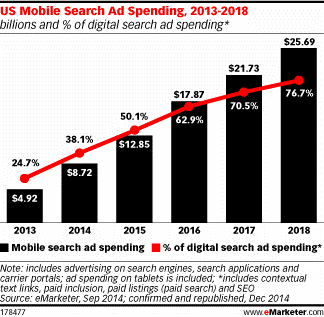 The advertising landscape is shifting away from the traditional mediums of TV, radio, and print to more digital mediums such as online platforms, search, and mobile.  Marketers and advertisers should take notice of these trends as they have grown considerably over the past couple years and are projected to continue to grow not just by eMarketer, but by other authorities in the industry as well.  If you are unsure of the best way to allocate the advertising funds for your company, contact a professional internet marketing firm such as Proceed Innovative to discuss your best online and mobile advertising options.