The purchase of a product or service generally starts with an online search.  In fact, more than 90 percent of the interactions between a consumer and a business start with a Google search.  This makes it very important for businesses to have a strong online presence and good rankings in the search engine results pages (SERPs) to attract customers.
Effective online marketing is crucial for the success of a business and the best way for businesses to ensure that they are getting the most from their online marketing is by working with a digital marketing agency.  Agencies that specialize in search engine optimization (SEO) marketing will understand the marketing goals of your business and implement proven SEO strategies to achieve these goals and help grow your business.
While businesses can do their own digital marketing in-house, it is more beneficial to work with a digital marketing agency.  SEO experts have a deeper understanding of how to improve your online visibility and brand awareness to improve your rankings in the SERPs and increase the traffic to your website.  Professional digital marketing services can bring your business a great return on investment (ROI), but it is still an expense that your business must consider.  The cost of SEO services depends on many different factors which can make it difficult for you to know what to expect.
In this guide, we explain the various factors that affect the cost of SEO services as well as the average costs of individual services generally included in a digital marketing plan.  This will help you know what you can expect to pay for SEO services so that you can work with an agency and a digital marketing plan that fits within your budget.  If you want to learn more about SEO costs or the benefits digital marketing can have for your business, talk to our professionals at Proceed Innovative.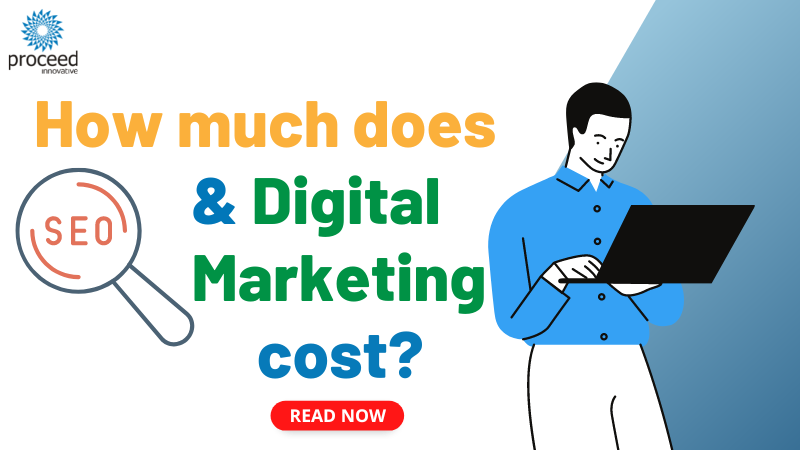 Determining SEO Costs
As mentioned above, the cost of digital marketing and SEO services will vary depending on many factors including the specific services needed to achieve your marketing goals.  It is important to understand what factors go into determining the cost of SEO so you can have a better idea of what to expect to pay and find a digital marketing agency that offers reasonable pricing.
What SEO Agencies Use to Determine Pricing
The specific marketing needs of your business will largely determine the price of SEO services.  For a digital marketing agency to provide a quote, they first need to understand what your business does as well as your marketing goals. The agency will then use this information to determine the best SEO strategies to reach your goals which will make it easier to provide a more accurate estimate.
The following are the main factors used by digital marketing agencies to determine SEO costs:
Your revenue
Close rates
Current website rankings
Digital marketing goals
Many agencies offer SEO packages that come with a monthly fee, but this fee may change depending on your specific needs.  Providing the agency with this information about your business will allow them to adjust their SEO packages to suit your needs which will lead to more accurate pricing.
How SEO Services are Billed
SEO agencies and freelancers may bill businesses for SEO services in the following ways:
Monthly retainers
Hourly rates
Project-based services
Performance-based
Custom SEO pricing
Most SEO agencies bill monthly for their services.  The average cost of SEO per month is between $2500 and $5000, but businesses could spend up to $20,000 per month depending on the scope of their services.
Like with anything else, you get what you pay for with SEO services.  The monthly cost of a quality, experienced SEO service provider will fall within the price range mentioned above.  You should be wary of agencies that claim to offer comprehensive SEO services at a low price.
Just because monthly billing is the most common pricing model for SEO services, that does not necessarily mean that this model is what is best for your business.  You must consider the estimated cost per month of the SEO services you need as well as the budget your business can set aside to pay each month.  Also, SEO is not something you can pay for one month and stop, it takes an ongoing effort for SEO services to be effective which makes this service a recurring monthly expense.
Cost of Local SEO
If your business is a local business that only provides products and services within your local area, then you should consider local SEO.  With local SEO services, the agency will focus on improving your visibility and rankings in the SERPs for local searches to attract more leads within your service area.  On average, local SEO is less expensive because the campaign is only targeting your local area as opposed to the entire U.S. or the world.  However, the exact pricing of local SEO is determined by the same factors that determine the pricing of any SEO campaign.
Factors that Determine SEO Costs
The factors that determine SEO pricing discussed above depend on the agency you work with.  The following factors related to your business can also affect the cost of SEO services: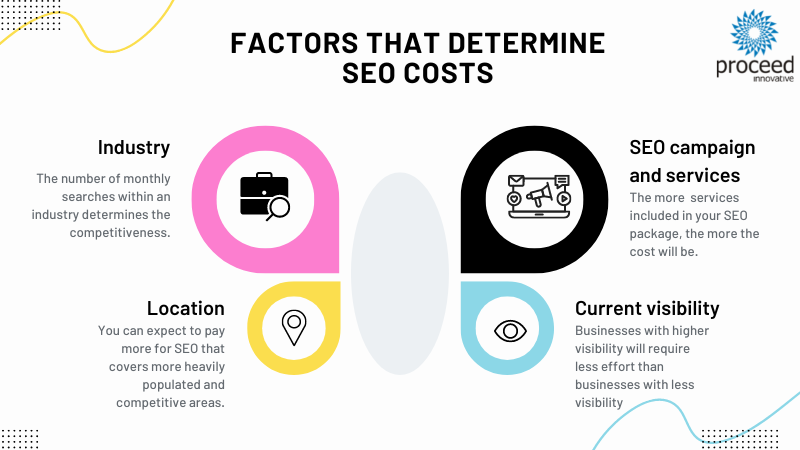 Industry: Industries that are highly competitive will have to spend more on their SEO campaigns to be seen among their competitors. The number of monthly searches within an industry is what is used determine the competitiveness.
Location: Several factors concerning your location may impact the pricing of SEO, including the local population, the demand for your products and services within your service area, and your level of local competition. You can expect to pay more for SEO that covers more heavily populated and competitive areas.
SEO campaign and services: Your SEO campaign will consist of several services such as keyword research, audits, content creation, pay per click (PPC) management, web design, and technical SEO. The more of these services that are included in your SEO package, the more the cost will be.
Current visibility: The current online visibility and brand awareness will also affect the cost of SEO as businesses with higher visibility will require less effort than businesses with less visibility and brand awareness.
Set Your SEO Budget
Before getting estimates from SEO service providers, you should first determine the budget you want to set aside to pay for monthly services.  This will help you decide which services you want include with your SEO package that allow you to stay within your budget.  However, you also need to make sure you are getting enough from your SEO services to beat your competition.  Agencies can provide you with an SEO audit that will show you where you stand in comparison to your competitors and what you need to do to beat them.
Return on Investment for SEO Services
While SEO services can bring your business an excellent ROI, there is no guarantee.  SEO services are designed to bring more traffic to your website and create more sales opportunities, it is up to your business to convert your leads.  However, the increase in leads can result in more sales.
It is important to remember that SEO services do not produce instant results.  It may take up to 6 months for you to see results which makes SEO a long-term investment.  This investment can help you reach your marketing goals over time and improve your ROI.
Average Cost of SEO
It is common for small to medium sized businesses to spend about 10-20 percent of their revenue on digital marketing.  The monthly cost of online marketing and SEO services as a whole can be as low as $200 per month and as high as $20,000, with the average monthly cost generally falling between $1000 and $5000.  You can also expect to pay between $350 and $650 for an SEO agency to perform and provide an SEO audit and recommendations report.
A freelance SEO service provider will usually charge by the hour and may have hourly rates anywhere between $50 and $230.  The average price for a freelance digital marketer is $68.  While working with a freelancer may be appealing because it is less expensive, paying a freelancer by the hour to do the work may lead to piecemeal strategies and inconsistent results.  By working with a digital marketing agency instead, you will get a consistent effort and a comprehensive, long-term plan that will help your business grow over time.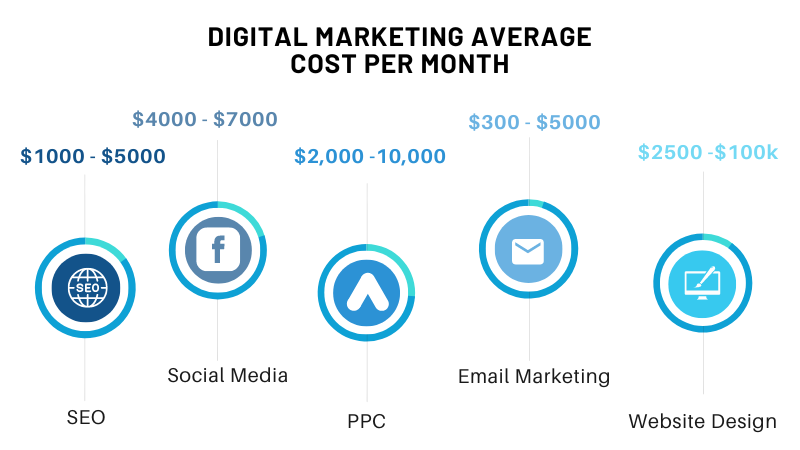 Cost of Social Media Advertising
Advertising on social media can really give your online marketing campaign a boost, but it does take an investment to get the best results from these campaigns.  Social media platforms like Facebook and Twitter allow businesses to start an ad campaign in which they pay per click for their ads.  If you want social media marketing to be a part of your overall digital marketing strategy, it is necessary to spend some money on Facebook and Twitter advertising.  Social media algorithms generally only show some of your content to a small part of your audience organically, making businesses pay for advertising to get any results.
The average cost of social media marketing falls between $4000 and $7000 per month but can be as low as $900 or as high as $20,000.  On Facebook, you can pay per click for your advertisements, with each click costing between $0.50 and $2.00.  You can also choose the Cost-Per-Mille (CPM), or cost per thousand views, option in which you pay each time your ad reaches 1000 users.  This type of campaign comes with an average monthly cost of $11.
Twitter offers pay-per-click model advertising as well that costs an average of $1.35 per click.  With Twitter advertising, you will pay this fee each time someone clicks, replies, or retweets your ad.
Pay-Per-Click (PPC) Advertising Cost
Pay-per-click (PPC) advertising is offered by search engines like Google, Bing, and Yahoo in which businesses create advertisements centered around a targeted keyword or phrase and pay the search engine for each click.  These advertisements show up at the top of the SERPs above the organic results.
These advertisements are made to target a specific keyword or phrase and the cost per click is determined by the popularity of the term.  These ads can give you an advantage by putting your business at the top of the SERPs for relevant keywords.  On average, businesses spend $2,000 to 10,000 per month on PPC advertising, or between 5% and 25% of their monthly advertising budget.  It helps to have a digital marketing agency with PPC experience run your campaign to get the most out of the money you are spending.
Email Marketing Cost
Email marketing may seem like an outdated marketing strategy, but it is still widely used because it provides an excellent ROI.  With email marketing, you can keep in contact with your customer base and provide them with special offers and other important information about your business on a regular basis.  Email newsletters are a great way for you to maintain the relationship with your audience.
Many digital marketing agencies offer email marketing as part of their digital marketing services.  Email marketing can cost between $300 and $5000 per month.
Website Design and Maintenance Costs
Effective digital marketing starts with an optimized, user-friendly website.  Many digital marketing agencies provide web design services, and their design professionals work with their SEO experts to build websites best suited to perform well in the SERPs.  Businesses can work with professionals that just provide web design services as a one-off cost, but they will likely not incorporate the SEO principles that a digital marketing agency can.  Website builds are a one-time cost and can cost anywhere from $2500 to $100k.
Once a website is launched, it requires ongoing maintenance to maximize its performance in the SERPs.  This includes making changes to improve the functionality of the website, creating new page content, and optimizing existing content to help improve rankings.  Website maintenance and content marketing can cost between $2000 and $10,000 per month depending on what is needed to improve and maintain the rankings.
Digital Marketing Services from Proceed Innovative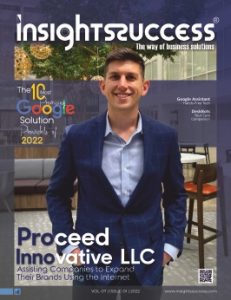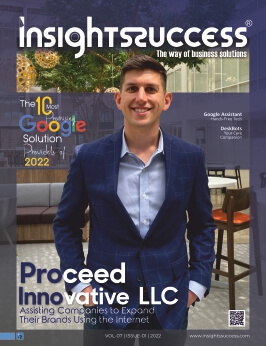 Digital marketing campaigns consist of several strategies that work together to help attract new visitors to your website, increase sales opportunities, and grow your business online.  The cost of digital marketing services will vary depending on which strategies you want to include in your campaign and how much you are willing to invest in each strategy.  Working with a digital marketing agency like Proceed Innovative will help you form a digital marketing campaign within your budget that helps improve your online presence and brand awareness and increase your number of leads and sales opportunities.
At Proceed Innovative, our SEO experts will take the time to understand your business, as well as your marketing goals, so we can form and implement a marketing campaign that will help you reach your goals.  We can provide web design, SEO, local SEO, and PPC management and we can help you decide which strategies should be included in your campaign and how much you should invest for each.
For more about our digital marketing services, call us at (800) 933-2402.