The adage, "you get what you pay for" is true for many things.  SEO and digital marketing services are among these things and if you look for cheap services, you will definitely get what you pay for.
For businesses to increase their brand awareness and grow their customer base, good SEO and digital marketing services are important.  More people are searching for products and services online than ever before and if your company does not have a strong online presence, you will lose out on a lot of business to your competitors.  Working with a trusted and reputable digital marketing agency that provides SEO services can help businesses improve their online presence and drive more traffic to their website which will result in more leads and sales.
However, for as important as SEO is, many businesses are hesitant to invest too much in these services for a number of reasons.  This causes businesses to look for less expensive SEO services, hoping they can get some benefit to boost their online presence and website traffic without having to invest too much.  But with a limited investment comes limited results.  Many of the SEO service providers offering their services for a low price may be providing incomplete services or may not be experts at all in the field.  Businesses should consider investing a little more for better SEO services and reputable SEO professionals can actually save you money in the long run by providing a better return on investment (ROI).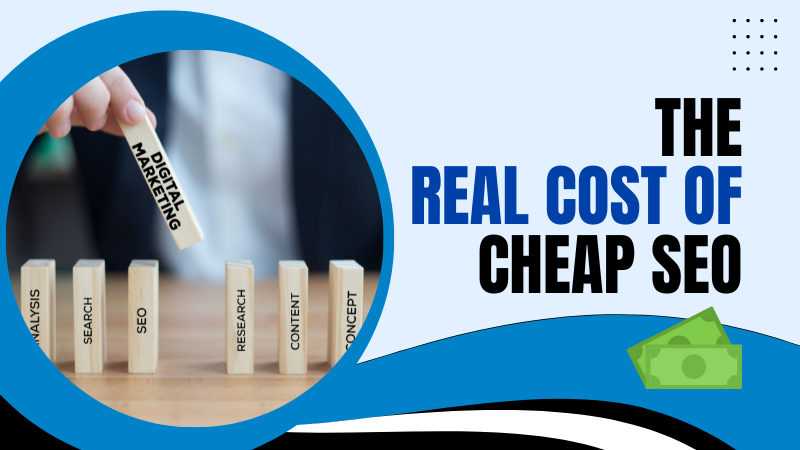 In this guide, we will discuss the true cost of cheap SEO services and why your business should invest more in a reputable digital marketing agency to ensure effective SEO marketing.  At Proceed Innovative, we provide SEO services using proven methods that generate a great ROI for our clients.
Why SEO Services are Important
As mentioned above, most consumers start their buying journey with an online search when they are interested in a product or service.  Search engine optimization (SEO) is the practice of ensuring that your website is well optimized to appear high in the search engine results pages (SERPs) which increases brand awareness and website traffic.  Quality SEO services will help your website improve and maintain rankings in the SERPs which gives your business a competitive advantage.
SEO services from a reputable digital marketing agency not only help your website climb in the rankings, but also remain in the top results in the SERPs.  For SEO to be effective, it requires an ongoing effort as businesses that appear at the top of the SERPs can always be knocked down by other businesses with more effective SEO strategies.  Many cheap SEO providers do not provide ongoing services which means that if you get any results from their services, the results will not last.
Why You Should Avoid Cheap SEO Services
SEO efforts are most effective when they are consistent and customized to suit the specific marketing goals of your business.  A trusted SEO service provider will be able to create a custom SEO strategy that will help you achieve your marketing goals using proven methods.
The execution is the key to successful SEO as reputable professionals are well versed in SEO strategies as well as Google best practices to ensure a tailored, yet reliable approach.  Cheap SEO service providers on the other hand take more of a one-size-fits-all approach and will do the same strategies for every business instead of tailoring them to specific marketing needs.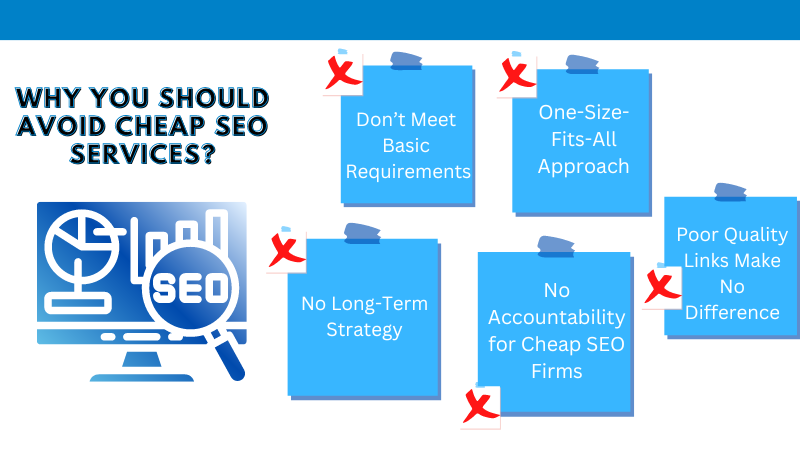 The following are the main reasons to avoid cheap SEO services:
Don't Meet Basic Requirements
The two components of SEO strategies that have the biggest impact on the success of the campaign are content creation and backlinks.  Creating high-quality, valuable content and building backlinks to other quality websites will help your website rise in the rankings of the SERPs.  However, creating content and building backlinks are time consuming and expensive.
Providers of cheap SEO services often do not have the capital to take the time to create quality, long-form content.  They may instead use software to scrape and spin existing content from other online articles to create new content that is often low quality with structure and grammar issues.  Bad content will not only hurt your ability to rank well in the SERPs, but also make a bad impression on visitors to your website.
The lack of capital causes the same issue with link building as cheap SEO providers will usually get cheap or poor-quality links instead of putting in the time to get quality links.  Building a high volume of low-quality links can also hurt the performance of your website.
Poor Quality Links Make No Difference
When link building was first used as an SEO tactic, websites that got the most links got better rankings in the SERPs, regardless of the link quality.  With Google's current algorithm, there is more emphasis put on the quality of links as opposed to the quantity.
Cheap SEO providers link build the old way in which they will cultivate a high number of low-quality links.  Mass link building puts your website at risk of being penalized by Google which will greatly harm your digital marketing efforts.  If your website is penalized, Google may remove it from the organic search results entirely.  It will take a lot of time and money to get your website back in the organic search results.
At the very least, Google will ignore the low-quality links which will result in nothing but a waste of the money you pay the SEO provider for these services.
One-Size-Fits-All Approach
Cheap SEO providers typically offer the same services at the same prices for every client.  However, each business is different and requires SEO services that suit their needs, circumstances, and marketing objectives.
If an SEO provider is offering a one-size-fits-all solution, this is a major red flag, and they should be avoided.  A reputable SEO service provider will take the time to understand your business and consider multiple factors including your budget, industry and the competitiveness of your industry, and your current SEO situation.  This allows them to cater SEO services to your specific needs which have a much higher success rate than generic one-size-fits-all strategies.
No Accountability for Cheap SEO Firms
The services you get from a cheap SEO provider are likely to provide few if any results.  Once you become frustrated with their services, they will be happy to terminate the relationship and move on to new clients.
It is very difficult to hold bad SEO providers accountable for their lack of results and most businesses that use them will be left with nothing to show for the money they spent.  Cheap SEO providers focus on getting a lot of clients and securing payments quickly with no interest in providing long-term services or developing a business relationship.
No Long-Term Strategy
The important thing to remember about SEO is that it can take 3-6 months to start to see results.  When working with a reputable SEO service provider, the first several months take a significant investment before the efforts pay off.  This can be frustrating for businesses at first which is why cheap SEO service providers offering quick results are appealing.
However, the fast results that cheap SEO firms provide have little to no lasting impact for a practically non-existent ROI.
What Should You Spend on SEO?
As we have outlined above, you cannot expect good results from SEO providers while investing very little.  It takes a good investment in SEO services to get results that will greatly benefit your business.  But how much should you expect to spend to get SEO services that will provide a return on your investment?
Quality SEO services from a reputable digital marketing agency may require an investment of at least $500 per month for local SEO campaigns.  National and international SEO campaigns can cost anywhere from $2500 to $5000 per month on average.
It is understandable why many businesses are hesitant to invest too much into SEO services including budget restrictions and a misunderstanding of what SEO is and how it can help.  However, with SEO services, you do get what you pay for.  Your business will experience more of a benefit by investing a little more into SEO and working with a reputable digital marketing agency.  A bigger initial investment into SEO services that provide long-term results will yield a much better ROI which will make the investment worth it.
Trusted SEO Services from Proceed Innovative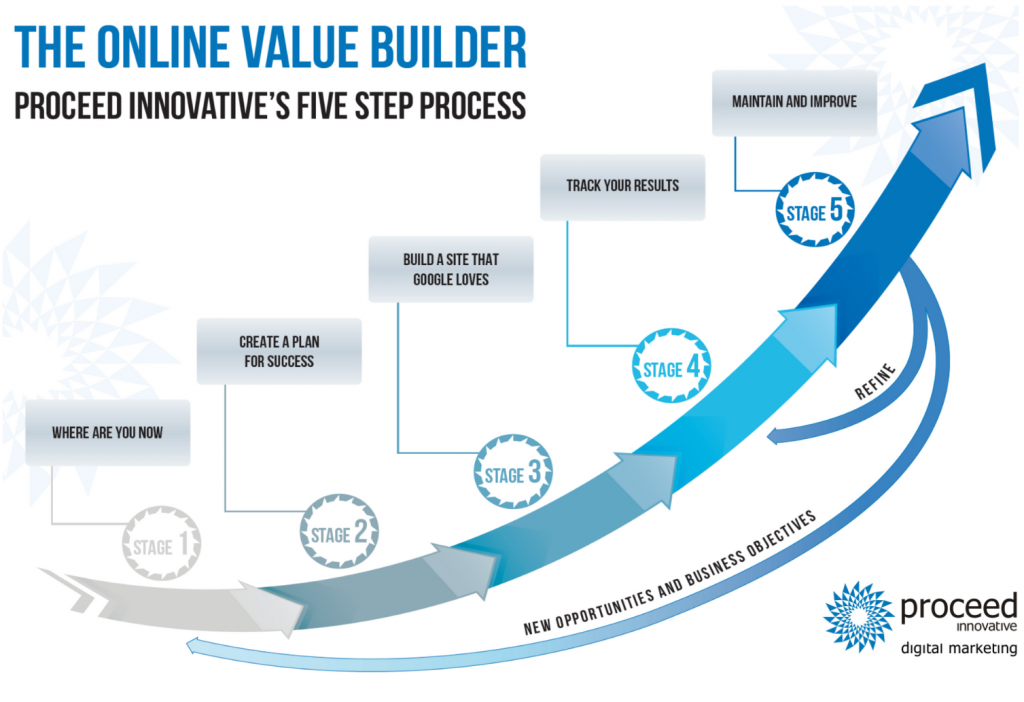 Businesses that want to increase their brand awareness and visibility online benefit greatly from investing more in SEO.  An investment in SEO services with a reputable digital marketing agency can help businesses drive more traffic and grow their customer base online which will generate more leads and conversions.
At Proceed Innovative, we provide SEO marketing services to help get more sales opportunities for businesses online.  Our experts will understand your business and marketing goals so we can form and implement an SEO strategy that will help achieve your goals.  We are committed to providing our clients with an ongoing SEO effort to get long-term results.
You can call Proceed Innovative at (800) 933-2402 or contact us online to learn more about our SEO services.