Creating and implementing an effective search engine optimization (SEO) marketing strategy for your business will greatly improve your online presence and visibility which will ultimately help you generate quality sales leads.  There are many businesses across industries that rely on leads for their products and services which makes it important to get consistent lead generation through effective SEO and other digital marketing strategies.
Effective lead generation involves more than just getting leads.  For your business to get the best return on investment (ROI) for your lead generation efforts, you need to focus on generating quality leads and qualifying them right away so you can follow up on the good leads and disregard the poor-quality leads.
In this guide, we will discuss the types of sales leads you should chase, how to generate quality sales leads through SEO and other digital marketing strategies, and how to qualify your leads to improve your conversion rate.  If your business could use the help of a professional to improve your digital marketing efforts, talk to our experts at Proceed Innovative about our SEO services.
What are Sales Leads?
To put it simply, a lead is a potential customer who is interested in your products or services but has not yet converted.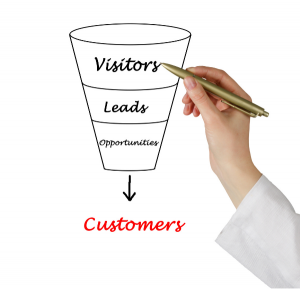 It is easier to determine where a lead is on their buying journey using the sales funnel model.  The leads at the top of the funnel (the widest part) are those who are somewhat aware of your brand as well as the products and services you offer, and those in the middle of the sales funnel are more familiar with your brand and have expressed some interest in what you offer. They have also likely already engaged in some sort of communication with your business.  Those at the bottom of the funnel (the narrowest part), are the ones who are most ready to buy.
Identifying where your sales leads are in your funnel will help you move them through the funnel with the right strategies where they are more likely to convert.  Good lead generation not only involves strategies to convert leads in the middle and bottom of your funnel, but also to move those at the top of your funnel closer to the bottom.
To do this effectively, you must be aware of the type of sales leads you may encounter and how to move them closer to converting.
What are the Types of Sales Leads?
As discussed above, you will encounter different types of sales leads at different points in your sales funnel.  It is important to recognize the following types of leads and where they are in your sales funnel so you can take the right actions to move them further along the funnel.
Cold Leads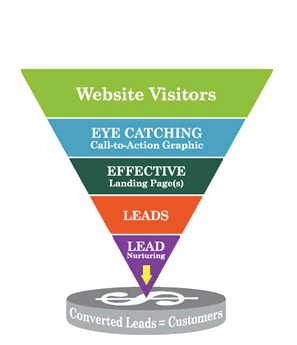 Cold leads are the leads that have just entered your funnel.  They may not be very familiar with your brand or what you offer so you have to build brand recognition and trust with these leads to move them further into the sales funnel.  Names on a cold call list or email list are also considered cold leads as you are making first contact with them.
Warm Leads
Warm leads are further into your funnel as they are more familiar with your brand and may have found your business through inbound lead generation such as a social media post or Google search. These leads have likely also reached out to your business already.  It is easy to continue the conversation with warm leads by reaching out via phone, email, or social media.
Information Qualified Leads
An information qualified lead is a warm lead that has already expressed a need to you in some form, whether they asked you a question or downloaded a guide off of your website.  The previous interaction with them can help inform you on what to do next to reach out to them.
Marketing Qualified Leads
A marketing qualified lead is a lead that has interacted with your brand more than an information qualified lead.  They may have communicated with you on social media or visit your website frequently.  You can continue to provide content for these leads or have someone from your sales team reach out to them directly.
Generating Sales Leads
To grow your business, you need to consistently generate quality sales leads.  The following are general strategies to help you generate sales leads.
Search Engine Optimization (SEO)
Search engine optimization is the practice of optimizing your website, including page titles and descriptions, blog posts, service and products pages, and more with keywords that are relevant to the products and services you offer. Effective SEO will help your website rank high in the search engine results pages (SERPs) which will increase the incoming traffic of those searching for your products or services.
Consistently creating new and relevant content for your website is one of the biggest keys to successful SEO.  The best way to do this is to have a blog on your website and regularly write new articles.  Your blog articles will drive more relevant search traffic and help build brand recognition and trust with leads before they convert into customers.
In addition to optimizing the content on your website, you should also do the following for good SEO:
Have a mobile friendly website design
Claim your Google Business Profile
Ensure fast loading speeds for your website
Build backlinks
You can help ensure that your SEO is effective by working with a professional that provides SEO marketing services.
Start a Pay Per Click (PPC) Campaign
Pay per click (PPC) campaigns are paid advertising through Google.  For PPC campaigns, you will create ads for your targeted keywords and bid on each keyword.  The quality of your ads and high enough bids will cause your ads to appear above the organic search results for relevant searches.  People who search for the keywords you bid on will see your ads which will inform them of your products and services even if they do not click your ad.
Social Media Advertising
People spend a lot of time on social media, and it is where they are most likely to interact with brands.  Running a social media ad campaign is a great way to get the attention of those who are already following your brand. Social media ads are similar to Google PPC ads, and they will appear in users' social media feeds.  You can choose the age, location, and other details of those who you want to see your ads.
Establish an Email List
Email marketing may seem like an antiquated strategy, but it continues to be one of the most effective strategies for generating leads.  The best way to create an email list is to have your customers submit their email addresses to you voluntarily.  Put a call to action (CTA) on your website and social media accounts to encourage potential customers to submit their email addresses.
How to Qualify Sales Leads
Not all leads are equal.  Some leads are more likely to convert into sales than other leads.  When you generate leads, you need to qualify the leads to determine which ones are worth pursuing and which ones may be a waste of time.
When it comes to cold leads and warm leads, it is difficult to determine if they are worth pursuing.  Information qualified leads and marketing qualified leads are much more likely to convert and should be pursued by your sales team.  If you are unsure of whether you should pursue a lead, consider their needs, budget, and demographic information. If all of these things check out, it is worth following up.
SEO Services for Lead Generation from Proceed Innovative
Generating good sales leads is crucial for growing your customer base as well as your business.  Following the lead generation tips discussed above and identifying the types of leads in your sales funnel will help you increase your volume of leads and improve your conversion rates.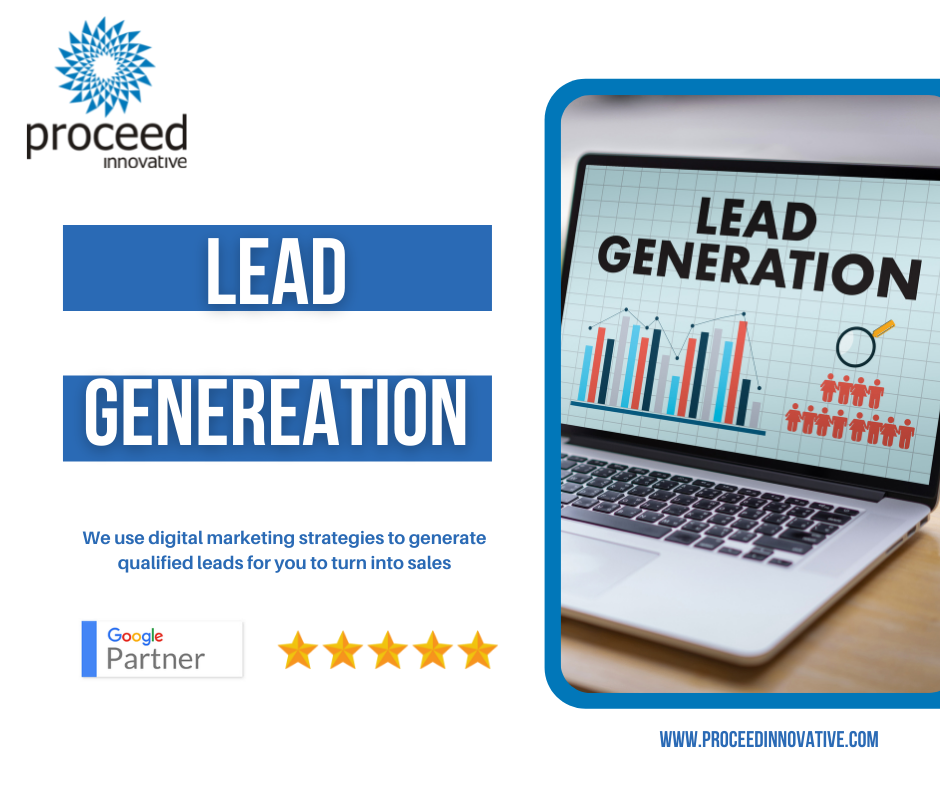 As we discussed, SEO is a major element of generating quality leads.  If your business could use some help improving your SEO, our professionals at Proceed Innovative can help.  We are a full-service digital marketing agency that provides SEO services as well as website design and PPC management.  We will work directly with you to understand your marketing goals and create an SEO strategy that will help you generate more quality leads.
You can reach us at (800) 933-2402 for more about our SEO and web design services.