The marketing landscape, both digital and otherwise, is largely divided into two main types of marketing; business to consumer (B2C), and business to business (B2B).  Recently, Proceed Innovative hosted a live Google Partners Connect presentation on B2B marketing that included information on industry trends, data collection, and helpful technologies to create effective B2B marketing strategies.
Professionals that engage in B2B marketing know that it is a different matter than B2C marketing, and therefore it must be approached differently.  In this presentation, Google representatives highlight important industry trends and data collection technologies that you must be aware of, as well as how to leverage these trends and data into a solid B2B marketing strategy.  You can view the entire presentation from Google in the video below, or continue reading this article for a summary of the main points.
If your company is a B2B seller and you would like to improve your B2B marketing strategy for a better conversion rate, talk to our digital marketing professionals at Proceed Innovative.  We are a certified Google Partner that has helped many B2B companies improve their marketing strategies for a better conversion rate and higher ROI.  We know that you are busy running your business; let our professionals collect and leverage your data to create a B2B marketing strategy that targets your audience at the right time and place in the buying process.
B2B Industry Trends
Google representatives begin this presentation by discussing past and current industry trends to show how the B2B market has changed in the past ten years, and how these changes should influence your B2B marketing strategies.  In 2008, B2B sellers had more leverage in the conversation with their buyers because talking to sellers was the only way for buyers to get the information they needed to make an informed decision.  Many B2B products and services are complex and include several price points, implementation plans, and other aspects that were difficult for buyers to research on their own.  In 2017, the situation is quite the opposite as B2B buyers now have the leverage thanks to the amount of information available through online search:
B2B buyers complete an average of 12 online searches before engaging directly with a brand.

90% of research done by B2B buyers is through online search specifically.
While B2B buyers have gained the leverage in the conversation, B2B sellers can still control their digital marketing strategy by understanding new industry trends and leveraging the data collected on their target audience into a sound online marketing strategy.  In this presentation, Google identifies these main trends as the customer in the driver seat, data as the industry game changer, and machine learning.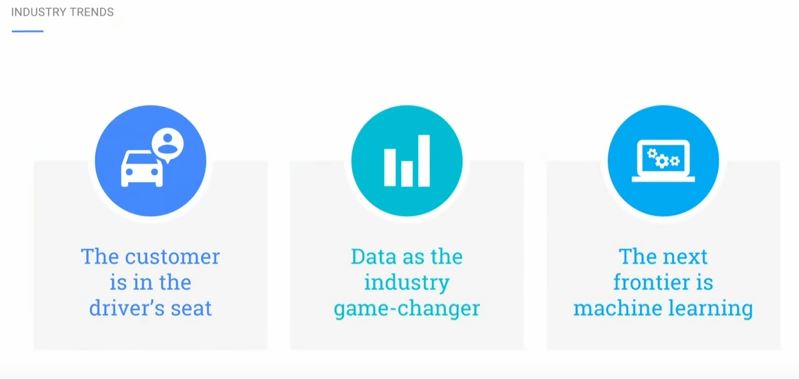 Customer in the Driver Seat
As mentioned above, one of the biggest changes over the last decade in the B2B industry is that the customer now has control of the conversation with the seller.  In the past, B2B buyers often approached sellers towards the beginning of the purchase process to gather information that will help them make a decision.  Now B2B buyers are approaching a brand or company after doing their own research.  In fact, many buyers are about 75 percent through the purchasing process before engaging with a potential seller.  Statistics show that 68 percent of the research process is done through online search.  It is very important for B2B sellers to understand how and why their customers are using online search:
Many B2B buyers believe they can make an informed decision themselves because they understand their own business better than a seller.

The online searches done by B2B buyers in the research phase start with generic queries to help resolve an issue, not specific queries for a particular brand.

B2B buyers now generally consider 2 brands before making a decision, down from the previous average of 5.
Because buyers are most of the way to making a purchasing decision before they engage with your company, it is important to reach them during the research process.  However, you must know who your audience is to reach them effectively.  In the past, purchasing decisions of a company were often made by the c-suite, such as CEOs and CIOs.  Now these decisions are being influenced by non-c-suite employees about 24 percent of the time.  Therefore, you must tailor your brand's messages to people at all levels of a company.  It is also important to note that many of these influencers are Millennials who know how to do good research using current technology:
80% of B2B buyers do their research over multiple devices including mobile phones and desktops.

70% of B2B buyers engage with video content and they are 25% more likely to consider your company a better choice if you have video content.

53% of mobile users will leave your website if it takes more than 3 seconds to load on their mobile devices.
Not only do you need to know how to reach your audience during the research process through online search, but you must also be able to reach them effectively across all devices.  The best way for you to regain some leverage with your audience is to make sure you deliver the right message at the right time.  You can determine what your message should be at what given time by using data on your audience that is available to you.
Data as the Industry Game Changer
Your customers are not the only ones who can use the abundance of data and information available to their advantage.  You can also use customer and marketing data to your advantage by better targeting your audience.  A 2016 Harvard Business Review found that "businesses that integrate multiple sources of customer and marketing data significantly outperform other companies in terms of sales, profits, and margin."
The key to delivering the right message at the right time is reacting to the user's intent at specific points in the research phase.  The audience data that is available to you through technologies such as Google Analytics can help you determine their intent at each step of the research process so you can tailor your B2B marketing strategy accordingly.  You can gather data on customer engagement with your content, website, social media profiles, and ads to accomplish the following:
Attribution: This is the use of data collected from various platforms, including your website and social media accounts, after your audience has engaged with the platform. The data can give you insight on their behaviors on each platform so you can determine what is and isn't working.
Automation: The large amount of data that you can collect from your various platforms can be overwhelming. Automation with machine learning can help you make better use of the data.
Personalized Targeting: Your audience data can give you enough insight to specifically target your affinity and in-market audience with a focused remarketing campaign.
It is very important to monitor and integrate the data that is available to you from all your platforms so that you have a much better chance of getting the right message to your audience at the right time of their research process.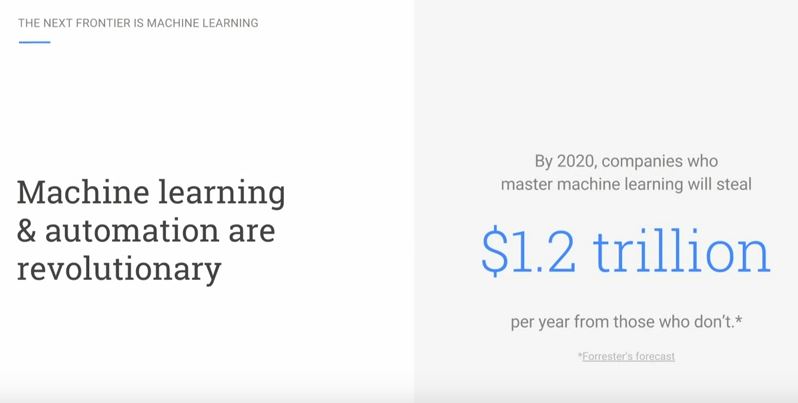 Importance of Machine Learning
The somewhat new concept of machine learning is an important concept for B2B sellers to understand because it can help make sense of your audience data discussed above.  Machine learning is a form of artificial intelligence in which algorithms recognize and learn the patterns and behaviors of your audience on various platforms.  Machine learning can also pick up the patterns from businesses similar to yours and apply the information to your B2B advertising campaign.  This technology is especially important when considering the following:
15% of all search queries entered into Google are queries that have never been entered before

20% of all online searches are done with voice search

70% of Google Assistant requests are done in natural speech
It is impossible for you to anticipate brand new search queries that are relevant to your business or the exact phrasing that people use in voice search when setting up your ad campaign.  Machine learning makes it possible for you to know these search queries by recognizing the behavioral patterns of your audience.  You can then use these new search queries to further refine your keywords, bids, and ad campaigns to better reach your audience.  Experts predict that by 2020, companies that incorporate machine learning into their B2B marketing strategies will earn $1.2 trillion more than companies that do not use this technology.
Activation: Turning B2B Trends into a Marketing Strategy to Improve ROI
Now that you are aware of the important trends in the B2B industry, you may be asking yourself, "How do I leverage these trends and the data available into an effective B2B marketing strategy that improves my ROI?"  The second half of Google's presentation focuses on how B2B sellers can use these trends to their advantage by reaching their audience with the right message at the right time.
Customer in the Driver Seat
As mentioned earlier, B2B buyers go through an average of 12 searches before engaging with a company, and they perform these searches across different devices.  This makes it very important to measure every conversion throughout the purchasing process from the first mobile search through their purchase on a desktop.  All you have to do to measure cross device conversions is check the option when setting up your conversion actions in Google Analytics.  Google recommends dividing your conversion actions into micro-conversions, mid-level conversions, and macro-conversions so that you can track all conversions from your audience more effectively:
Micro-conversions: These are small, measurable actions that usually happen early in the buying process. Micro-conversions may include pages visited, time spent on the website, and other similar actions.
Mid-level Conversions: These actions are one step closer to the desired action and can include a phone call or signing up for a newsletter.
Macro-conversions: These actions are typically the desired action such as a purchase, form submission, or demo request.
It is up to you to define your own conversion actions at each level based on your audience data, and decide which customers are more valuable to you based on their conversion actions.  For example, you may determine that a user who signed up for your newsletter is more valuable to you than a user who spent 15 minutes browsing your website.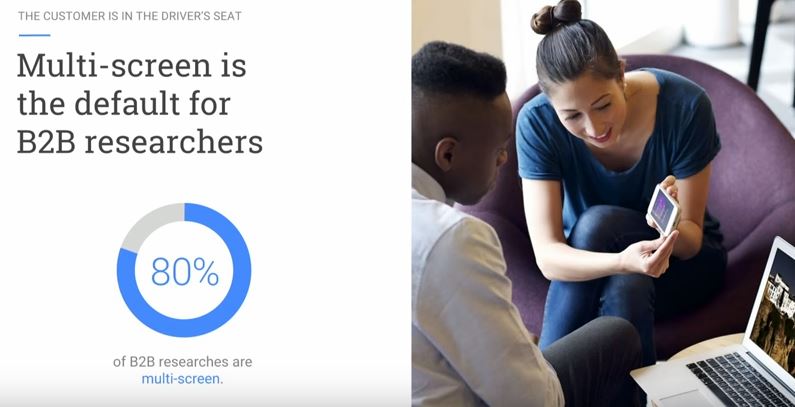 Landing Pages
The landing pages that you set up with your B2B ad campaigns are an extremely important part of the process.  These pages must be simple and concise with a clear call to action to help guide your audience.  As mentioned above, B2B researchers are often searching on mobile devices which makes it crucial for your landing page to be built for mobile, and they regularly engage with video content which makes it a good idea to incorporate a video on your landing page.  Keep the forms on your landing page simple and do not ask for more than a name, phone number, and email address.  Many users will immediately leave your website if the form asks for too much information.
Google Ad Campaigns
If you are running a Google Ad campaign, Google recommends implementing the following strategies to help improve the click through rate (CTR) of your ads:
Ad Rotation: There are two different ad rotation options; the rotate evenly option and optimize for clicks option. With the rotate evenly option, Google will show each of your ads evenly to all users.  The optimize for clicks option will show users the best ad based on where they are searching from, the time they are searching, what device they are using, and if they have intent to purchase.  Using the optimize for clicks setting will ensure that users see the most relevant ad which will help boost your CTR.
Use 3 or More Extended Text Ads: Text ads can be very effective if the content is compelling and appealing to the user's emotions as they do their research. Using three or more different versions of your text ads will help you more effectively reach your audience.
Use 3 or More Ad Extensions: There are many ad extension options in Google that can help you achieve your specific marketing goals. Google recommends that every business uses sitelink, callout, and structured snippet extensions, in addition to other extensions that make sense for your business.  For example, if one of your goals is to get more foot traffic to your location, Google's location extensions can help you achieve those goals.  Adding more extensions to your ad campaign will help you take up more space on the search results pages which will push your competitors further down.
Data as the Industry Game Changer
Earlier in the presentation, the Google representatives emphasized the importance of integrating audience data from your various platforms into your B2B marketing strategy so that you can more effectively target your audience based on their intent.  The following are two effective strategies for leveraging this data:
Remarketing: The idea behind remarketing is to target users that have already visited your website to get them back to your site to complete their conversion. Remarketing campaigns are easy to set up, you just need to put a pixel from your Google Analytics account across your entire website.  You can also set the campaign to remarket to certain users such as those who have abandoned their shopping cart.
Customer Match: If you have an email list for your audience, you can upload the list of emails into Adwords to target these exact users. Adwords can also use these email addresses to create lists of similar audiences to target.  You can refine the focus of customer match campaigns and save some money by excluding current customers.  These ads will display in Google search results, Gmail, YouTube, and other entities owned by Google.
Machine Learning
As explained earlier, machine learning technology can be used to help determine the behavioral patterns of your audience, including the relevant search queries they use during their research.  The data from machine learning can be used in the following ways to help improve your B2B advertising:
Dynamic Search Ads: These ads help account for related search queries your audience may use that have never been entered into Google before. You just need to submit the landing page of your ad to Google so it can crawl the page for information.  Google will then use the information from your landing page to bid on relevant keywords and search terms that you did not include in your Adwords campaign.
Expand Match Types: Traditionally, businesses have used exact match keywords to try and match the exact queries that people were using in their searches. However, the rise of voice search has made it very difficult to match exact queries.  It is now recommended to use broad match and phrase match keywords to better account for the phrases that people use with voice assist searches.  If you are not sure which broad match or phrase match queries work best, run a small ad campaign for the different queries to test them.  You can then incorporate the queries that get the best results into your main ad campaign.
B2B Marketing and Advertising from Proceed Innovative
This in-depth presentation from Google provides a lot of valuable insight and information that can help B2B sellers improve their marketing campaigns and increase conversion rates.  It is important for B2B sellers to understand that the customer is now in control of the conversation because of the amount of information available at their fingertips.  Therefore, B2B marketers must learn the research behaviors of their audience by using audience data, and leverage this data effectively to deliver the right message to them during their research phase.
If your company simply does not have the resources to run an effective B2B digital marketing campaign, contact our experts at Proceed Innovative.  We are a certified Google Partner that has helped many B2B companies like yours reach their online marketing goals with proven strategies.  We always adhere to Google's best practices when managing PPC campaigns, and our web design specialists will ensure that your website displays and loads properly on mobile devices so you can reach your audience across all devices.  Give us a call at (800) 933-2402 to learn more about how we can improve the effectiveness and ROI of your B2B marketing campaign.