To be successful, businesses must have some structure and strategies that are consistently applied, not just to make money, but to retain loyal customers. As an SEO company that is committed to our core values as well as The Entrepreneurial Operating System known as EOS, Proceed Innovative is grateful to be successful in the digital marketing industry.
SEO Company's Success with EOS
After implementing EOS in 2015, the system has made a huge impact on our success. Paul Detlef, the EOS Implementer in the Chicago area, also played a key role over the years as he guided us through unfamiliar territory.
To continue our path of using The Traction System, our managing partner, Jasmine Panayotov, met with Paul and his team in their gorgeous new office in Downer's Grove. They discussed the wins and challenges from the last six months as well as strategic projects for both organization and ongoing support for each other.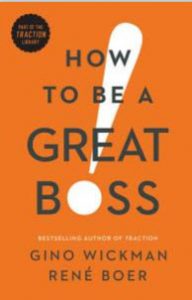 Paul also shared a new book, How to be a Great Boss by Gino Wickman and Rene Boer. Jasmine promised to read it and implement its recommendations in the future.
What is EOS?
EOS (the Entrepreneurial Operating System) is a full set of easy concepts and practical tools that focuses on helping businesses, mainly entrepreneurs, achieve their goals. They focus on three things to improve business leadership:
Vision: It is 100% clear to everyone within the organization with the direction the company is going and exactly how to get there.
Traction: Implementing discipline, accountability and focus within the company so everyone executes on the same vision every day.
Healthy: Helping your leadership team become more functional, healthy and cohesive.
The EOS system has various books explaining its system, including the toolbox, process and model, all designed to help business owners improve their business strategies.
EOS Implementors
Certified EOS Implementers are business coaches who not only follow the system, but are advocates, guiding businesses throughout the process and helping them to make decisions that bring them closer to their goals. All businesses have a vision when they first start, but somehow, someway become lost and stop working on their vision to move forward.
The Traction Group works specifically with businesses of all industries in the Chicago area, helping them to determine where they want to go and to stay on the right track on a weekly, quarterly and yearly basis. They use a number of EOS tools and the process to bring discipline, focus and accountability to the organization. They also provide the tools necessary to address any problems holding companies back and change the trajectory of the business.
EOS is designed specifically for entrepreneurs who are busy with practical tools and simple concepts that can quickly and easily be applied to their fast-paced businesses. An EOS Implementer will provide local and expert support to use the system most effectively, so they can have a healthy, focused, leadership team. The business can also feel confident they have an organization that is consistently growing, working together and improving to make the entrepreneur's vision of success a reality.
Applying EOS in Proceed Innovative
As a successful SEO company today, our team at Proceed Innovative could not have been happier with the results of EOS. Since first implementing the system in 2015, our team meets on a quarterly basis to review our core values, the financial health of the company, vision and traction.
By assessing our current financial situation and comparing it to our goals, we use these metrics to help assess the financial health of the company. We have also used the system of rocks and issues within the traction aspect to identify and fix numerous issues throughout the years. This has allowed us to knock down stumbling blocks and maintain our vision and core purpose, which is to bring new sales opportunities to our clients.
Without EOS, we certainly would not be where we are today. We are ever grateful to work with The Traction Team and to have met with Paul Detlef to discuss our success after using their tools and implementing their strategies.
Contact Us
For more information on EOS or the Traction Group and how it can help your business, you can visit their website at https://thetractiongroup.com and fill out a form.
For more information on how EOS has brought success to Proceed Innovative or about our SEO company, please give us a call at 800-933-2402 or fill out a form. We will get back to you as soon as we can!