The old adage "content is king" still rings true when it comes to digital marketing, but the type of content that is most important is changing.  There is no doubt that text based content such as service pages, blog articles, press releases, and others are still very important, but online videos are quickly becoming the most consumed medium on the internet.  The rise of online video consumption has a lot to do with changing user behaviors online.  Most internet users are "on the go," browsing the internet on tablets and smartphones more often than on desktop or laptop computers.  Online videos are a great way to reach these consumers because they are valuable, relevant, and perfect for quick consumption.
The continued rise in the consumption of online videos creates excellent marketing opportunities for businesses to reach a larger audience through video marketing and advertising.  According to statistics from WordStream, video streaming accounts for one-third of all internet activity and Inc. predicts that by 2019, video consumption will account for 80% of all internet traffic.  If that doesn't convince you of the importance of video marketing, there are a plethora of other statistics to show why a good video marketing strategy is an important part of online marketing.
80% of Internet Users Remember Videos they have Watched in the Past Month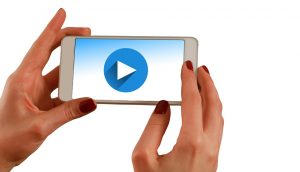 It is very easy for people to remember online videos because they appeal to our sense of sight and hearing.  Unlike text based content, video content has interesting visuals including live action, animation, and charts and graphs as well as audio to go with it.  If a user likes your video, they will most likely share it which will also help it stay in their memory.  You must keep in mind that when consumers watch videos from your company, they associate what they see with your brand.  Make sure you are consistent with your branding in your videos by using the same logos, colors, and fonts to help improve the familiarity with your brand.
65% of Consumers Visit a Business's Website after Watching a Video; 39% Contact the Company after Watching a Video
These statistics show a direct correlation between watching a branded video and taking further action.  If a user watches your branded video, they are much more likely to visit your company's website which can increase traffic and conversion rates.  Almost half of all consumers that watch your videos are likely to try and contact your business.  Putting embedded videos on your website and blog posts can help you take advantage of these trends.
Videos are 1,200% More Likely to be Shared Than Text, Links, and Images
Videos are by far the most shared content online because they are more appealing than text articles or images.  In fact, 60% of consumers will choose a video over text for the same information.  Around 92% of those on mobile devices who watch videos end up sharing them.  If your company makes a good video that appeals to your audience, they will do much of the work of spreading it around for you through sharing.
The following are more useful and interesting video marketing statistics gathered and presented by WordStream:
Around one-third of all internet users are YouTube users
82% of those with Twitter profiles watch videos on Twitter
Users watch over 500 million hours of videos every day on YouTube
45% of users watch over an hour of videos per week on either Facebook or YouTube
The amount of video content that is uploaded in 30 days exceeds the amount of content created by U.S. television networks in 30 years
87% of digital marketers use video marketing and advertising strategies
85% of those who use the internet in the U.S. watch online video content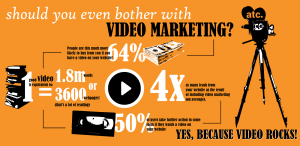 Millennials age 25-34 consume the most online video content
Most users view videos on mobile devices
Using video marketing can help increase your revenue 49% faster
Video content can help increase organic traffic by 157%
Embedding a video on your landing page can boost conversions by 80%
Websites that feature videos have a higher average conversion rate of 4.8% while websites with no videos have a 2.9% conversion rate
Landing pages with videos have a 53% better chance of being the top search result in search engines
46% of those who watch a video advertisement act afterwards
Videos can increase the click-through rate of your emails by 96%
Blog articles with embedded videos get 3 times more inbound links than blogs with no video
Users retain 95% of what they saw in a video, compared to 10% of what they read
Users spend up to 88% more time on websites with videos
There is no denying the statistics; online videos are the most consumed type of media online and implementing an effective video marketing strategy can help you reach a much broader audience for improved traffic and conversion rates.  One of the challenges of running a video marketing campaign is making a video.  While making your own videos has become much easier with the use of smartphone cameras and editing software, hiring a video production company is the best way to get videos of professional quality.  Motionpost provides complete video production and editing services to help companies and organizations make all types of videos for their marketing campaigns.  Contact their professionals to discuss your idea for your marketing video.
Sources:
http://www.wordstream.com/blog/ws/2017/03/08/video-marketing-statistics
https://www.forbes.com/sites/forbesagencycouncil/2017/02/03/video-marketing-the-future-of-content-marketing/2/#549118004874
http://www.inc.com/gordon-tredgold/20-reasons-why-you-should-boost-your-video-marketing-budget-in-2017.html