Proceed Innovative is a digital marketing agency that brings new business opportunities to our clients by improving their presence and visibility online.  By providing effective digital marketing services that help our clients grow their business, we also grow ours.  The commitment to helping our clients grow and thrive online through a multi-faceted SEO marketing strategy can be seen in the contributions from every member of our team.

Proceed Innovative is a long-time member of the Schaumburg Business Association (SBA), an organization that acts as an advocate for businesses and SBA members in the Schaumburg, IL area.  Each year, the SBA holds their Toast of Schaumburg event in which they recognize the achievements of SBA members from the previous year and present awards in several different categories to honor outstanding members and businesses.  This year, Proceed Innovative was among five nominees for the Brian H. Burke Business of the Year Award.  Our commitment to helping our clients expand their businesses online through effective digital marketing has never wavered and we are proud to be recognized for our work with a Business of the Year nomination.
Schaumburg Business Association Member
The Schaumburg Business Association represents more than 700 local businesses and 4,000 active members.  This organization is an advocate for its members and local businesses and dedicated to promoting the growth and prosperity of its members and improving life and economic vitality in the Schaumburg, IL area.
Proceed Innovative became a member in 2007 and has actively participated in SBA activities and events ever since.  The SBA has also named Proceed Innovative as the preferred SEO partner of the SBA which makes us the first choice for digital marketing services among members.  At Proceed Innovative, we are proud to be part of the SBA and the professional relationships we have formed as a member have helped us grow our own business while contributing to the SBA's mission.
Toast of Schaumburg
The Toast of Schaumburg is one of many events held by the SBA to raise funds for local charities, scholarships, and social programs.  At this annual event, the SBA recognizes and celebrates the outstanding achievements of its members and presents several awards, including the Brian H. Burke Business of the Year, Laurie Stone Woman of the Year, Leader of the Year, Volunteer of the Year, and Rookie of the Year awards.
This year, Proceed Innovative was nominated for the 2023 Business of the Year Award which "recognizes and honors an SBA member who has most exemplified the five pillars of the association during the year; Relationships, Economic Development, Resources, Advocacy, and Community."  While Proceed Innovative is not the winner of this year's award, we are still honored to be nominated along with the very best of the SBA.
Effective Digital Marketing Services
When people are in need of a particular product or service, the first thing they are likely to do is an online search for what they need.  In order for businesses to succeed, they need to be found online when users search for the products and services they offer.
At Proceed Innovative, the goal of our digital marketing services is to help increase traffic, leads, and sales for our clients by strengthening their online presence and improving their rankings in the search engine results pages (SERPs).  We will first understand the nature of your business and marketing goals so we can form and implement a multi-faceted SEO marketing plan catered to achieve your specific goals.  We will also monitor and measure the results of your main key performance indicators (KPIs) and refine your campaign to work towards your marketing goals more effectively.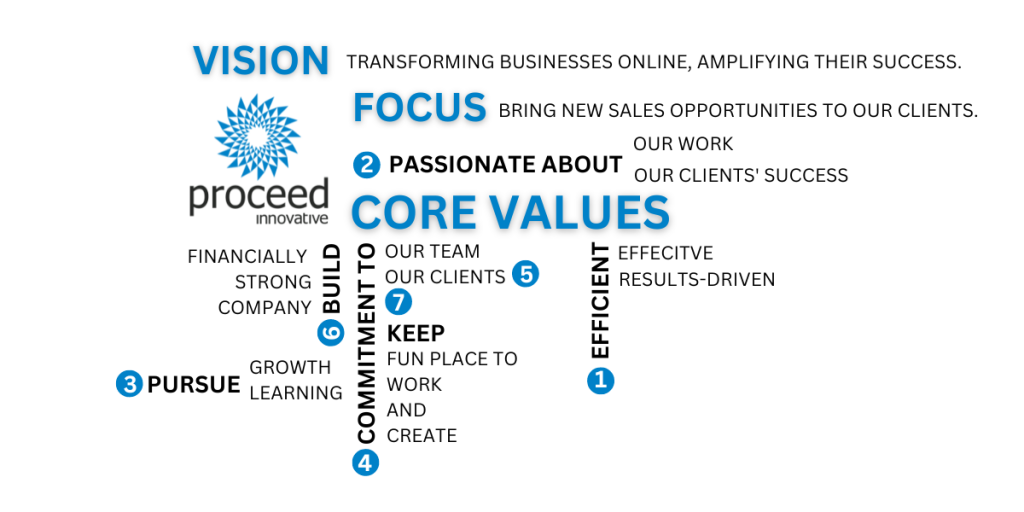 Our digital marketing services can include the following:
Contact Proceed Innovative for Digital Marketing Services
If you feel like you are losing business to your competitors because you do not have a strong enough online presence, call our experts at Proceed Innovative.  We will work with you to understand your marketing goals and implement a comprehensive digital marketing strategy that will help you achieve your goals by improving your online visibility.  Our SEO marketing strategies have been proven effective at bringing our clients new opportunities online so they can grow their business.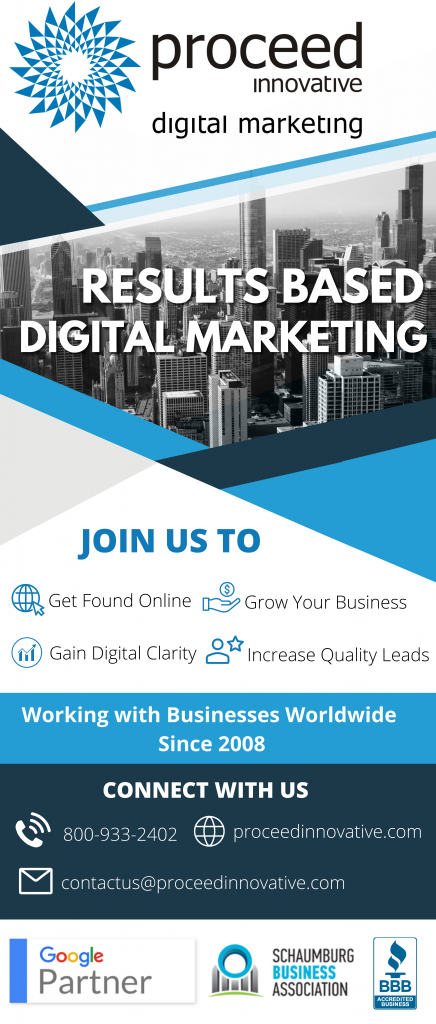 You can call Proceed Innovative at (800) 933-2402 or submit an online contact form for more information about how our digital marketing services can help your business.