Proceed Innovative Launches Newly Redesigned Lead Generation Website
At Proceed Innovative, we have been providing SEO, lead generation, and web design services for businesses nationwide since 2003.  Our SEO experts are focused on helping our clients achieve their digital marketing goals by ensuring that they have well-designed, fully optimized websites that will help attract more search traffic and generate more leads and conversions.  As a digital marketing agency and web design company, it is also important for us to keep our own websites highly optimized and functional with a fresh, user-friendly design.
We are excited to announce the launch of our redesigned lead generation website RestorationMasterFinder.com (RMF).  The new RMF design has all the features of a competitive contemporary digital marketplace with the ability to grow.  The responsive layout is one key feature of the website that makes it easy for mobile users to experience the full functionality of the website.  RMF's customers and traffic have been growing rapidly in recent years and the new site was designed to accommodate this and future growth.
About RestorationMasterFinder.com
RestorationMasterFinder.com, or RMF, is a lead generation website built and developed by the web design team at Proceed Innovative.  The purpose of this website is to connect customers to qualified businesses in the disaster restoration, furniture restoration and cleaning industries.  RMF has been very successful at generating leads for contractors and the redesign will improve the website's performance and ensure future success.
RMF consists of geo-based micro-sites that are highly optimized to improve the ROI for featured businesses.  The site also makes it easy for customers to connect to a qualified local business and get the services they need.
Web Design Project: RestorationMasterFinder.com
RestorationMasterFinder.com has been serving customers and businesses for many years and recently, the website has been expanding rapidly.  It was time to give the website a fresh design and functionality to accommodate future growth.  The user-friendly look and mobile responsiveness have always been features of RMF and with the new web design, our goal was to improve on these existing features and add more, so that RMF would continue to operate at peak performance.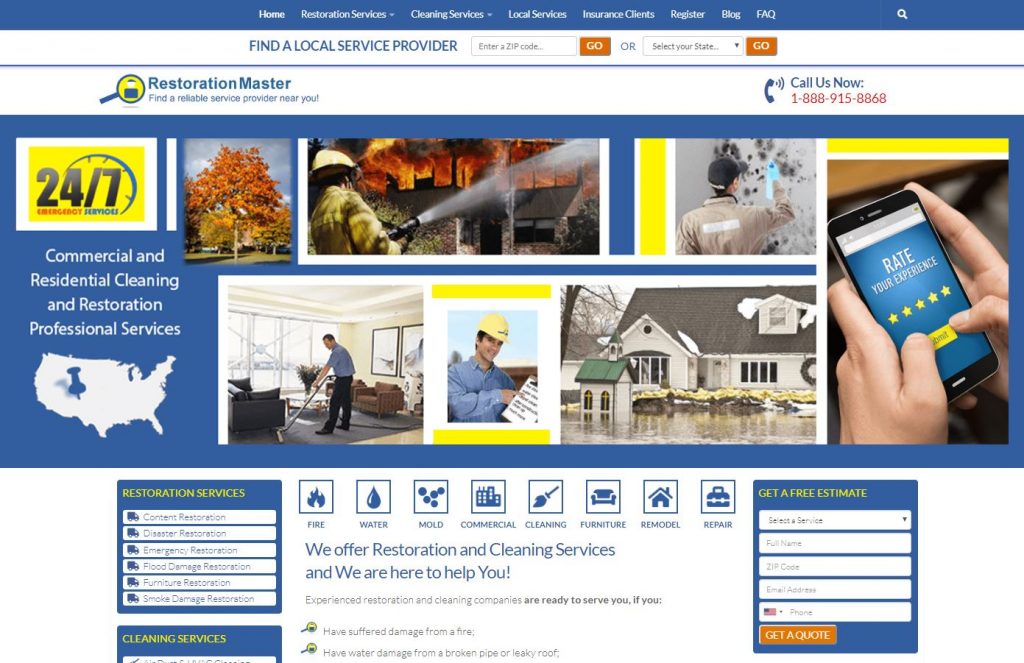 The biggest change with the new RMF design is the appearance as the website got a new, sharper layout with improved navigation to help users find the services they are looking for with ease.  Users can also search for a service provider in their area by ZIP or state.  The right navigation menu contains a free estimate contact form on every page as well as the list of services so users can go right to the service pages they need.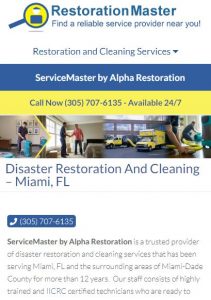 The most important feature of RMF is the mobile responsive design.  More people are conducting online searches on their mobile devices than on their computers, especially when searching for a service provider.  When users visit RMF on their mobile devices, the website will load quickly and display properly, and users will have access to the full navigation capabilities of the website.  Every service page contains a button that will allow users on their mobile phone to quickly call the listed businesses for assistance.
Like with all of our web design projects, the new design for RMF was implemented with SEO in mind.  All of the pages of RMF are highly optimized to drive a high level of relevant search traffic and the design itself is also SEO-friendly to help rank better in the search engine results pages (SERPs).  Both customers and businesses listed on this website will benefit from the new design as the site continues to grow and drive quality traffic and leads.
Web Design Services from Proceed Innovative
At Proceed Innovative, we provide complete web design services to design and develop SEO friendly and mobile responsive websites to help make them more visible in the SERPs and drive relevant search traffic.  We design and implement new web designs with usability and mobile responsiveness in mind to not only attract more users, but also to keep them on your website.  Our web design process consists of the following phases:
Discovery and research: During this phase, we will analyze the current position and visibility of your brand and understand your marketing goals. We will also evaluate your competitor's websites and positioning so we can form a web design plan that gives you an edge.
Website design and development: Our web design team will create the design and architecture of the website and add highly optimized, targeted content.
SEO tracking and integration: We will ensure that your website is highly optimized before launch and set up Google Analytics so we can easily measure the traffic and related data which will help us determine how well your website is performing. With this data, we can identify underperforming aspects of your website and make the necessary adjustments.
Web design launch, tracking, and updates: Once the website is launched, we will measure the rankings, traffic, and conversions, and provide updates that will maximize the performance of your website.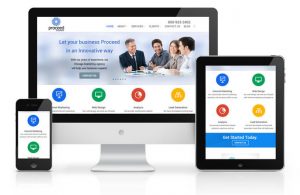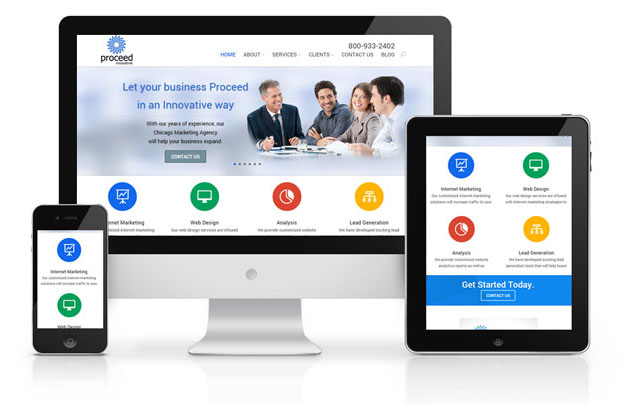 You can expect the following from our SEO web design services:
User-friendly designs: Our web designs are user friendly and consist of rich, targeted content to help keep people on your website.
Easy website maintenance: Our websites are built on the WordPress platform which makes it very easy to edit and maintain.
Mobile-friendly design: More people are searching online on mobile devices than ever before and if your website does not load fast enough or display properly, mobile users will immediately leave. All of our web designs are mobile friendly so that they will load and display across all mobile devices.
Search engine ready: We use SEO tactics in the design and content of your website to ensure that it gets indexed by Google and ranks well in the SERPs.
Future proof: Our web designs can be easily updated so that your website can evolve with your business and the changes in digital technology.
Contact Proceed Innovative for SEO Web Design
RestorationMasterFinder.com has always been a high performing website and the new design that we just launched will only improve its performance and benefit contractors listed on the website.  If your business needs a new website or a redesign of your current website, you can expect our web development experts to create a design with the same effective SEO elements that we used for RMF to help improve visibility and drive more relevant traffic for quality leads.
Contact the professionals of Proceed Innovative to learn more about our web design services or how your business could benefit from being featured on RestorationMasterFinder.com for effective lead generation.  You can fill out a contact form online or give us a call at (800) 933-2402.