The past year has been difficult to say the least and the restrictions put in place during the pandemic have prevented many businesses from meeting at the office each day.  To help promote team building in the new year, the Schaumburg Business Association (SBA) is putting on a Members & Miles event in which businesses who are members of the SBA will compete against each other to see who can walk, run, and wheel with a wheelchair the most miles.  Proceed Innovative is proud to announce that we are the Presenting Sponsor for this event.
About the Event
The Members & Miles event is open to businesses who are members of the SBA, as well as non-members, and it will run from January 15 through February 15, 2021.  Teams of between 2 and 10 people can enter this event at a $50 per team fee.  There can be multiple teams within a business, but each team will have to pay the entrance fee.  Teams that enter are competing against all other teams, including teams within their own company and the teams from other SBA members.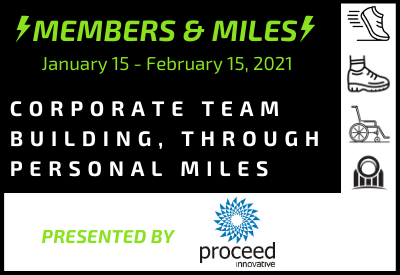 Between January 15 and February 15, the members of each team will cover as many miles as they can by walking, running, or wheeling with a wheelchair.  Biking is not allowed.  Each team member must track their own miles on the honors system and report their miles to a designated team captain who will log all of the team's miles.  The team captain will report their team's total miles to the SBA each week throughout the duration of the event.  For more accurate tracking, participants can use apps such as MapMyRun and others to track their miles.
The following are important details for SBA members and businesses who wish to participate:
Teams of 2-10 people can enter with a $50 fee per team
Companies can have multiple teams, each team will be required to pay the entrance fee
Event is open to SBA Members and non-members
Each team should come up with a good team name
Each participant is responsible for tracking their own miles and reporting them to the team captain (honors system)
Team captains report their team's total mileage weekly to the SBA
Teams are encouraged to interact with each other and post pictures covering their miles on social media
You can register your team for the Members & Miles event on the SBA Events page.
Why Proceed Innovative Decided to Sponsor Members & Miles
At Proceed Innovative, we value the connection between our team members and each member of our team works to keep our commitments to each other and our clients.  However, like many other businesses, the pandemic has made it difficult for our team to meet in person on a regular basis.
With the Members & Miles event, we saw a fantastic opportunity to help promote team building and networking and start the year on the right foot.  We hope other organizations and businesses in the community see this as an opportunity to engage their team members in a friendly competition.  This is not only a challenge for each team, but a challenge within each team.  Some companies have not seen each other for months and this can be used as a great way to connect.
Our Goal
Proceed Innovative is a participant in this event as well as the presenting sponsor.  Our goal is to put together a company team who is dedicated to putting in the miles.  We know it's not the intensity that will win this competition, but the consistency.  We are dedicated to keeping each other accountable and racking up as many miles as we can.  It is also important to us to strengthen our bond as a team and network with other SBA members while having some fun.
Who is Proceed Innovative?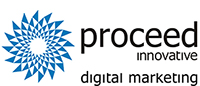 Proceed Innovative is a full-service digital marketing agency that helps businesses and franchises improve their online visibility and brand awareness.  We specialize in creating and implementing multi-faceted digital marketing campaigns that include web design, search engine optimization (SEO), local SEO, lead generation, Pay-Per-Click (PPC) management, and content creation.
We work directly with our clients to understand their marketing goals and create a digital marketing plan that will accomplish their goals and improve their ROI.  Our experts stay up to date on the latest trends and technology in the field of online marketing and as a Google Partner, we understand and implement Google's best practices.
You can contact Proceed Innovative or give us a call at (800) 933-2402 to learn more about how we can help with your digital marketing.
To register for the Members & Miles event, visit the SBA Events page.