At Proceed Innovative, our mission has always been to help our clients increase their visibility and brand awareness online so they can grow their business.  We take a multi-faceted, results oriented approach to SEO marketing to help drive traffic and increase sales for our clients, while still adhering to Google's best practices.  Over our years in the digital marketing industry, we have helped many businesses greatly increase their visibility and traffic, leading to more sales and higher revenue.
We have recently been recognized by CIOReview, a digital and print technology magazine, being named a Top Google Marketing Agency in 2023.  In an article in CIOReview acknowledging this distinction, Proceed Innovative Partner Patrick Panayotov nicely summed up our core mission, "We focus on filtering new strategies through the lens of driving growth and delivering impactful solutions."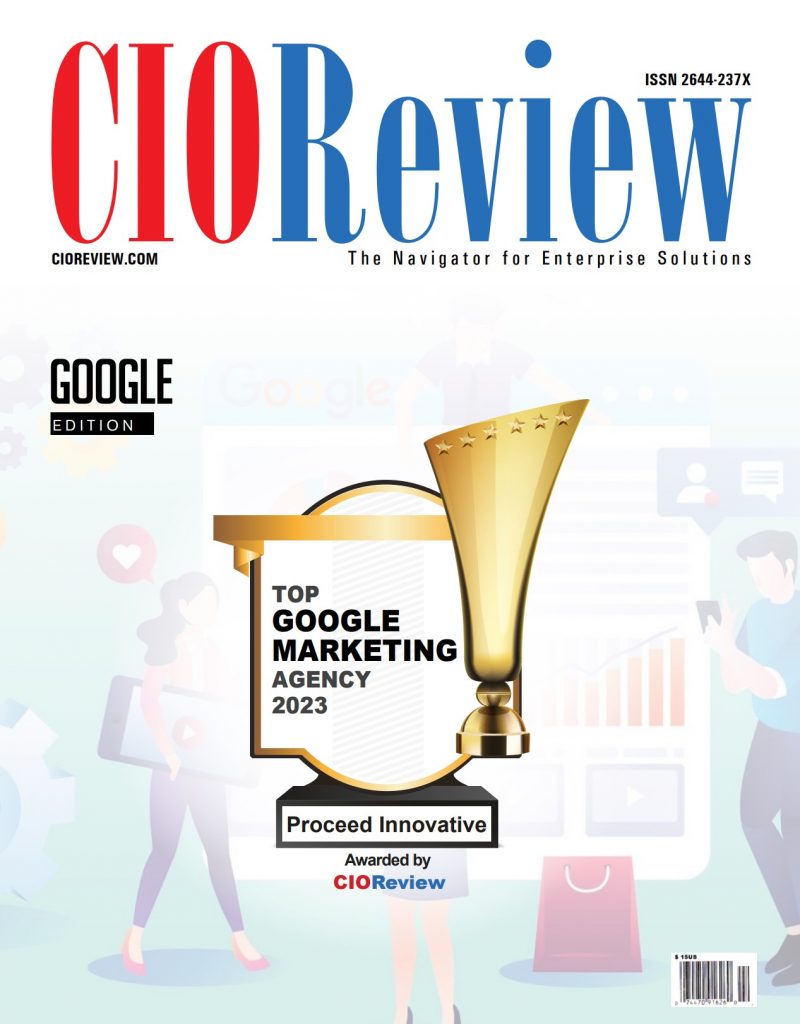 Results Oriented SEO Marketing Approach
The goal of our approach to digital marketing is to align the goals of our clients with proven digital marketing strategies.  We start by discussing marketing goals with our clients to understand their business, what they want to accomplish, and their target audience.  This allows us to create a comprehensive digital marketing plan the focuses on achieving measurable results when it comes to increasing online visibility, improving traffic, and boosting conversion rates.
We take a unique five-step approach that Patrick explains for CIOReview that involves the following steps to help enhance the online presence of our clients and generate more leads:
Understanding our clients: We will first take the time to understand the business of our clients, their marketing goals, and target audience. At this stage, we will also evaluate their current online visibility and performance.
Digital marketing plan: Based on our assessment of the client's marketing goals and their current online performance, we will form a multi-faceted digital marketing plan to provide measurable results.
Implementation of the plan: We ensure that our multi-faceted strategy is closely aligned with the marketing goals of the client and implemented.
Measuring results: After implementing the plan, we track and measure the results and share the results with the client so they can monitor the progress.  Any changes made are done to maximize the results.
Ensuring growth: At this stage, we focus on maintaining the success of the marketing campaign and making improvements for sustained growth.
Our SEO marketing services combine proven SEO strategies with incremental updates to strengthen the online presence of our clients and help them grow their business.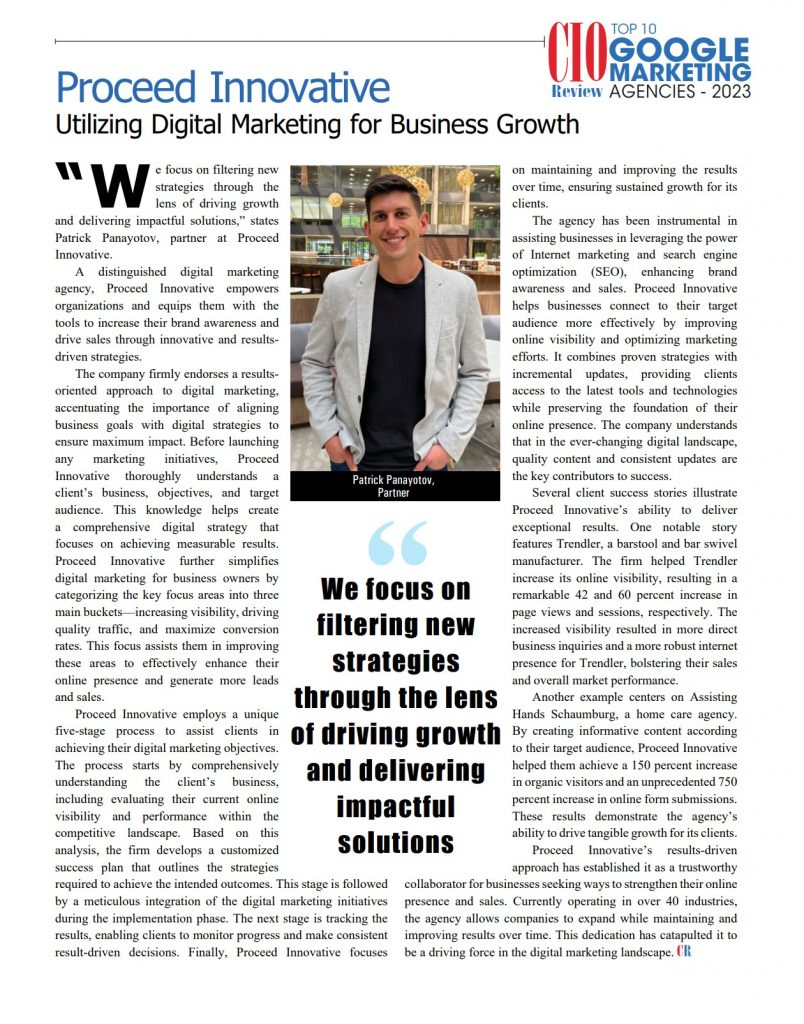 Client Success Stories
There have been several cases in which Proceed Innovative has helped drastically improve the online visibility and sales leads of our clients.  We have an excellent record of success when it comes to boosting organic search traffic and sales leads, and some of our clients experience a significant increase that is a major boon for their business.
One client success story that stands out is that of Trendler, a furniture manufacturer that produces chairs, barstools, and furniture swivels.  After working with us, Trendler experienced a 42% increase in page views and a 60% increase in sessions, which directly contributed to more business inquiries and sales. 
Assisting Hands Schaumburg, a home care agency, is another example of one of our clients that experienced drastic improvements.  The organic visits to their website increased 150% after working with Proceed Innovative and the number of online form submissions increased by a remarkable 750%. 
The success of our clients is a testament to our ability to deliver exceptional results and help foster significant online growth.
Comprehensive Digital Marketing Services
Proceed Innovative is a full-service digital marketing agency that provides comprehensive online marketing services for businesses of all sizes.  We currently work with clients in over 40 different industries taking a tailored, results-oriented approach using SEO strategies proven to boost online visibility, traffic, and sales.
Our digital marketing services are an integration of several strategies that work together to achieve the client's marketing goals.  We can include the following strategies as part of your digital marketing campaign:
Search Engine Optimization (SEO): The content on your website as well as off-site content is optimized with your target keywords and phrases to help your website rank well in the search engine results pages (SERPs). Our experts conduct keyword and competitive research to help determine the best keywords and phrases to target.
Pay Per Click (PPC) Management: We can implement and manage pay-per-click ad campaigns which are Google ads that charge the advertiser a fee each time the ad is clicked. With these ads, we can target your main keywords and service areas within an allotted budget.  These ads can help improve traffic and generate leads and they can be turned off any time.
Web Design and Management: Our team can design and build a website for your business that incorporates modern design elements and technology for an improved user experience. Our websites are mobile friendly and easy to navigate, and we will manage your website after it goes live.
Local SEO: Local SEO is important as most searches are done looking for local products and services and around 80 percent of local searches end with the user taking the desired Call to Action. Our experts can optimize your website to rank well in local searches and manage your Google Business Profile so that your business shows up on Maps and other Google entities.
Lead Generation: Generating quality leads can be difficult for businesses that rely on getting good leads. We provide lead generation services in which we can generate qualified leads that are sent directly to you in the form of calls and form submissions.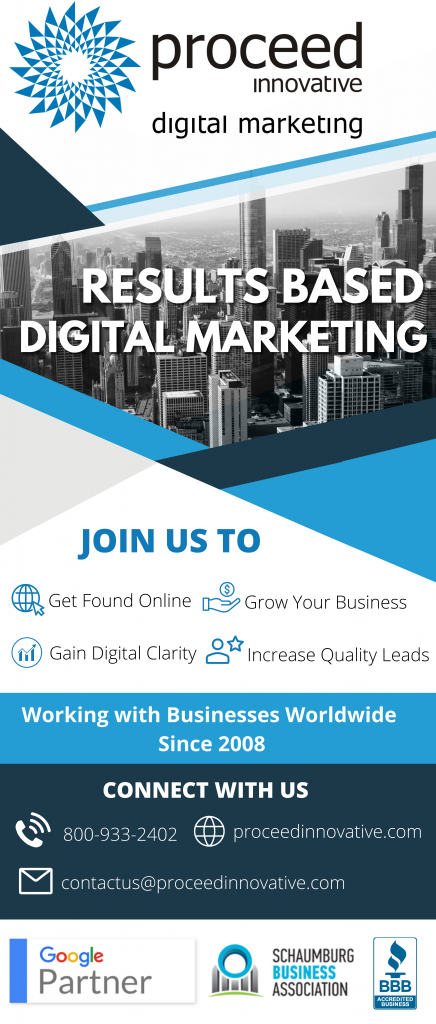 Contact Proceed Innovative for Digital Marketing Services
We are proud to be named a Top Google Marketing Agency in 2023 by CIOReview.  This distinction is given to the top 10 agencies in the SEO landscape that successfully leverage digital marketing strategies for the benefit of their clients.  At Proceed Innovative, we are ecstatic to be in such exclusive company within our industry.
If you are ready to take your business to the next level but need assistance improving your online visibility and brand awareness, talk to the professionals of Proceed Innovative about how we can help with our comprehensive digital marketing services.  Give us a call at (800) 933-2402 or submit a contact form to learn more.