What is a Blog?
A blog is an online journal that visitors use to participate in an online discussion. Usually they ask questions or add their comments on specific topic. Blogs are a very essential part of social media marketing and an effective search marketing communication tool. A blog allows many people to have access and contribute to the blog content.
Why Blogs?
Blogs are very useful if you wish to keep your customers or prospects up-to-date as to what is going on in your business. You can allow people to comment and add their own posts to your blog.
Organic rankings (SEO) are influenced a lot by the content of your website. Blogs are excellent way to generate new web content. By having a current blog about your niche subject you can generate large amount of related content over time. Google and its spider love it and it will improve your organic rankings.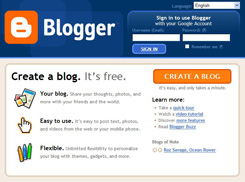 Types of Blogs
To create a blog related to your business or a specific topic you can choose one of the following two options:
Install your own blog software (most of the hosting providers offer it at no cost or very reasonably priced).
www.GoDaddy.com
www.bluehost.com
2. Use an external blogging service
Google offers a blogging solution: www.blogger.com
www.WordPress.org
How to Create a Blog?
It takes three simple steps to create a blog at Google blogger.com
Create a user account on Google. You can use your Gmail account.

Choose a name for your blog. If your website is www.mywebsite.com your blog's name may be mywebsite.blogger.com, or similar.

Choose a ready template for your blog or create your own template.
Search Marketing Blog Tips:
When you have a blog, keep it current and relevant to your topic.
Use keywords relevant to your business products or services and link to your website to increase your organic rankings.
Use a blog template that is consistent with your other marketing materials.
Install and use Google analytics (or different web analytics tool) to measure visits and improve on usability.
If you have comments or questions or would like to discuss another search marketing topic, please post it on our blog or call us at 800-933-2402.