The majority of consumers start a search for products and services online and research companies, sometimes multiple companies, before making a decision.  This makes it more important than it has ever been for businesses to invest in their online presence.
Your online presence should start with a good website that is mobile friendly, user friendly, and full of valuable content.  The next step is to make sure your website is found.  Most consumers go straight to Google to look for products and services and research the businesses that offer them.  If your website does not have good rankings in the search engine results pages (SERPs) for your main keywords, you will not generate much search traffic.  The best way to ensure that consumers find your website in the SERPs is to invest in search engine optimization (SEO) marketing.
It has been shown that the top five search results in a typical Google search get nearly 70% of the clicks.  Implementing the right SEO strategies will improve your position in the search results and help you drive more traffic from consumers that search for keywords related to your products and services.  However, businesses want to make sure that when they invest in SEO strategies or SEO services that they get the best possible return on investment (ROI).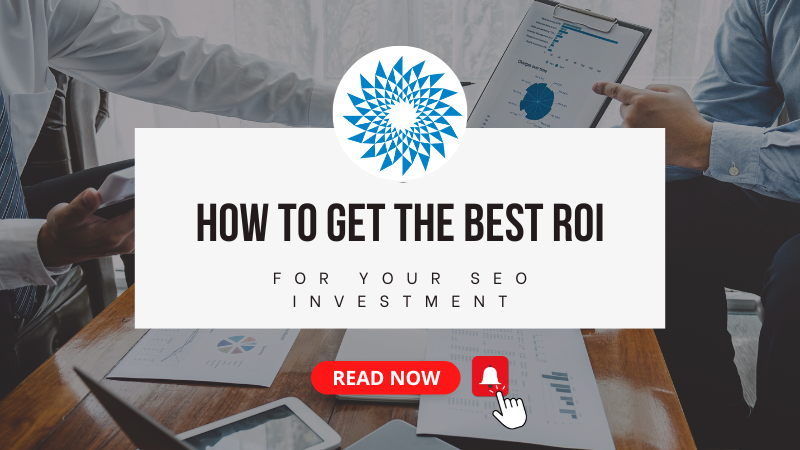 In this guide, we discuss the best ways that your business can maximize the ROI for SEO marketing.  You can also discuss SEO strategies and costs with a digital marketing agency like Proceed Innovative.
Why Should You Invest in SEO?
Making a good website is important, but your website will not do your business much good if it is never found.  You need to put an SEO strategy into place to optimize your website for Google and other search engines and improve your rankings so that more consumers find your business.
A good SEO marketing campaign will have the following benefits:
Your information will appear where consumers are looking.
You will be able to provide relevant information and answers to common search queries.
The traffic to your website will increase.
Improving online visibility yields long-term results.
SEO marketing will complement your website and content marketing.
Businesses that do not have an SEO strategy in place are already falling behind their competition who is investing and appearing in the top five results in the SERPs.  To reach a wider online audience, businesses must invest in SEO.
Effective SEO involves multiple strategies that work together to achieve your overall marketing goals.  It also requires an ongoing effort as your competition will also be investing in taking over those top spots in the SERPs.  You may have to wait a few months to see the effects of your SEO strategies, but the return you get for your efforts can result in a great ROI.
To get the most out of your SEO, you need a good marketing team, or you can work with an SEO professional that has the expertise to form an effective strategy that is in line with your marketing goals.
Maximizing Your ROI for SEO
The thought of investing in and implementing SEO strategies can be overwhelming for some businesses, especially those who are not too familiar with SEO. The following tips will help you get the most out of your investment in SEO marketing.
Determine Your Marketing Goals
SEO takes a concerted effort to get good results.  The first thing you should do is determine what your marketing goals are so you can devote your time and investment to strategies that achieve these goals.
Your marketing goals can include driving more traffic to your website, improving online visibility and brand awareness, or increasing leads and sales.  A digital marketing agency that provides SEO services can help you identify strategies that will best achieve your goals and determine the investment needed.
Competitive Research and Analysis
When it comes to SEO marketing, you are directly competing with your competitors for the top spots in the SERPs for your main keywords.  Therefore, it is important to research and analyze the SEO performance of your top competitors.
When doing this research, look at their search volume and which keywords they rank well for.  This will also give you insight on what consumers search for specifically when looking for the products or services you offer.  Look for whether consumers search with transactional or informational keywords, or a mix, so you know what to target with your SEO strategy.
Remember, SERP rankings are not permanent and those with the top rankings can be replaced by businesses that implement a more effective SEO strategy. Knowing how your competitors got to the top spots will give you a blueprint of how to get there and possibly rise above them.  There are free tools available that allow you to do competitive analysis research, and you can also work with a digital marketing agency that provides competitor analysis.
Assess Your Current SEO Marketing
After assessing the SEO landscape involving your competitors, you must also assess your current SEO performance.  Understanding where you currently sit will help you identify your strengths and weaknesses so you can capitalize on your strengths and improve in areas of weakness.
You can use SEO tools like Google Search Console to assess your SEO performance or work with a digital marketing agency to help with the analysis.  An SEO professional can also help you strategize by identifying areas for improvement and discussing the best ways to improve and maximize your SEO performance.
Create SEO Plan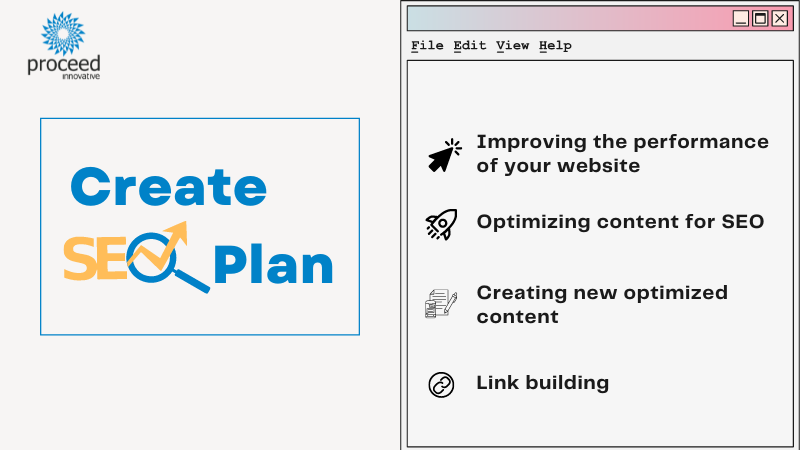 The analysis of your SEO performance and that of your competitors should help you shape your SEO plan.  Your plan should include strategies to improve areas of weakness and outperform your competitors to get a top spot in the SERPs.  SEO strategies should be unique to your business and specific marketing goals, but will generally include the following:
Improving the performance of your website, including loading speed, navigation, and mobile responsiveness
Optimizing content for SEO
Creating new optimized content for your website and social media channels
Link building
Depending on our marketing goals and where improvement is needed, your SEO plan should include on-page strategies (content optimization), off-page strategies (social media posts and email marketing), and technical SEO (loading speed optimization and mobile friendliness).  An SEO professional can help you determine which areas deserve the most focus to improve your overall performance and get the best ROI.
Assess Your SEO Resources
Now that you have identified your goals and have an SEO strategy in mind, it is time to assess your resources for implementing the SEO strategy.  This includes your in-house staff who may be able to implement some of the strategies as well as the budget you can put aside to work with a digital marketing agency.
Implementing an effective SEO strategy requires a level of skill for some technical things like website design, data analysis, and content creation.  If you do not have the expertise in-house, you may consider hiring an in-house expert or working with an agency with SEO expertise.  Working with an agency may cost less than hiring an in-house expert that needs training, salary and benefits, and others to work on their team.  By working with an SEO agency, you get a team of experts for a monthly fee that is less than hiring an in-house team.
Set Realistic Expectations
An effective SEO strategy, whether working with an agency or an in-house team, can bring an excellent ROI.  However, it is important to have realistic expectations when it comes to timeframes and returns.
As mentioned above, it may take 3-6 months before you start to see results from your SEO strategies.  SEO also requires an ongoing effort to maintain the results.  If you stop implementing your SEO strategies after achieving good rankings, you will start to slip in the rankings and loose spots to your competitors who put forth an ongoing effort.
To get the best ROI for your SEO campaign, you must understand that it takes time to see the results and the longer you stick with the plan, the better your ROI will be.
Measure the Results
Once you have implemented your SEO strategies, it is important to know how to measure the results to see if you are on track to achieve your marketing goals.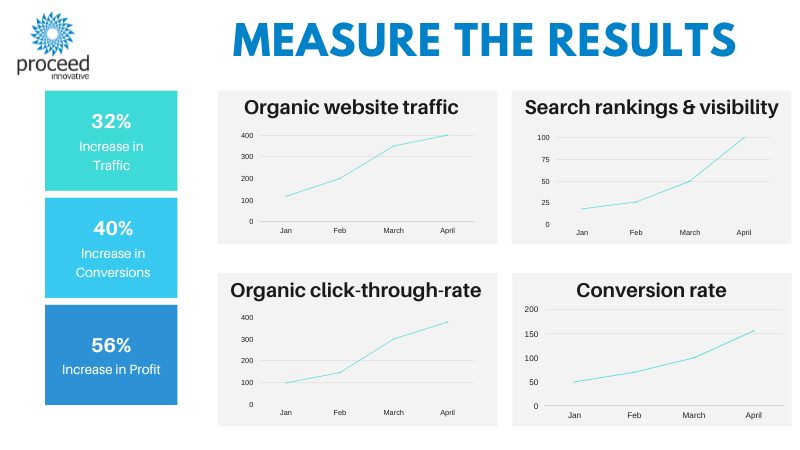 Based on your specific goals, you must identify the key performance indicators (KPIs) that best measure your progress towards your goals.  Common KPIs you should track include:
Organic website traffic
Search rankings and visibility
Organic click-through-rate (CTR)
Bounce rate
Conversion rate
Tools like Google Analytics can help you track these metrics so you can gauge your performance and make adjustments as needed.  An SEO agency will provide you with monthly reports of your SEO performance and make suggestions on how to address areas needing improvement and how to capitalize on strategies that are working well.
Track ROI
It is important to track your ROI to ensure that you are benefitting from your SEO investment.  There are several ways to track your ROI and the metrics you use may depend on your specific business.
In general, you should compare your monthly SEO investment to the measurable returns and what these returns mean to your bottom line.  For example, if you are a contractor that gets leads through your website, and your conversion rate is about 5 percent of your monthly organic traffic, doubling or tripling your organic traffic, even with the same 5 percent conversion rate, can greatly increase your number of conversions.
If this increase in revenue from the improved organic traffic is greater than your monthly SEO investment, than there is potential for an excellent ROI.
SEO Services from Proceed Innovative

Implementing an effective SEO strategy can bring your business a great ROI by raising your rankings in the SERPs and generating more organic traffic which will create more leads and increase the number of conversions.  The best way to ensure that your SEO strategy is effective and brings a good ROI is to work with a digital marketing agency like Proceed Innovative.
At Proceed Innovative, we provide complete SEO services to help businesses implement SEO strategies that align with their marketing goals.  We will take the time to understand your businesses as well as what your marketing objectives are, and work with you to form and implement an effective SEO campaign.  You will also get a monthly report from us that tracks your progress so you can measure your ROI.
You can call Proceed Innovative at (800) 933-2402 for more information about our SEO services.