The use of artificial intelligence (AI) has exploded recently as AI technology can be used to create so many things from videos and textual content to emails, blog structures, and even poetry.  The capabilities of AI will only become more sophisticated, and people are going to find more ways to incorporate it into their work both personally and professionally.  In fact, the introduction of AI technology in professional settings is likely to have a major impact on many different industries.  The SEO industry is one such industry that is about to experience significant changes with the use of AI.
The Rise of AI Technology
AI has been a part of SEO since 2015 when Google announced that it was using the AI system RankBrain to process search results.  Then in 2017, they announced that they were combating spam using machine learning.  It was then confirmed in 2019 that every search query on Google was being processed by RankBrain.
The use of AI technology by Google led to other businesses experimenting with AI and machine learning which led to the creation of AI-based SEO tools.  AI technology is increasingly being used for several SEO tasks including content creation, SEO keyword research, voice search, traffic and site growth analysis, and more.  There is no longer a question of whether AI will impact SEO, the questions to ask are how will AI affect SEO and how long it will take for significant changes to occur?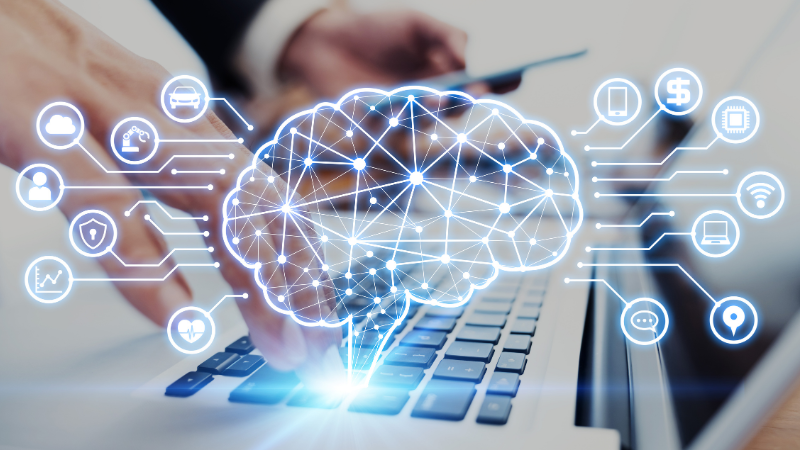 AI and SEO
As discussed above, AI technology is not new to SEO. Google has been using AI for years including RankBrain and Google Maps, to provide users with the best possible answers to their search queries.  AI technology being used for SEO now is more accessible to small businesses and SEO marketers and can be used to help improve their digital marketing campaigns.  This is also helping to even the playing field as it is not just large corporations that have access to sophisticated AI technology.  More businesses are using AI to efficiently adjust their strategies and remain competitive.
How AI is Used for SEO
AI is generally used in SEO to automate data analysis and content creation and generate ideas for new content.  The following are the main SEO tasks that AI will continue to impact:
Keyword Research
Keyword research is a necessary part of SEO, but it can also be tedious and time consuming.  There are AI tools available for keyword research that analyze keyword variations and semantic keywords to make the research easier and more efficient.  Even content generation tools like ChatGPT can be prompted to suggest keywords, including long-tail keywords.  You can also use ChatGPT to create meta descriptions for web pages.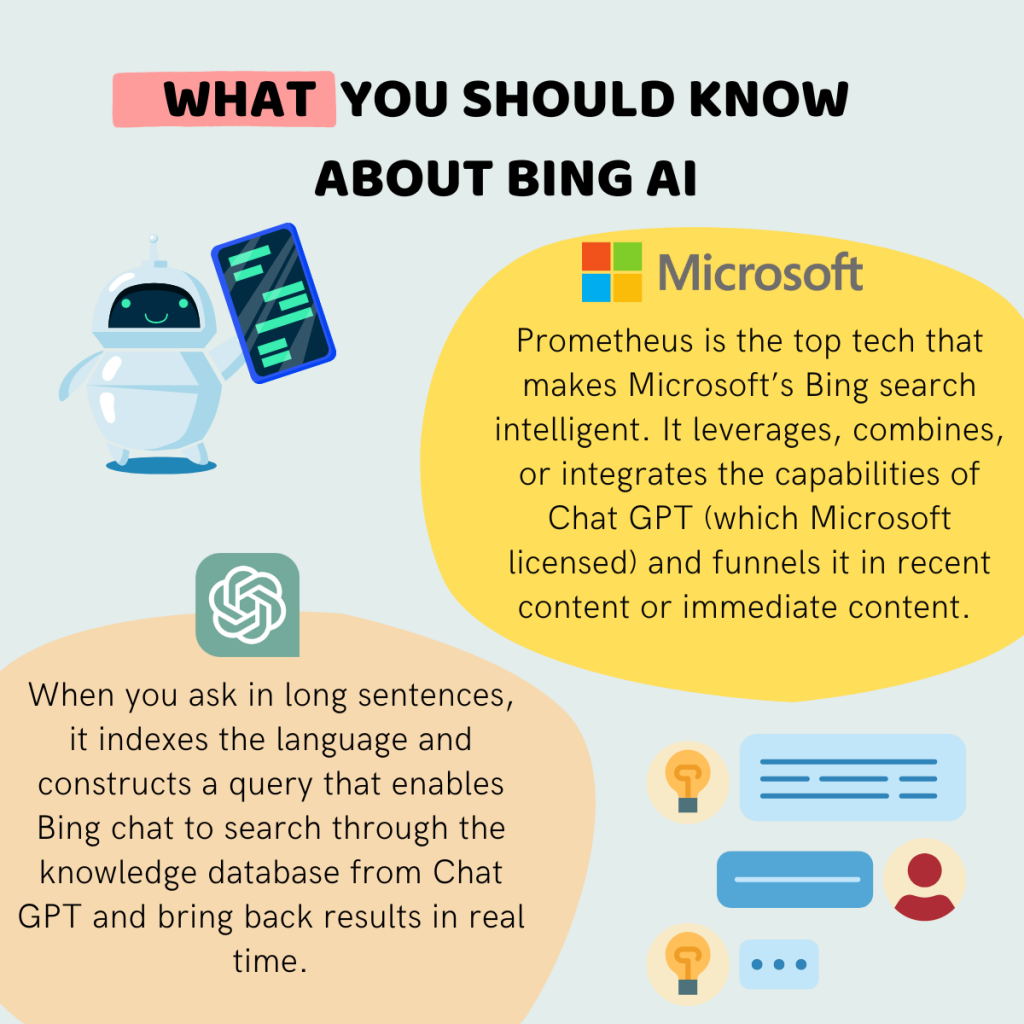 Onsite Optimization
There are AI tools like WordLift that can help you better optimize your website by automating internal linking, structured data, and other on-page SEO factors.  This will help make optimizing your website quicker and easier and help draw more organic traffic.
Content Creation
Good SEO is still built on quality content because this is what ranks in the search engine results pages (SERPs) and draws traffic to your website.  Google matches search queries from users with website content using natural language processing (NLP) which makes it important to create relevant, high-quality content.  However, content creation can be time consuming and sometimes expensive.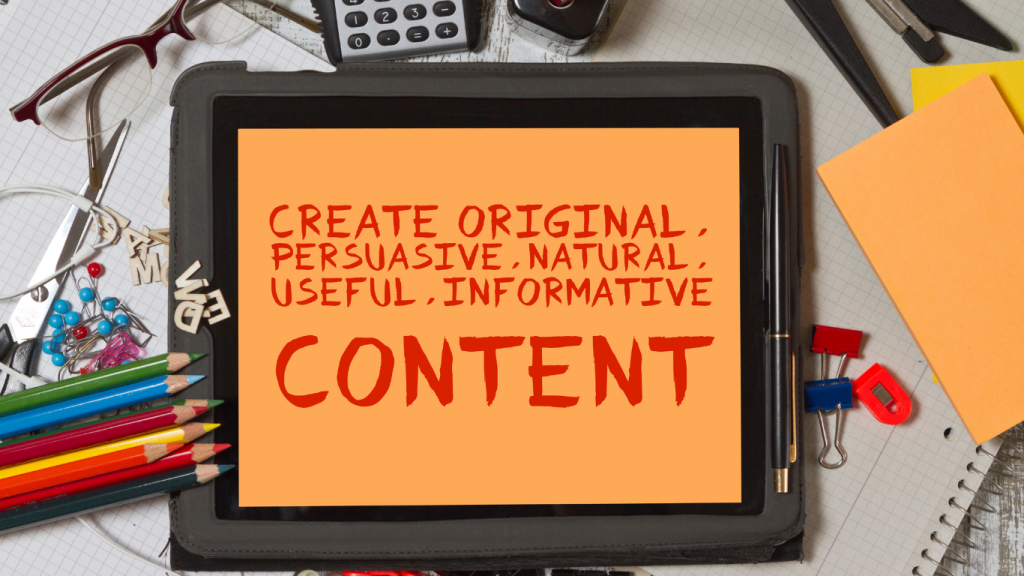 Right now, it is hotly debated whether it is beneficial to use content generated entirely with AI using tools like ChatGPT.  While Google has historically favored human created content over automated content, Google has confirmed that content generated with AI tools can rank in the SERPs as their algorithm is more focused on delivering quality content that best answers a user's search query than the source of the content.
The following are the benefits of using AI to create SEO content:
Saves time: Creating content such as on-page content, blog outlines, and emails can save a lot of time.
Cost-effective: Many AI tools are free or inexpensive to use.
Quality content suggestions: AI technology can provide suggestions for content based on search queries and answers found on the internet to help you create quality content.
Multiple language support: AI tools can support multiple languages.
While there is a lot to be excited about when it comes to the benefits of AI in SEO, there are some drawbacks to consider.  Understanding the disadvantages of AI created content will help you create the best possible content using this technology:
Less creative: AI content creation works by putting together information found online, which means that the content it creates may be less creative and unique than content written by a person.
Less natural: There is a chance that the phrasing in AI content may sound less natural and it may be more difficult to create personalized content.
Plagiarism and copyright issues: You will need to monitor content generated by AI to ensure that it is not plagiarized or contains copyrighted material. AI may also get certain facts or information wrong.
Complete content creation using AI is not perfect as it may be less natural, less creative, less unique, and prone to plagiarism or inaccuracies.  Content created entirely by AI will need to be reviewed and edited for clarity and accuracy.  However, there are several effective ways to use AI to help with content creation:
Social media: You can use AI content tools like ChatGPT to generate ideas and content for social media campaigns, posts, promotional giveaways, and responses to negative comments. You can even ask ChatGPT for ideas on how to increase your reach on social media and adjust your strategy.
Email marketing: AI content generators can be used to create entire marketing emails, or parts of the email such as subject lines, compelling unique selling propositions (USPs), and language for exclusive promotions.
Blog post outline: If you do not want AI tools to write out an entire blog, you can make the process faster by prompting these tools to create a blog outline for your topic that then allows you to write to blog while following the outline.
Blog and ad headlines: Blogs and online ads need good headlines to draw attention. AI content creation tools draw inspiration from competitors to help come up with effective headlines for your blogs and ad campaigns.
Change tone: If you have a written piece of content and you want to emphasize a certain tone, you can prompt AI tools to recreate your content with the desired tone. For example, you can prompt the tool to make the content friendlier, happier, more professional, more urgent, simpler, etc.
Call-to-actions: An important aspect of all types of content is the call-to-action (CTA) to entice your target audience to take the desired action. You can prompt AI tools to create different CTAs so you can use a variety of CTAs and test which ones are most effective.
Growth in Traffic and Rankings Analysis
One of the best ways to measure the success of your SEO efforts is to track the growth in traffic to your website as well as your website's rankings in the SERPs.  AI tools like Eye in the Sky and Rankings Analyzer from SEO Vendor can automate the analysis of this data and predict trends in rankings and traffic so you can identify and fix any potential issues.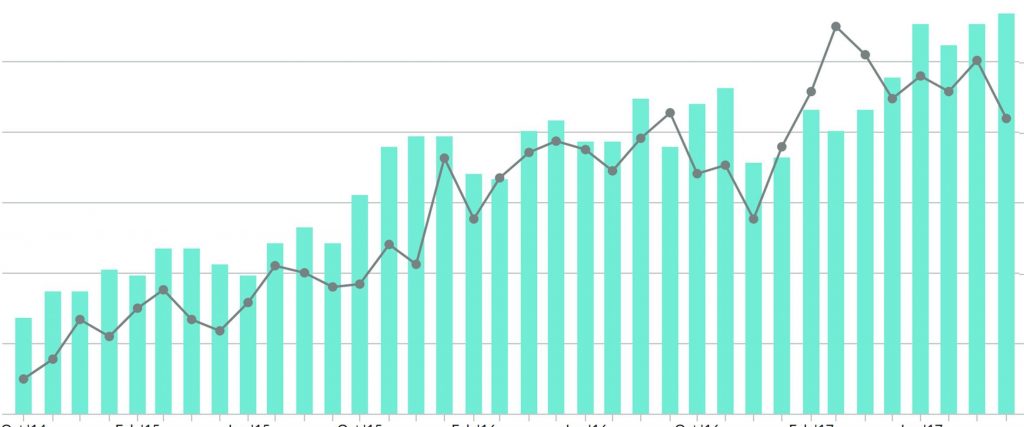 Predict Rankings
Rankings in the SERPs are determined by a number of factors including on-page optimization, backlinks, and social signals.  AI platforms can analyze these factors and predict how each individual factor, as well as these factors collectively, will affect your rankings.  This will help you identify which of the main ranking factors need improvement so you can adjust your strategies and gain more control over the rankings of your website.  This level of control will also help ensure stable rankings and avoid fluctuations by quickly identifying and addressing areas of improvement.
Analysis of Search Engine Algorithms
It is important to understand the algorithms used by search engines for your SEO strategy to be effective.  However, algorithms change all the time and when they change, one strategy that used to be effective may now penalize your website.
Currently, you can keep up with algorithm changes by auditing your website, but this is a time-consuming process.  Many expect AI to be developed that will be able to analyze your website and find things that could potentially lead to penalization much faster than regular site auditing.  This will also help ensure that you make the changes to your website before you are penalized, or your website drops in the rankings.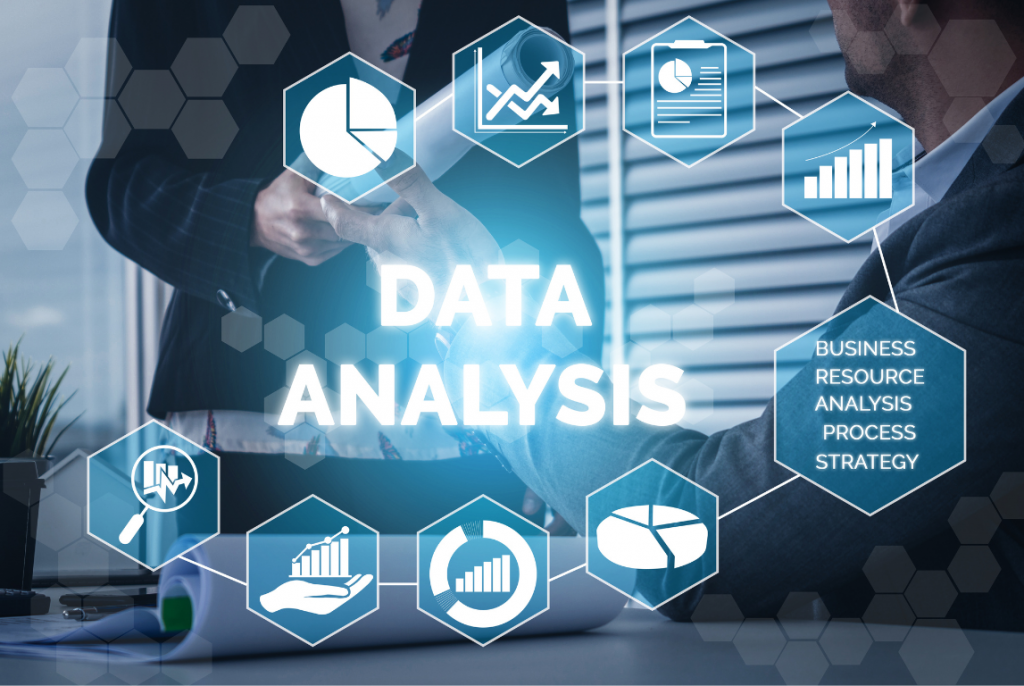 Competition Analysis
SEO is a zero-sum game, meaning if one of your competitors goes up in the rankings, this means you are most likely going down.  Getting the top spot in the SERPs for one of your keywords is not permanent as one of your competitors can replace you in that top spot if they are employing a more effective strategy.  To stay ahead of your competition, it helps to analyze their SEO strategy.
There are tools available that can help you analyze and monitor your competition, but manual work is needed to get the most out of these tools.  In the future, more AI tools are expected to be able to automate competitor analysis and easily identify changes in your competitor's strategy and how it will affect your website.  CORE AI from SEO Vendor is one such tool available now that can do this.
Is AI Used in SEO?
AI is used in SEO to handle several different tasks, including automating data analysis which helps form more effective SEO strategies and generate content including web pages, blogs, social media posts, marketing emails, CTAs, and more.  AI-powered software is faster and more efficient than manual methods and can save time and money.
How Does AI Help with SEO?
AI SEO tools automate data and workflow analysis and eliminate much of the manual labor needed for effective analysis.  With AI-powered data analysis, marketers can quickly get a big picture of the data which helps identify areas where improvement is needed so changes can be implemented that improve website performance and rankings.
How is AI Going to Change SEO?
AI tools will allow for the quick and automatic gathering and analysis of data that will help marketers improve and maintain rankings, optimize websites, and generate keywords.  At the same time, AI will make search results more personalized for internet users which means that SEO strategies must be tailored to a specific target audience to improve rankings and generate more traffic.
AI tools are also going to allow for the automated creation of content including blog articles, web pages, marketing emails, social media posts, and more.
SEO Marketing from Proceed Innovative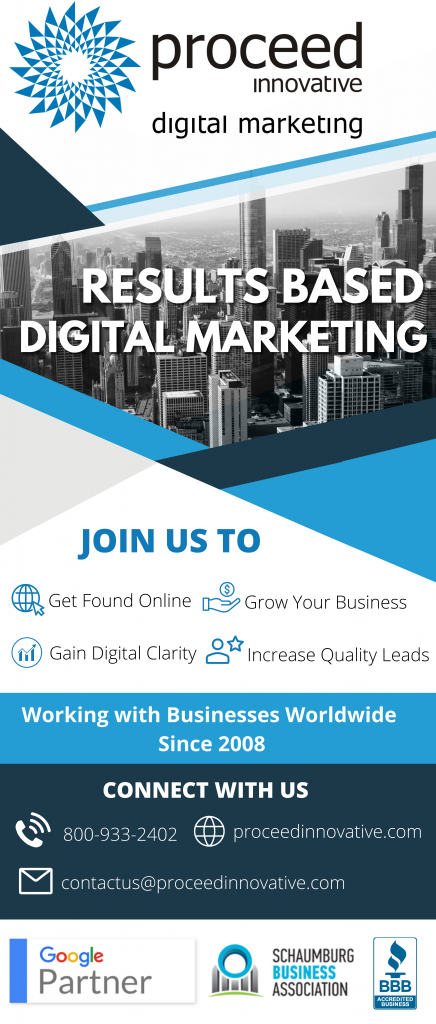 AI-powered tools and technology are already making an impact in the SEO industry, and they have the potential to make drastic changes to how SEO is done in the future.  The use of AI automates many time-consuming SEO tasks which will help businesses and marketers monitor and adjust SEO strategies more efficiently for better results.  The wider availability of AI also levels the playing field by giving small businesses the same advantages as larger businesses.
If your business needs the help of a digital marketing agency to manage your SEO strategy, you need to make sure you work with an agency that understands the future of SEO and how AI technology factors into the future.  Proceed Innovative is a full-service digital marketing agency that provides SEO marketing services to help your business be found online.  We create tailored SEO strategies to increase your online visibility and we are knowledgeable about the latest best practices while staying on top of changes in the SEO industry, including the impact of AI.
Call Proceed Innovative at (800) 933-2402 or submit a contact form to learn more about our SEO services.