Contractor Lead Generation Services
One of the biggest challenges of running a contractor business, especially one that serves customers locally, is generating sales leads. With everyone searching online nowadays, it's also easy to get buried under your competitors, particularly if you're in a saturated market.
Proceed Innovative offers an exclusive lead generation program to allow contractors to benefit from qualified, exclusive leads using proven digital marketing strategies. This program is also more cost-efficient compared to pay-per-click advertising.
If you are looking for more sales leads to grow your business, contact our Chicago contractor lead generation company at (800) 933-2402. We are located in Schaumburg, IL.
What are the benefits of lead generation services for contractors?
The biggest problem many contractors face is locating the right customer base with the need for their services.  Effective lead generation services will connect your business with searching customers at the right place and time, allowing you to easily answer the call or respond to the form and convert the lead into a sale.
Just as the internet is the most effective medium for identifying and targeting potential customers who are already searching for your services, this will allow you to get the most return on your investment.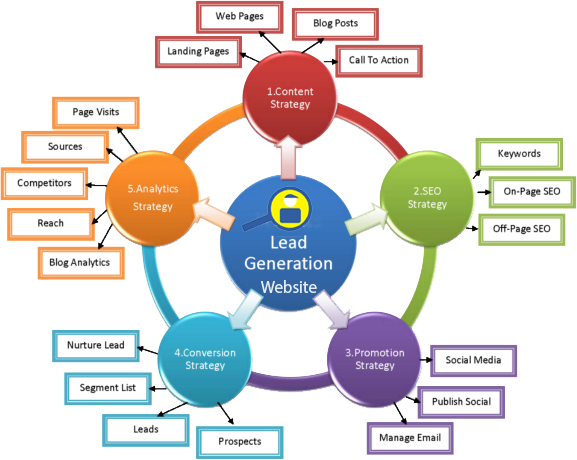 We can provide your customers with an excellent online experience from the second they find your business, increasing the chances of resulting in a sale. Most conversions will include phone leads as it allows customers to quickly contact your business and schedule an appointment or emergency services. Our call tracking service also allows us to monitor the lead generation performance to make improvements where needed.
Our Lead Generation Program – RestorationMaster Finder
For over 10 years, Proceed Innovative has built a successful online lead generation program for restoration contractors and other service-based businesses in the restoration and cleaning industry. RestorationMaster Finder, or RMF, has helped our clients to grow their business by generating exclusive leads within their targeted area.
For a set monthly fee, you can expect unlimited, qualified leads generated by optimized microsites that use digital marketing strategies to rank on Google and other search engines. Depending on the size of the project, you will be provided with specific areas you would like to target and pages to market your services. Our lead generation experts will then optimize these pages to help them rank in the search results.
Finally, you can expect leads either through contact forms or phone calls in which you can set up the appointment and conduct the service. Your customer will then pay you directly for the job. To track the results, each phone call and form is tracked so you can match the lead to your customer database.
We also provide a 3x ROI guarantee to ensure you get the most from your marketing budget.
Each of the following benefits are included within our contractor lead generation program:
You decide on the price
Qualified, exclusive leads sent directly to your business
Services are charged on a flat monthly fee
Improved online presence with keyword rankings
Tracked leads
Monthly reporting
3x ROI guarantee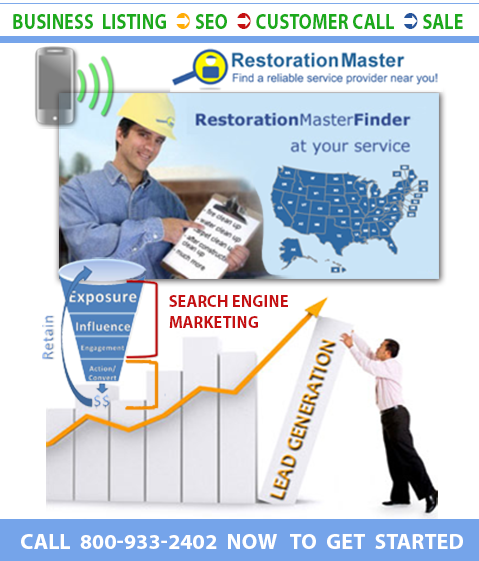 RestorationMasterFinder.com is powered by Optimized Search Engine Visibility on Google, Bing, Yahoo, Facebook, and over 100 other local, vertical, and social media web portals.  This website was built with the flexibility to accommodate all future technology trends and upgrades so that it is always operating at its peak performance level.  The high search engine visibility of RMF on the national and geo-specific level has been proven to generate the maximum number of quality leads. Make sure to register for RestorationMasterFinder.com now because we only register one partner per business zip code. 
Schedule a Free Consultation
Visit RestorationMasterFinder.com today to see if your territory is available. To schedule a free consultation regarding our lead generation services, give us a call at (800) 933-2402.