– One finds limits by pushing them.
WordPress Web Design – Chicago SEO Web Design Company
Based In Schaumburg IL And Serving Clients Nationwide Since 2003
---
Our Mission
At Proceed Innovative, we help you harness the power of the Internet to improve website ROI through data-driven web design strategies.
Is your website outdated and/or slow to load? Does it not show up on Google? Our SEO web design services focus on building fast, quality websites with a modern design that not only improves your brand awareness but generates leads for your business.
As customers are searching online more than ever before, they have also become impatient, and the search engines won't tolerate any website that is slow to load. To best improve your online visibility, your business will need a fast-loading website with a modern design, clear navigation and call to actions to help your customers find what they need and take action.
Our SEO web design experts believe in putting your goals first, designing and executing data-driven strategies with SEO best practices to boost your website's ROI.
Give us a call at (800) 933-2402 for more information about our Chicago SEO web design company. We are located in Schaumburg, IL and happy to serve clients nationwide.
---
Recent SEO Web Design Projects
AllenGabeLaw.com
+61%
Mobile Traffic
+16%
Organic Traffic
The new web design was launched in September 2015 and showed improved results in the first month of going live. It is extremely important to have a website with a mobile friendly design as more internet searches are done on mobile devices than on desktop computers and many mobile users will immediately leave a website that is not mobile friendly. Also Google and other search engines consider the mobile friendly feature a ranking factor.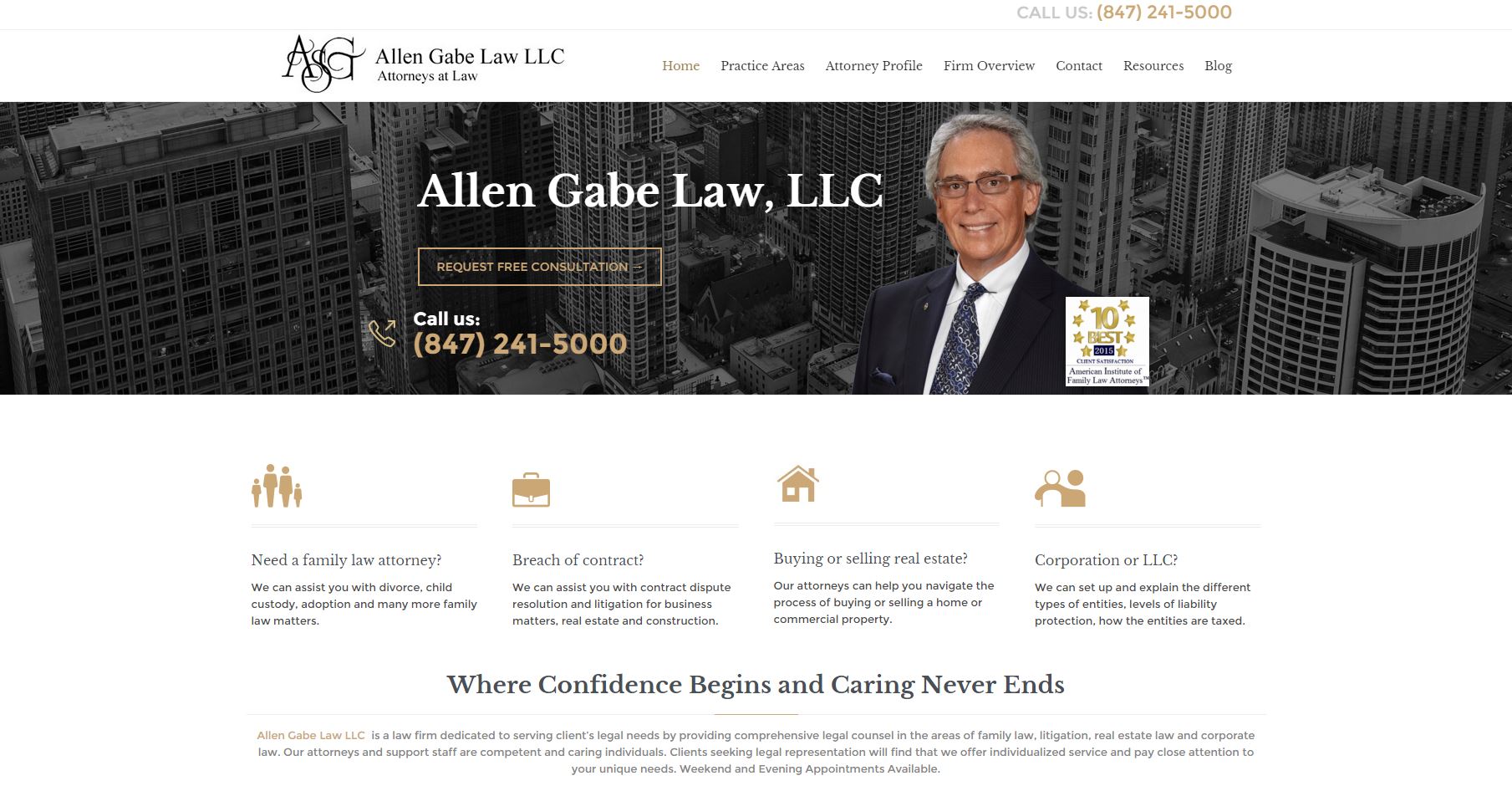 ---
Chicago SEO Web Design Services – Why Choose Us
  User and Mobile-Friendly Design
With the continuous improvements in mobile devices, searching and shopping online has never been easier. But this only works with websites built with a SEO and mobile-friendly design. Nowadays, there are two versions of websites: desktop and mobile. Our experts will ensure the mobile version loads quickly and provides an easy way for customers to find what they need and take action.
Are you ready to build a website that keeps your customers converting? Call us at (800) 933-2402 to learn more.
  Easy Website Upkeep
Your team has so many important daily responsibilities – managing your website need not waste too much of their precious time. To lighten that load, our web designers focus on building you a website that is as easy as possible to maintain. Our web designers and web developers build your new website on WordPress, a simple content management platform, or CMS – making your website content easy to access and improve as needed.
  Website Maintenance
Just like a car, your website will require ongoing maintenance to stay competitive. Whether fixing mobile usability issues or updating your privacy policy, our experts will provide the ongoing maintenance needed to help your website retain and improve its online visibility. Our web designers use WordPress, a content management platform, or CMS that allows us to efficiently make updates as needed.
  Stay Search Engine Ready
If search engines cannot find your site, it is highly unlikely your prospective customers will be able to either. At Proceed Innovative, we ensure your website is completely indexed by Google and other search engines through a variety of different SEO tactics, boosting your site traffic via organic channels.
We don't just build websites; our sites are search engine-friendly, meaning our SEO web design experts apply SEO techniques during the development process, allowing you to get the best ROI from Day 1.
  You'll Be Future-Proof
Our team understands that businesses are constantly growing and evolving, especially in this ever-evolving digital age. We design websites that are easily updatable and nimble enough to accommodate your organization's growth and evolution.
---
How We Work – Our Web Design Process
To thrive in today's marketplace, to drive top-level organic traffic, your website must be designed to accommodate the needs of your customers, employees, branding specifications, and Google's indexing spiders. At Proceed Innovative, we have designed an expert-grade web design methodology to help you meet these goals, and improve your website's ROI in the process.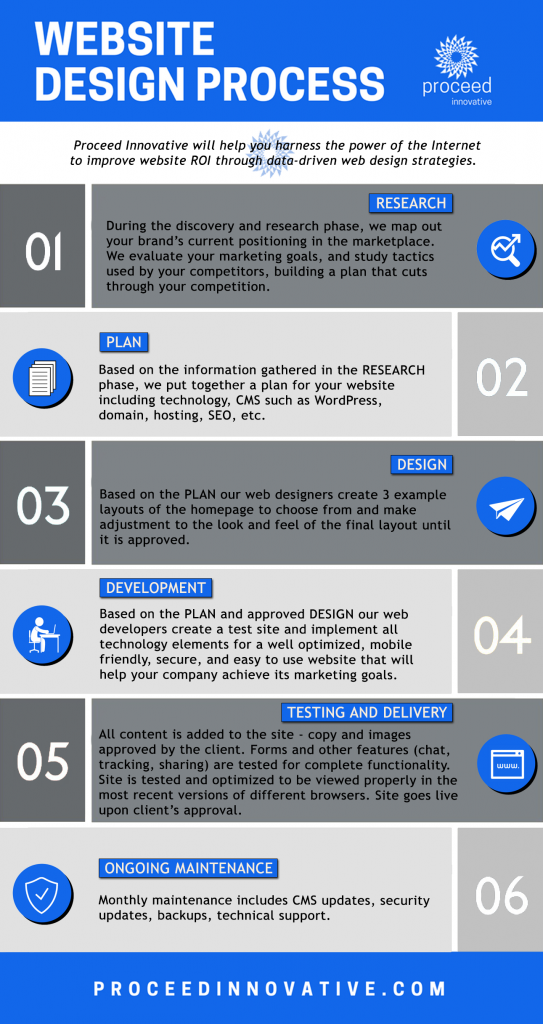 Discovery and Research
During the discovery and research phase, we map out your brand's current positioning in the marketplace. We evaluate your marketing goals, and study tactics used by your competitors, building a plan that cuts through your competition.
Before getting started with the design process, our SEO experts will first evaluate your marketing goals. We will then conduct keyword and competitor research to identify the best keywords to use on your new site as well as study tactics used by your competitors. Current keyword rankings will also be identified and evaluated so they won't be lost when launching your new site.
  Website Design and Development
Research complete, our web designer create new templates, while our web developers implement architectural recommendations and write targeted content to completely improve your website's look and feel.
Based on the keyword and competitor research, our SEO web design professionals will design templates and incorporate new copy to enhance your website's look and feel. You will be presented with different website layout options from which to choose, after applying your edits as needed the website is launched upon your final approval.

  SEO and Tracking Integration
At Proceed Innovative, we believe that harnessing the power of good data is the key to increasing your overall marketing ROI. We implement initial SEO strategies before your website is launched to ensure maximum ROI as soon as possible. We also set up Google Analytics (GA) and tracking to ensure that all future website visits are tracked, pooling your data into easily analyzable buckets. We subsequently use this data to determine how well your new website is meeting your marketing goals, and note areas for further optimization. We continue implementing SEO best practices to make sure your website is optimized to accrue top-notch organic traffic.
  Web Design Launch, Tracking and On-going Updates
Once your brand's website goes live, we measure its search engine rankings and traffic as well as the number of conversions it fosters via the appropriate key performance indicators (KPIs). We then devise next-level strategies to continue maximizing your website's ROI.
---
A Note from Our SEO Experts and Web Designers
Proceed Innovative's SEO experts and web designers are dedicated to working closely with you to help create a well optimized, mobile friendly, and easy to use website that will help your company better achieve its marketing goals. From delivering your initial design templates through the post-launch evaluation of your website, we ensure that every aspect of your new web design is working to improve your online presence, traffic, and conversions – thereby increasing your website's overall ROI.
Has your website traffic reached a plateau? Are you looking for a way to boost online conversions? Call Proceed Innovative today at (800) 933-2402 to start mapping out our new web design solution.
---
Your Web Design Search Ends Here 
Have you been scouring the web for the right web design agency to take your company's website to the next level? Well stop right now! Our team has designed a simple checklist to help you determine exactly which types of optimizations your website truly needs to reach its goals – ushering you through a web design process with ease and efficiency.
Call Proceed Innovative today at (800) 933-2402 to get a free proposal for our SEO web design services.
More About Web Design From Our Blog
Businesses across industries rely on getting conversions through their website and if your site is ineffective when it comes to converting customers, your business will suffer.  In this guide, we will discuss the best ways to design your website to encourage conversions.  It also helps to work with a web design professional that can design your website in a way that maximizes conversions.
Insights Success recently published The 10 Most Promising Google Solution Providers of 2022 edition of their magazine that highlights the best providers of digital marketing and SEO in the industry.  At Proceed Innovative, we are proud to not only be included on this list, but to also be featured as the cover story for this issue.