– One finds limits by pushing them. Herbert Simon
Chicago SEO Web Design Company
Based In Schaumburg IL And Serving Clients Nationwide Since 2003
---
Our Mission
At Proceed Innovative, we help you harness the power of the Internet to improve website ROI through data-driven web design strategies.
Your customers are searching online more than ever before. With the power of the Internet so often residing right in the palms of their hands, these digitally savvy customers have grown impatient. Your responsibility has now become to lighten their cognitive load. How? By building a fast, easy to use website, completely tailored to their searching habits.
Proceed Innovative believes in putting your business's goals first. We design and execute data-driven web design strategies, complete with SEO best practices, to boost your website's ROI.
---
Recent SEO Web Design Projects
---
Website Design or Redesign – What We Do
  User-Friendly Designs
Keeping customers on your website and engaged with your content is crucial to moving them through your sales funnel. At Proceed Innovative, we know that the key to harnessing your site's true conversion potential lies in crafting rich, targeted content that is easy to find and read.
Are you ready to build a website that keeps your customers converting? Call us at (800) 933-2402 to learn more.
  Easy Website Upkeep
Your team has so many important daily responsibilities – managing your website need not waste too much of their precious time. To lighten that load, our web designers focus on building you a website that is as easy as possible to maintain. Our web designers and web developers build your new website on WordPress, a simple content management platform, or CMS – making your website content easy to access and improve as needed.
  Mobile-Friendly Design
Thanks to smart phones and tablets, searching and shopping via the Internet is easier than ever before. However, if your site cannot load quickly or functioned properly on mobile devices, your brand misses out on much of that valuable mobile traffic. We build your site using responsive web designs, to ensure your brand puts its best foot forward on any device.
  Stay Search Engine Ready
If search engines cannot find your site, it is highly unlikely your prospective customers will be able to either. At Proceed Innovative, we ensure your website is completely indexed by Google and other search engines through a variety of different SEO tactics, boosting your site traffic via organic channels.
  You'll Be Future-Proof
Our team understands that businesses are constantly growing and evolving, especially in this ever-evolving digital age. We design websites that are easily updatable and nimble enough to accommodate your organization's growth and evolution.
---
How We Work – Our Web Design Process
To thrive in today's marketplace, to drive top-level organic traffic, your website must be designed to accommodate the needs of your customers, employees, branding specifications, and Google's indexing spiders. At Proceed Innovative, we have designed an expert-grade web design methodology to help you meet these goals, and improve your website's ROI in the process.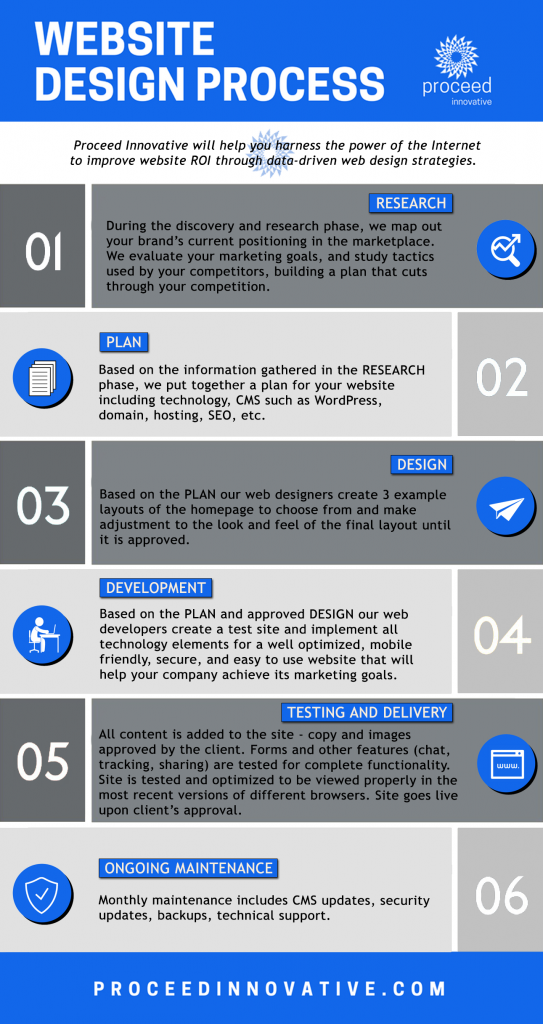 Discovery and Research
During the discovery and research phase, we map out your brand's current positioning in the marketplace. We evaluate your marketing goals, and study tactics used by your competitors, building a plan that cuts through your competition.
  Website Design and Development
Research complete, our web designer create new templates, while our web developers implement architectural recommendations and write targeted content to completely improve your website's look and feel.

  SEO and Tracking Integration
At Proceed Innovative, we believe that harnessing the power of good data is the key to increasing your overall marketing ROI. Before launching your revitalized website, we set up Google Analytics (GA) and tracking to ensure that all future website visits are tracked, pooling your data into easily analyzable buckets. We subsequently use this data to determine how well your new website is meeting your marketing goals, and note areas ripe for further optimization. We also implement SEO best practices to make sure your website is optimized to accrue top-notch organic traffic.
  Web Design Launch, Tracking and On-going Updates
Once your brand's website goes live, we measure its search engine rankings and traffic as well as the number of conversions it fosters via the appropriate key performance indicators (KPIs). We then devise next-level strategies to continue maximizing your website's ROI.
---
A Note from Our SEO Experts and Web Designers
Proceed Innovative's SEO experts and web designers are dedicated to working closely with you to help create a well optimized, mobile friendly, and easy to use website that will help your company better achieve its marketing goals. From delivering your initial design templates through the post-launch evaluation of your website, we ensure that every aspect of your new web design is working to improve your online presence, traffic, and conversions – thereby increasing your website's overall ROI. Has your website traffic reached a plateau? Are you looking for a way to boost online conversions? Call Proceed Innovative today to at (800) 933-2402 to start mapping out our new web design solution.
---
Your Web Design Search Ends Here 
Have you been scouring the web for the right web design agency to take your company's website to the next level? Well stop right now! Our team has designed a simple checklist to help you determine exactly which types of optimizations your website truly needs to reach its goals – ushering you through a web design process with ease and efficiency. Call us today at (800) 933-2402 to get started.
Web Hosting Service:
We offer web hosting service and web site maintenance to our clients. Web hosting – Terms of Service – TOS
Contact Us
---
No soliciting please