Your website is often a potential customer's first introduction to your business.  Therefore, you should think of your website as much more than code, content management systems, and wireframes, it should be part of your overall online marketing strategy and built to accurately represent your brand and help contribute to your marketing goals.
Building a website is not something that should be taken lightly.  It takes several steps to properly plan, design, build, and implement your website so that it is an effective marketing tool.  The focus of a website design and build should be less about the HTML, CSS, or programming, and more about the content and design elements, user-friendliness, and key marketing strategies to help you improve your online visibility and brand awareness.
In this guide, we cover the main steps you should follow for a well-planned and thought-out web design.  You can also work with a web design professional like Proceed Innovative to help you plan, design, and implement your website.
Phases of Website Design
Just like any other project, web design should be divided into phases for planning, design, development, and implementation.  The following should be the phases of your web design process.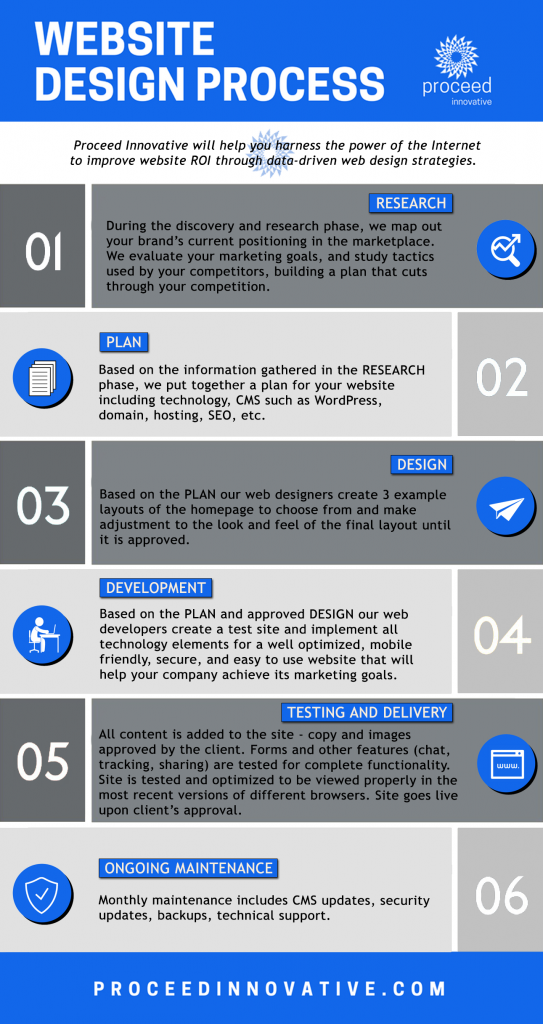 Research and Define Your Project
It is important to define your project right at the beginning.  The first thing you should do is define the purpose of your website and what you want your website to achieve.  This will provide the overall framework for your website in terms of content and design and help you understand where your website fits into your overall marketing strategy.  Make sure you narrow down your goals to the ones that are the most important and identify metrics you can measure to track the progress of your goals.
This phase also includes some research on your part to identify your target audience and investigate tactics used by your competitors.  Understanding your target audience and having an understanding of your competition's marketing strategy will help you form a web design strategy that effectively reaches your target audience and edges out your competition.
You should determine the following in this phase of your web design:
Project summary: Put the general definition of your project into words. Define the broad purpose of your website as well as how it fits into your overall digital marketing campaign.
Goals: Name two or three specific goals that you want to achieve with your website. This will help guide the design and content of your website.
Target audience: Make sure you clearly identify your target audience. Your target audience are the people who are most likely to purchase your products or services.  Do some research to understand the demographics, needs, and brand perceptions of your target audience so you can determine the best way to connect with them through your website.
Messages: Craft your unique brand message that sets you apart from your competition and resonates with your target audience.
Competition: You can gain valuable insight by analyzing what your competition does with their website and digital marketing and what is successful about your strategies. This will help you form an effective strategy to reach the same target audience.
Plan Your Website
The next step is to use the information you gathered in the research phase, as well as your stated purpose and goals, to start planning the website itself.  The planning phase should include listing the pages you want on your website as well as determining the overall layout of the site.  You should identify which pages will be products pages, landing pages, and conversion points.  You also need to determine things such as domain, hosting, content management systems (CMS), and SEO strategies in this phase.
Make sure you plan the following:
Sitemap: A sitemap is the basic map of your website that includes a list of all the pages you want on your site and how they relate to each other. The home page, main pages, and sub pages should all be listed in a logical order that reflects how they appear within the navigation of your website.  This layout will help you better plan the content and design for each of the pages.  The sitemap that ends up on the website should include user-facing elements and elements to be crawled by search engines such as Google.
Wireframe: A wireframe is a layout of the individual pages of your website. This layout should include titles, headers, content, calls to action (CTAs), online forms, and more.  Make sure the wireframe accommodates both desktop and mobile design.  Sites that do not have a mobile responsive web design are at a major disadvantage.
Create the Web Design and Content
This is the phase where the website designer creates the visual design of the individual web pages based on the sitemap and wireframes.  The visual design should incorporate branding (colors and logos), images, and videos that should be consistent across all of your digital channels, including your website, social media, and digital newsletters.  Being consistent in your branding will help improve brand recognition and trust.  The visual design should also include functional elements of the website that will appear on each page such as top and side navigation menus, online forms, CTAs, and headers and footers.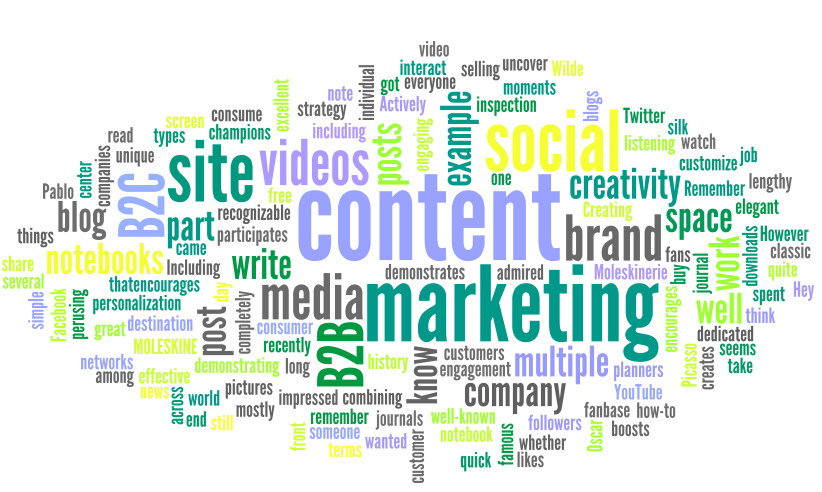 Another thing to consider in this phase of the web design is creating the content.  You should write content for the different types of pages on your website that include your messaging and information about your company, products, and services.  All the content you write should be optimized with relevant keywords and phrases for the search engines and written with your target audience in mind to best appeal to them.
You can create content for the following types of web pages:
Home page
About page
Product/ service pages
Landing pages
Blogs posts
Case studies
Testimonials
Newsletters
Videos
Images
White papers
Develop the Website
Now that you have defined your goals and planned your messaging, design, and content, the next step is to develop your website.  By now, you should have your CMS chosen and you will need front end developers to implement the visual design and back-end developers to take care of the code for the functionality of the website.

When you work with a professional to design and build your website, they will develop the website after you have approved the design and provided the content, images, and anything else you want included on the site.  The site will not be live yet but will be in a testing stage where the look, functionality, and mobile responsiveness of the website can be developed and implemented.  During this stage, you will be given a chance to check out the website and provide any notes you have to the website designer.
Test the Website
Once the content, images, online forms, tracking, chat, and other functionalities are added to the website, it is time to test them to ensure that they are operating properly.  At this point, your website will be on a server where you will be able to view it with the link, but it will not be live yet.  You will have a chance to review the site, including the content and functionality, to make any final changes before it goes live.  It is very important to fully test your website so that there are no issues when it finally goes live.
Go Live
After you have thoroughly reviewed your website and made sure that the content is good and the functionalities work properly, it is time for the website to go live.  Listen to feedback from users who are first encountering your website so you can address any issues such as broken links or copy edits right away.
If you are working with a web design professional, they will only launch the website after your approval.  You should review your website once again after launch and let the web designer know if you find anything that needs to be fixed.
Ongoing Maintenance
The job is not done now that your website is live, it will require ongoing maintenance to ensure that your website is functional and updated with fresh features and content.  Search engines like Google give preference to websites that are functional and user-friendly and offer fresh, valuable content for their audience.  So not only will ongoing maintenance ensure that your website stays functional, but it can also help your rankings in the search engine results pages (SERPs).

The following should be part of your regular website maintenance:
Creating new content, including new pages, blog posts, etc.
Editing existing content
Installing plugins
Finding and fixing broken links
Finding and fixing functionality issues
Professional Web Design Services from Proceed Innovative
Your website is your most important salesman, and it is often the introduction of your brand, products, and services to your potential customers.  It is important to put the proper planning into your website so it can perform at its best to help you achieve your marketing goals of attracting new customers and increasing conversions.
If you would rather work with a professional to build a new website or update the design of your existing site, talk to our professionals at Proceed Innovative.  We provide complete web design services to create and maintain websites for our clients following the planning phases outlined above.  You can call Proceed Innovative at (800) 933-2402 to learn more about our web design services.