Chicago Lead Management – Schaumburg IL
Case Study: Automated Sales Lead Distribution System
This project involved an online dating franchise organization. With 45 centers nationwide, each serving a specific geographical area, and more than 170,000 members, our client recognized the need to expand their outreach through the Internet.
"Proceed Interactive was able to provide us with a comprehensive Internet strategy that was extremely effective and cost efficient."
Client Goal
Sales leads sent to each location are based on zip code. The client was looking for ways to expand the current sales lead distribution system and reach a new group of singles not available via traditional marketing. A secondary goal was to have better control on the cost per lead. Management contacted Proceed with a request to help them determine the best online marketing strategy and the most effective use of the online marketing budget.
Strategy
First Proceed implemented website analytics to understand current traffic and visitor behavior. Based on searches and the initial client budget, an AdWords campaign was implemented. Gradually the Google pay-per-click campaign reached its full potential and additional primary and secondary search engines were included. To maximize the reach an affiliate program was included as well. Proceed built a web-based, automated sales lead distribution system to allow each owner to log in and see daily sales leads as well as to provide feedback on the quality of the leads. Based on the number of searches and the prospects provided for each location, Proceed adjusted the monthly budget for each location.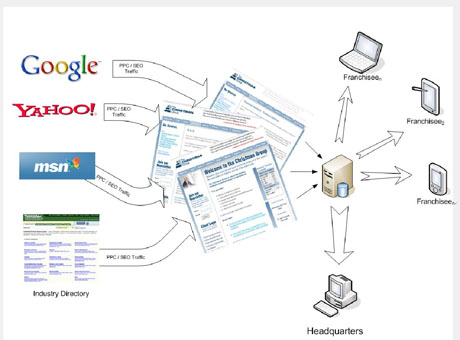 Results
Millions of hits per month to the website.
10,000-15,000 raw sales leads from the website per month.
This business model can be implemented for many franchise and license based businesses. The advantages of an automated sales lead distribution system such as the one described here are: low cost for each owner, reaching a much larger audience, and taking advantage of local as well as national searches. In many cases the franchises will fully support the program, and even part of the management fees may be allocated to traditional marketing programs.