Assisting Hands and the FEAR 2019 Conference
Assisting Hands® is a nationwide home care franchise that provides highly personalized in-home care with exceptional customer service to meet the care needs of senior citizens and adults with disabilities.
The Assisting Hands family of franchise owners is proud to serve their local communities and provide home care for those who really need it.  Caring for those in their local communities so they can live safely at home gives Assisting Hands owners fulfillment in their professional lives.
Assisting Hands provides quality, compassionate in-home care for individual clients with a care plan and schedule that accommodates their needs.  Their caregivers can provide care in a client's home for up to 24 hours a day.  Home care plans include non-medical assistance that allows clients to remain in the comfort of their own homes.
Franchise Education & Adventure Retreat (FEAR) conferences are annual conferences held by Assisting Hands.  These conferences are attended by corporate officers, franchise owners, area representatives, vendors, and industry experts.
During the day, attendees engage in informative workshops and roundtable discussions.  In the evenings, franchise owners have informal conversations by the poolside or at the dinner table in which they share tips and advice.  Awards are also given to franchise owners and caregivers during the conference to commend their outstanding job performance.
In May, representatives from Proceed Innovative attended the Assisting Hands FEAR 2019 conference as the exclusive Digital Marketing Sponsor.  During this four-day conference, we were able to meet with the leadership of Assisting Hands and many franchise owners, learn more about the home care industry, better understand their digital marketing challenges, and give a presentation about our digital marketing services and how they have helped Assisting Hands franchises.
The 2019 Franchise Education & Adventure Retreat (FEAR) took place at the Fives Azul Beach Resort in Playa Del Carmen, Mexico from April 30 through May 3, 2019.
Proceed Innovative – Digital Marketing Sponsor
Proceed Innovative currently works with 110 clients in different industries throughout the U.S. managing their digital marketing campaigns.  Our Assisting Hands clients account for 20 percent of the franchises across the nation.  The digital marketing program that we have developed for our Assisting Hands clients has been successful at generating more traffic to their websites to help increase their sales leads.  Clients who have worked with us for more than one year have experienced an impact in their web presence that has improved their bottom line.
Patrick Panayotov, the Client Service Manager of Proceed Innovative, gave a presentation about how digital marketing can help Assisting Hands franchises to the entire franchise organization.  In the presentation, Patrick covered general digital marketing topics including search engine optimization (SEO), pay-per- click (PPC) campaigns, and Google Local Listings to help those in attendance better understand the industry trends and strategies we use to help improve traffic, leads, and conversions for our clients.  Patrick also explained how our digital marketing program has helped our Assisting Hands clients with the results and statistics to back it up. For more information click https://www.proceedinnovative.com/ahhc/ 
At the Proceed Innovative vendor table, Patrick had the opportunity to meet and speak with many Assisting Hands franchise owners who were in attendance.  He talked to them about their digital marketing efforts and gave them further insight into his own experience working with Assisting Hands.
Understanding the Home Care Industry
One of the main goals of attending FEAR 2019 was to better understand the home care industry.  Jasmine Panayotov, Managing Partner of Proceed Innovative, attended presentations given by Assisting Hands franchisees and learned a lot about new tools available to owners.  Many of the top producers among the Assisting Hands franchisees presented great information on their strategies that helped them build a successful franchise.
To better understand the home care industry, it is also crucial to understand the needs of the caregivers who serve those who need care.  Caregivers who work for Assisting Hands do more than provide care, they are also friends and companions for their clients.  Assisting Hands caregivers will build personal relationships with their clients, providing them with great company and conversation and engaging with them in their favorite activities.  Because building personal relationships is such a big part of providing home care, it is important to ensure that the caregivers are satisfied with their jobs so that they remain a constant presence in the lives of their clients.
According to myCNAjobs.com, 38 percent of caregivers who work for a home care agency are not satisfied with their employer.  Almost half of all caregivers, 43 percent, do not have a mentor to work with in their current company but would like one, and 55 percent say they have not had an increase in their wages over the last year.  These concerns were among the topics of discussion at the conference as Assisting Hands franchises strive to recruit and maintain the best caregivers available.  This means that Assisting Hands franchisees must ensure the satisfaction of their caregivers in order to retain them and provide their clients with the best possible care.
Networking with Assisting Hands Leadership and Franchisees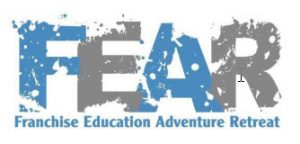 Proceed Innovative was very pleased to be included in the 2019 FEAR conference as the excusive Digital Marketing Sponsor.  We were excited to meet our Assisting Hands clients face to face as well as many Assisting Hands franchisees for the first time.  We would like to thank the Assisting Hands Leadership for having us including President and CEO Lane Kofoed, Vice President Gail Stout, Franchise Manager Andrew Dahle, and the rest of the team.  Proceed Innovative is proud to work with Assisting Hands franchises throughout the U.S. and we will continue to provide effective digital marketing and SEO services to help our Assisting Hands clients grow.
Proceed Innovative is a full-service digital marketing agency that provides a range of services including search engine optimization (SEO), web design, lead generation, and pay-per-click (PPC) management.  Contact Proceed Innovative by calling (800) 933-2402 to learn more about how our digital marketing services can help your business.