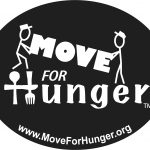 According to Move for Hunger, a local food pantry that partners with moving companies to reduce food waste and fight hunger, 1 in 6 children in Cook County do not have access to nutritious meals. As a valued partner of our internet marketing agency, Mid-West Moving & Storage is dedicated to helping the children get the food and nutrition they need by taking part in this food drive.
To support this cause, Proceed Innovative is stepping in as a host for one of their drop off locations, where individuals and businesses can donate non-perishable food items. Our digital marketing professionals will also be making some contributions.
Details About the Food Drive
---
Dates: November 1st – December 13th
Food Drop Off Time: Monday – Friday 9 AM – 5 PM
Location: Proceed Innovative
1515 East Woodfield Rd, Suite 103
Schaumburg, IL 60173
---
About the Food Drive
Move for Hunger's annual Fill-A-Food Truck drive will take place between November 1st and December 13th, in which Mid-West Moving & Storage will fill a moving truck with donated non-perishable food items. The moving company is partnering with local businesses to provide convenient locations for individuals and businesses to drop off their items. On the last day, the moving truck will collect the food items and deliver them to Move for Hunger to be given to under-privileged families in Cook County.
Check out the following list for the most popular food items:
Vinegar
Flour
Sugar
Mustard
Mayonnaise
Cleaning products
Oatmeal
Olive oil
Macaroni and cheese
Tomato sauces
Ketchup
Peanut butter
Jelly
Pasta
Hamburger Helper
Most Popular Canned Items
Vegetables
Tuna
Vegetable oil
Meats
Fruits
Spaghettios
Dropping Off Food Donations
Proceed Innovative accepts all food item donations from individuals and businesses. We will be posting a sign on our office door, welcoming all to come in and leave their items in a Move for Hunger box.
For questions about finding our office, please give us a call at (800) 933-2402 and we will be happy to help with directions.
About Mid-West Moving & Storage
Mid-West Moving & Storage is a professional moving company in Elk Grove Village, IL that serves the Chicagoland area with experienced residential and commercial moving services. Moving everything from furniture to lab equipment locally, long distance, or internationally, their professionals are each licensed, experienced, and insured with the company. As part of their mission to earn each customer's trust by providing 100% satisfaction, they are dedicated to giving back to the community, contributing their resources to help the efforts of various Chicago non-profit organizations.
About Proceed Innovative
A proud partner of Mid-West Moving & Storage, Proceed Innovative is a Chicago-based digital marketing agency that is committed to improving the online presence for businesses. Known as search engine optimization (SEO), Proceed Innovative works with clients to improve their rankings in search engine results. At the same time, improved online presence and website user experience has resulted in quality leads for these businesses, either by phone calls or contact forms.
Each of our digital marketing experts is experienced and trained to optimize websites and help our clients get the ROI they need. Proceed Innovative is also a proud Google Partner, always following Google's best practices when implementing digital marketing strategies.
Contact Us
For more information regarding our digital marketing services or directions finding our address to drop off your food items, please give us a call at (800) 933-2402.