For businesses to succeed in 2020 and beyond, it is important for them to have an online presence.  More people than ever are searching online using their phones to find a desired product or service.  Businesses that provide services especially need to ensure they are found online and stand out from their competitors, or they will lose potential leads.
At Proceed Innovative, we have worked with many clients of different industries to help their businesses stand out online.  Recently, The Enterprise World magazine interviewed Patrick Panayotov, client service manager of Proceed Innovative for their cover story, "Proceed Innovative: Make Your Business Stand Out." In the article, Patrick talks about how Proceed Innovative helps our clients improve their online presence to reach their marketing goals, as well as how he started with Proceed Innovative and how his work has impacted our company.
The Enterprise World, is a business magazine, a platform for all the master business minds to share their stories of success, the loop holes they encountered to become the overnight stars they are now of the enterprise world.
Helping Businesses Understand the Importance of SEO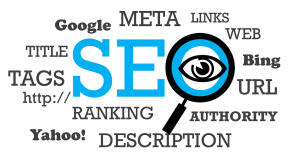 Implementing effective internet marketing and SEO campaigns is crucial to help businesses appear near the top of search engine results pages (SERPs) and generate more traffic and leads.  Many businesses work with a digital marketing agency because it takes some level of expertise to create and implement effective strategies.  One thing digital marketing agencies like Proceed Innovative must do is help their clients understand the importance of SEO and how it works.
"Even in the year 2020, Search Engine Optimization is not understood by most business owners," explains Patrick.  "Many are under the impression that paying for a nice-looking website is enough to bring in potential business.  Unfortunately, even the best websites require ongoing maintenance and new content to stay competitive.  All of us trust the results on Google inherently, and the businesses found first are the businesses that flourish.  My work starts with convincing business owners that being found online is not random; it is a step by step process that can be implemented for anyone.  When done right, good SEO is a game changer for business owners."
At Proceed Innovative, we work directly with our clients to get to know their business and marketing goals.  We also work with business owners to implement the SEO and online marketing strategies we believe will bring success to their business.  When this relationship works, our clients see a boost in traffic and rankings that brings them more quality leads.
Getting to Know Patrick Panayotov
Patrick's journey with Proceed Innovative started in the early days of our business when he worked as a Data Analyst, in which he studied data and created reports to help support the business.  He returned to Proceed Innovative as a Client Service Manager with responsibilities that include supporting current clients and acquiring new clients to help expand the business.  This position gave Patrick a new perspective on the business and he began focusing on creating and expanding relationships with the local community and organizations as well as other businesses.
Patrick is now a partner at Proceed Innovative which carries the same responsibilities of supporting current clients and looking for new clients, but with the extra responsibilities of having a holistic understanding of the business and identifying opportunities for growth.
Patrick's goals reflect those of Proceed Innovative as a whole, supporting current clients, expanding with new clients, and staying competitive.  While vigilance is required to sustain success, Patrick advises that constant vigilance is not beneficial.  "We need to be vigilant and also find time to appreciate our successes and think of new opportunities for growth," explains Patrick.  "Our mind needs time to breathe, which it cannot do if it is constantly vigilant."
Patrick also understands the importance of support for success.  He explains, "Our clients, team members, and surrounding businesses rely on each other to be performing at their best to succeed.  If all of us can do the best we can with the tools we have, there is an opportunity to positively impact the resulting circle around us, starting a chain reaction of positive change."
"The key to my success is learning how to ask questions and using feedback to drive improvements."
You can read the whole story from The Enterprise World here: https://www.theenterpriseworld.com/proceed-innovative-make-your-business-stand-out/
Proceed Innovative is a full-service digital marketing agency that helps businesses improve their online presence with search engine optimization (SEO), web design, PPC management, lead generation and more.  You can call us at (800) 933-2402 or submit a contact form to learn how we can help your business.