Content is king. If you have experience in the world of SEO marketing than you have no doubt heard this phrase. When it comes to SEO marketing, your website will only be as good as your content as content is the most important element of online marketing. When creating content for your website, there are many things to consider such as incorporation of your keywords, creating interesting and compelling copy, speaking the customer's language, and being clear and concise with your language to name a few. The following are tips to keep in mind when creating content for your website.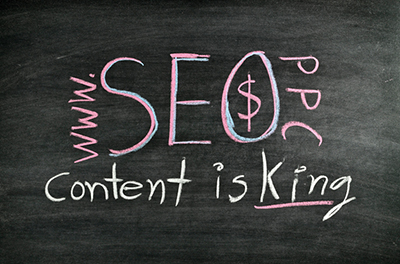 Keyword Research
Before you write any of the content for your website, create a list of keywords that are relevant to your business to see which ones drive the most traffic. This will help you learn which of your keywords is most searched and should be used in the content. If you are redesigning your website, check to see which keywords are performing the best on each page and make sure to keep as much as possible if they are working well. Another way to incorporate keywords into your content is by finding good, relevant pictures and tagging them with a keyword rich alt tag to help drive searches.
Create Useful, Interesting Content
When a visitor arrives at your website, you need to provide them with a reason to continue exploring the site. Creating content that is useful and also interesting will hold their attention. The following are specific ways to create compelling content.
Speak their Language: It is important for you to know who your audience and customer base is and the best way to talk to them. Avoid using corporate lingo, technical terminology, or marketing language and use plain language your customers can understand and relate to. If a certain page of your website is geared towards an audience within a specific industry, then use industry terminology they will be familiar with.
Provide Relatable Benefits, Reasons, or Scenarios: When writing content, you should think about what your audience cares most about and how your service or product can enrich their lives. Try to personalize the benefits of your product or service so that your audience can relate it directly to their own lives.
Consider Reading Patterns: Everyone is different when they search the web, some people may read every word of the content while some may not read at all. Most people fall in between and generally skim headlines and the first couple of sentences in each paragraph so make sure to include your most important information in the headers and early in the paragraphs.
Keep it Simple
The last thing you want to do is write content that is too long or confusing. These tips will help you keep your copy simple and concise so that it can be read and understood quickly by your visitors.
Include Most Important Information: Depending on the product or service in question, the features or details can get pretty long and including them all can make your copy exhaustive to read. Try to make your point in less space and include only the most important details that will appeal to your customers.
Be Concise with Clear Call to Action: The focus of any product or service page is the call to action which should clearly guide the visitor to the next step. If the call to action is too subtle or long winded it could diminish the effectiveness of your webpage. Make sure to provide a clear call to action that nicely sums up your main points.
The content is the most important aspect of your website and it often takes longer to develop than the website itself. Writing content should not be taken lightly and by following these tips, you will create interesting and effective content that your customers can relate to.
Next topic: ServiceMaster Website Redesign by Proceed Innovative
Previous topic: How Google has evolved and changed the landscape of SEO
Sign up for our monthly newsletter to get new online marketing tips.