Chicago Local SEO Company – Schaumburg IL
Local search engine optimization (SEO) is an important aspect of internet marketing because the majority of searches done on PC's and mobile devices are local in nature.  This is important not only because having a good local SEO strategy will help you reach more customers in your area, but also because local searches are more likely to end with an action.  In fact, almost 80 percent of local searches made from mobile devices end with the user responding to a Call to Action.
The local SEO market is currently fragmented because local searches are done differently on different devices and local searches on mobile devices are expected to outnumber searches done on PC's within the next year or two.  This is a very important trend to take into account as local mobile searches end in the desired action being taken more often than local PC searches.  Businesses should take advantage of local searches on all devices because consumers often perform local searches when they are ready to make a decision.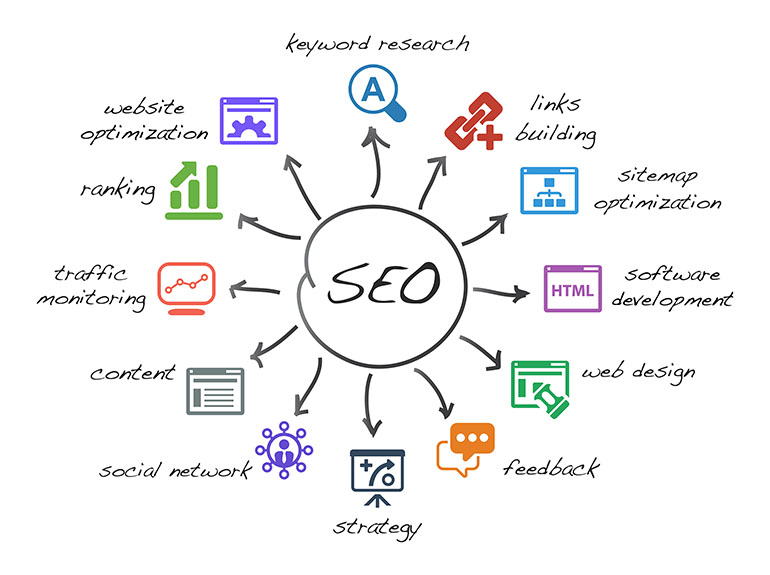 Creating a Local SEO Strategy

Search engine optimization, or SEO, is the organic or "natural" process of improving your website's ranking in search engine results.  The higher your ranking, the more traffic or "visitors" your website will draw which means a higher potential for conversions.  Creating and implementing a good local SEO strategy is crucial for improving your search rankings among local consumers.  The marketing professionals of Proceed Innovative can help develop a local SEO strategy that will improve your rankings in local searches using a combination of search engine optimization, directory submissions and monitoring, and mobile SEO.
Local SEO
When it comes to optimizing your website and directory profiles for local search, it is important to include specific geographical keywords or phrases against a structured database of local business listings.  Local search queries should contain information about "what" the visitor is searching for, such as a business category or keywords related to a product or service, as well as "where" information such as a street address, city name, postal code, or even geographical coordinates.  For example, a local search query for a dentist office located in Schaumburg, IL might look like this: "dentist Schaumburg, IL."  The addition of geographical keywords will help more consumers searching for similar products or services in your area find your business.
Local Directory Listings
There are thousands of business directories online that include general directories as well as industry specific directories and making sure your business is listed on the right directories can be a huge boost for local SEO.  Our local SEO experts will make sure your business is listed on the primary local sites including Google Local (Google Places), Yahoo Local, and Bing Local as well as other major local search platforms included in this Local Search Distribution Network chart.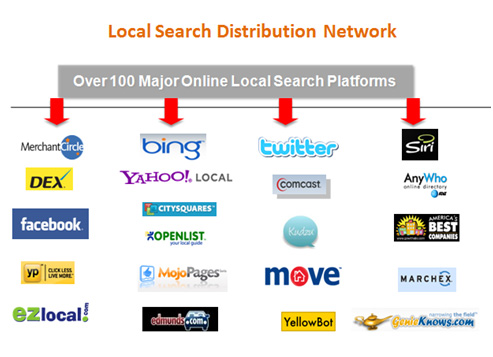 Listing your business in multiple relevant directories will help you in two major ways:
1. It will send potential customers directly to you; over half of all local searches take place on mobile and local directories.
2. Almost every directory listing will create a link back to your homepage.  This is important because Google will consider your website a good resource based on the number of links and rank it higher in the search results.
The SEO experts of Proceed Innovative will not only list your business on relevant directories, we will also monitor your directory listings and make sure the listing information is accurate.  Inaccurate information on an online listing will cause about 16% of potential customers to find a competitor which makes monitoring online listings very important.
Contact us for customized analysis of your Local SEO opportunities.