Local and Mobile Search Engine Optimization
(Local and Mobile SEO)
Local search engine optimization (SEO) is an important aspect of internet marketing because the majority of searches done on PC's and mobile devices are local in nature.  This is important not only because having a good local SEO strategy will help you reach more customers in your area, but also because local searches are more likely to end with an action.  In fact, almost 80 percent of local searches made from mobile devices end with the user responding to a Call to Action.
The local SEO market is currently fragmented because local searches are done differently on different devices and local searches on mobile devices are expected to outnumber searches done on PC's within the next year or two.  This is a very important trend to take into account as local mobile searches end in the desired action being taken more often than local PC searches.  Businesses should take advantage of local searches on all devices because consumers often perform local searches when they are ready to make a decision.
Creating a Local SEO Strategy
Search engine optimization, or SEO, is the organic or "natural" process of improving your website's ranking in search engine results.  The higher your ranking, the more traffic or "visitors" your website will draw which means a higher potential for conversions.  Creating and implementing a good local SEO strategy is crucial for improving your search rankings among local consumers.  The marketing professionals of Proceed Innovative can help develop a local SEO strategy that will improve your rankings in local searches using a combination of search engine optimization, directory submissions and monitoring, and mobile SEO.
Local SEO
When it comes to optimizing your website and directory profiles for local search, it is important to include specific geographical keywords or phrases against a structured database of local business listings.  Local search queries should contain information about "what" the visitor is searching for, such as a business category or keywords related to a product or service, as well as "where" information such as a street address, city name, postal code, or even geographical coordinates.  For example, a local search query for a dentist office located in Schaumburg, IL might look like this: "dentist Schaumburg, IL."  The addition of geographical keywords will help more consumers searching for similar products or services in your area find your business.
Local Directory Listings
There are thousands of business directories online that include general directories as well as industry specific directories and making sure your business is listed on the right directories can be a huge boost for local SEO.  Our local SEO experts will make sure your business is listed on the primary local sites including Google Local (Google Places), Yahoo Local, and Bing Local as well as other major local search platforms included in this Local Search Distribution Network chart.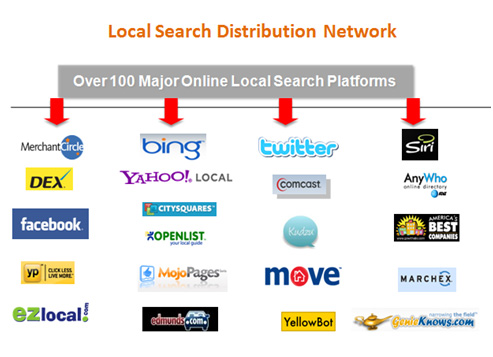 Listing your business in multiple relevant directories will help you in two major ways:
1. It will send potential customers directly to you; over half of all local searches take place on mobile and local directories.
2. Almost every directory listing will create a link back to your homepage.  This is important because Google will consider your website a good resource based on the number of links and rank it higher in the search results.
The SEO experts of Proceed Innovative will not only list your business on relevant directories, we will also monitor your directory listings and make sure the listing information is accurate.  Inaccurate information on an online listing will cause about 16% of potential customers to find a competitor which makes monitoring online listings very important.
Contact us for customized analysis of your Local SEO opportunities.
Mobile Search Engine Optimization (Mobile SEO)
Mobile search engine optimization is becoming a more important part of good SEO strategies because more consumers are using tablets and smartphones for local searches.  While PC's and laptops still account for the majority of local searches performed, the conversion rate from these searches according to comScore's survey is only 61% compared to a 64% conversion rate from tablet searches and a 78% conversion rate from smartphone searches.  Appealing to this growing market of consumers that are making decisions on mobile devices is crucial for increasing conversions through local SEO.  For more statistics regarding the use of mobile devices, read our blog here.

Why you should consider Local and Mobile Search Engine Optimization
It provides local information results based on search queries and location data. Consumers who are searching their area for products or services that your business offers will find you through a local search.
More consumers prefer to support their own communities and shop locally.
Creating and implementing a local and mobile SEO strategy is simple and affordable. Google Local allows you to build a page that includes your address, phone number, contact information, business hours, pictures, and videos which will boost your online local presence even without a main website.  Customer reviews submitted on Google Local will also be linked to your business.
Local and mobile SEO saves a lot of time for business owners. Monitoring each of your separate online listings, including social media, to ensure a solid internet presence would take more time and learning than you can afford.  Proceed Innovative's Local and Mobile SEO program will manage this for you so you can spend more time running your business.
Are you a good candidate for this service?
Do you service local customers?
Do you plan to stay in business for the next 3 years?
Do you feel overwhelmed with all the online options available to you?
Do you provide quality products or services?
Are your competitors gaining a larger share of your target market?
Recent surveys have shown that 76% of customers are willing to pay more for a product that has good user reviews than less for a product with no reviews.
If you want to communicate a consistent message though local and mobile representation of your brand while applying successful advertising techniques to drive click-thru's, contact Proceed Innovative for Local and Mobile SEO services.  We consider ourselves your partner for achieving maximum local and mobile results online.  Proceed will start by finding the most effective places for your company to advertise by targeting your audience and customer demographic and we will continue to manage your online campaign.
Call us directly at 800-933-2402 for more information regarding our local and mobile SEO services or any of our other internet marketing services.