Increase Website Traffic – Case Study – Chicago SEO Company
Initial Website Condition:
One of the top graduate business schools in the nation, upon completing a major website redesign, noticed that traffic levels to their website decreased considerably. An initial analysis determined that traffic dropped by 80%.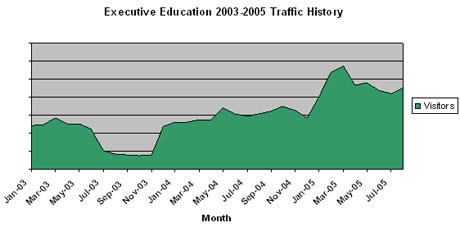 Key Results
Shortly after implementation of Proceed Interactive's SEO services, website traffic levels quickly increased – meeting and exceeding the usual volume level – with an overall 300% increase in traffic. Within one year, website traffic increased by an average of 500% from the levels at the start of the SEO campaign.
Search Engine Rankings
Search engine rankings in the Top Thirty listings of the major search engines accounted for the increase in traffic to the website. Search Engine Optimization targeting keywords and phrases that are highly relevant to the site, resulting in increasing website traffic that helped our client reach their online marketing goals. Relevant keywords and phrases with notable positions on the major search engines (to the right) show a list of rankings.
Contact Us
---
No soliciting please