Target Restoration – SEO Web Design Case Study
The SEO experts at our digital marketing agency are experienced in creating web design templates that are both user, SEO, and mobile-friendly. At Proceed Innovative, SEO web design is one of our primary services that is designed to not only improve our client's visibility, but online reputation.
When creating these sites, they are implemented with perfected SEO strategies that allow the site to load quickly, maintain a professional look, and are highly ranked by the search engines. They also have a track record of improving the company's online performance, allowing for improved organic search traffic and overall greater ROI. One of the recent web design projects completed includes Target Restoration, in which we provided them with not only an updated look, but a custom appearance and functionality tailored to their business.
About Target Restoration
Target Restoration is a Texas disaster restoration company that proudly serves the entire state with water damage restoration and fire damage restoration services, among others. They take pride in not only their jobs, but serving Texas residents with reliable, quality services.
When Target Restoration came to Proceed Innovative for help with a new website, their current site was not only outdated but contained low-quality content, considering the number of customer visits every month.
They specifically wanted an updated look that would make it easier for their customers to quickly find and contact them in a time of emergency. They also wanted high-quality content that showed their dedication to service as well as knowledge of the disaster restoration industry to provide their customers with complete peace of mind.
Improved Look and Organic Traffic
After completing the web design project, it had a brand-new layout with a modern design that allowed for easy navigation, quick call-to-action, and mobile-friendliness that brings in more traffic today than ever before. The site also features continuing education classes for insurance professionals, partners of the restoration industry, keeping them updated on the latest class information to help them fulfill their credit hours.
Target Restoration's new website also features new blogs with a modern design template to keep their customers updated with tips and news of the restoration industry, particularly in Texas.
Get a Free Quote on SEO Web Design
Not only is Proceed Innovative a Chicago-based Google-certified partner, but our experts have years of experience working with businesses of various industries, including restoration, home care, roofing, moving, and many more. This has allowed us to build custom, mobile-friendly websites that are not only designed to increase our client's online presence, but to improve their ROI.
Give us a call at (800) 933-2402 or fill out a contact form for a free estimate on a web design SEO project for your business. We look forward to seeing you soon!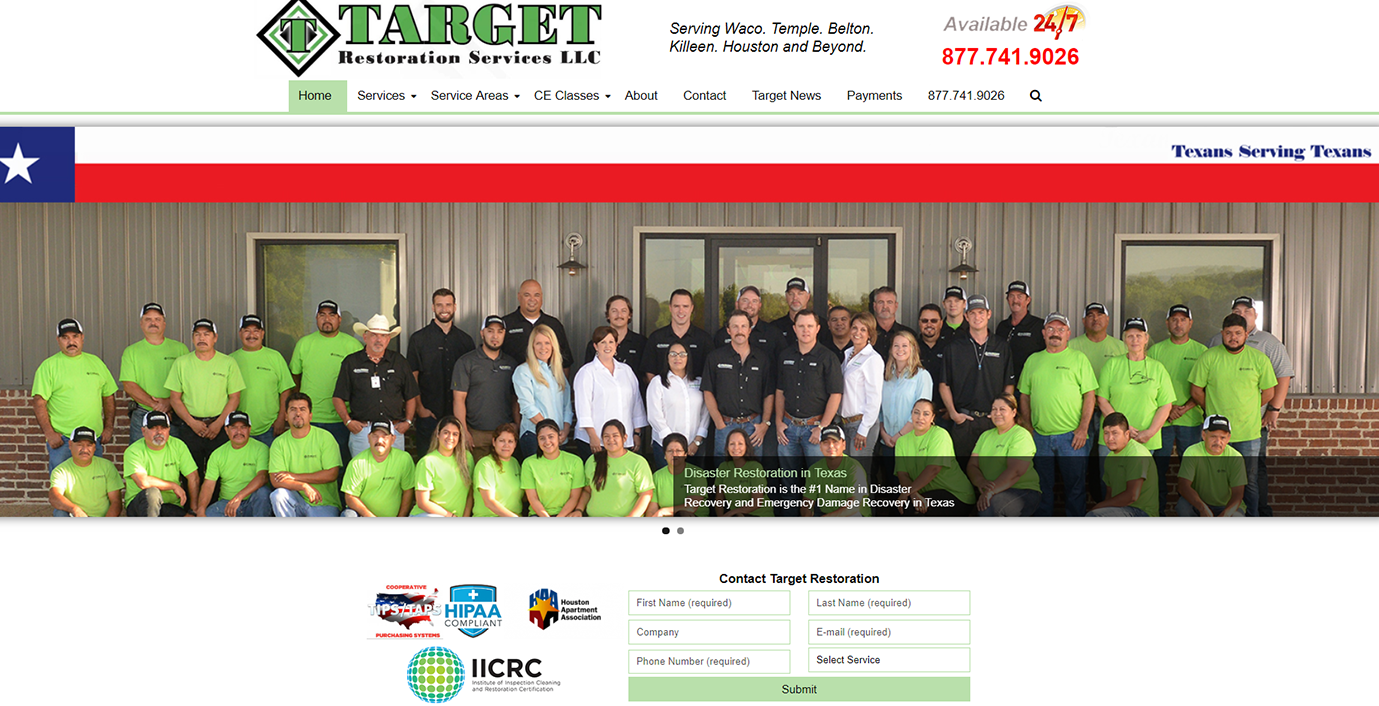 Contact Us
---
No soliciting please