Better Search Engine Visibility – Case Study – Chicago SEO Firm
Company profile
Our client, established in 1962, is a regional staffing agency serving the Chicago, Illinois area.
Business situation
This company wanted to increase their search engine visibility and obtain more online leads. They needed to appear for searches conducted by potential employees, looking for either permanent or temporary employment. They also must show up for employers searching online to fill positions. They wanted to allow potential workers to automate their resume submission process, let employers automate an employee request, and in return decrease telephone calls and paper resumes.
Situation
The online space in the employment agency arena is very competitive. A search in Google for temporary employment agencies brings up 15,300,000 web pages. It is also very lucrative, in that there are many searches per month in for this phrase.
Solution
Proceed Interactive consulted with our client to thoroughly understand their online marketing goals, analyze the website's design and help define successful metrics. We optimized the site to attain high search engine visibility in the natural search results of the leading search engines. This included keyword research, content development, navigation improvements and code validation.
Results
The company has had substantial growth in online leads and revenue, specifically from job searchers and employers who came to their website directly from the major search engines.
Search Engine Traffic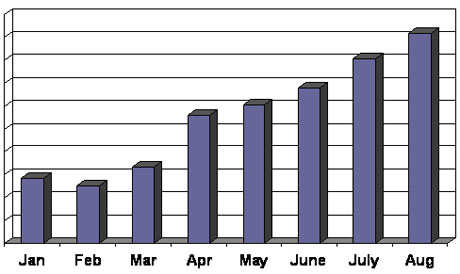 Numbers above have been removed for confidentiality purposes.
Visits from search engines showed an initial decrease as we implemented filters to the analytics program.
Visitors from the search engines increased by more than 223%.
Conclusion
There are many advantages that come with high rankings. In this case, the increase in rankings and website visibility led to search engine traffic which more than doubled. In turn, this increase in targeted traffic resulted in more leads, meaning more job openings to fill, and a larger pool of candidates from which to fill those positions.
Contact Us
---
No soliciting please